Need some inspiring pool party ideas for kids? We get it! For kids with spring or summer birthdays, there's nothing like a pool party to celebrate the occasion. If you want to make your little one's next party extra special, you need an amazing theme.
To help your creativity flow, here are 13 fun-filled pool party ideas for kids. And if you don't have a pool in your own backyard, you can find and rent one on Peerspace, helping take your child's special party to the next level. 
1. Mermaid pool party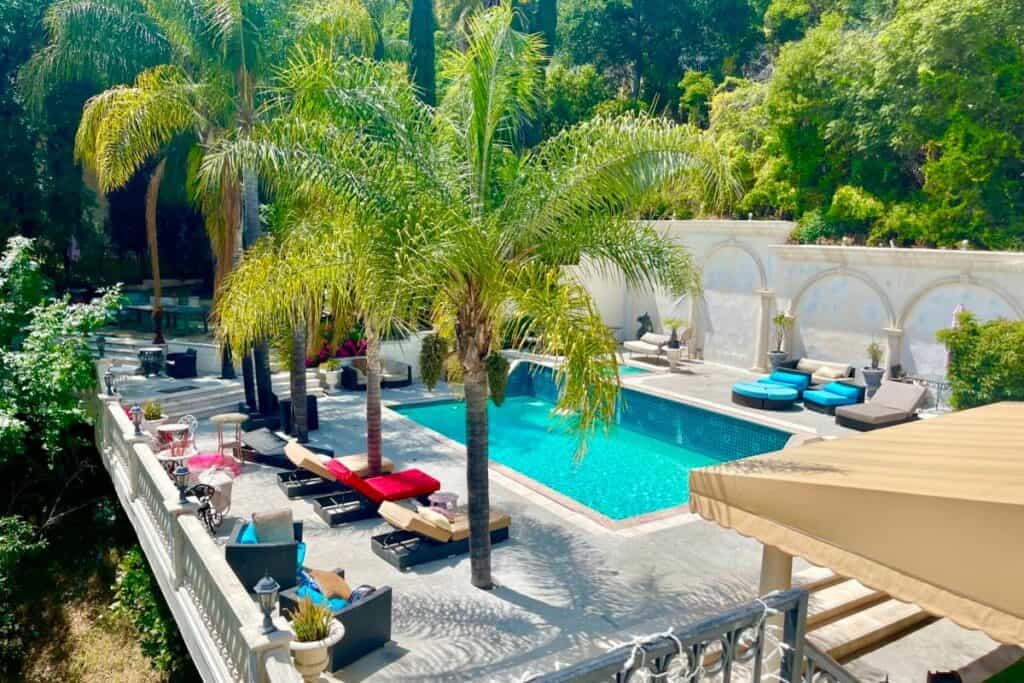 Is your little one obsessed with mermaids? Try out this adorable pool party idea for kids.
Throw a mermaid-themed pool party with plenty of flippers, undersea inflatables, and pearl-inspired treats. If you want to make things extra special, you could hire a mermaid performer to play in the pool with the kids, or host at a venue fit for a mermaid, like this resort-style pool.
2. Moana pool party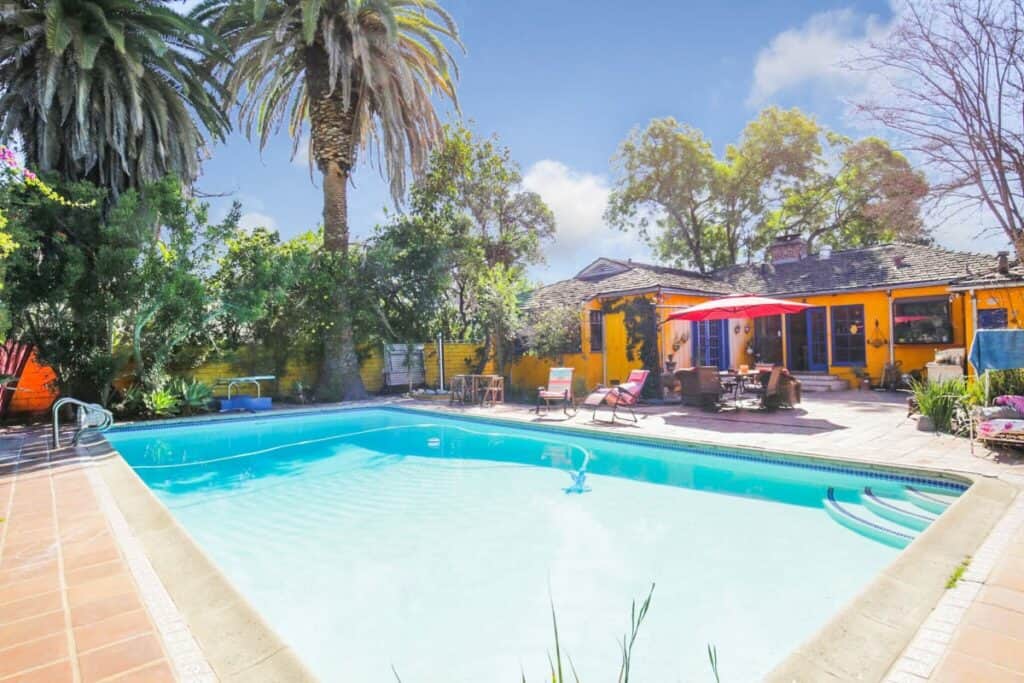 Does the ocean call your little one like Moana? Put a Polynesian twist on the pool party by giving it a Moana theme!
You can serve up delicious Moana-inspired party treats, like Heart of Tefiti cookies or shiny Tamatoa cupcakes, and decorate the venue with tropical-inspired decor. To take things to the next level, try hosting at a pool with a tropical vibe, like this tropical home with a heated pool. 
Read up about more of our Moana-inspired party ideas here!
3. Baby shark pool party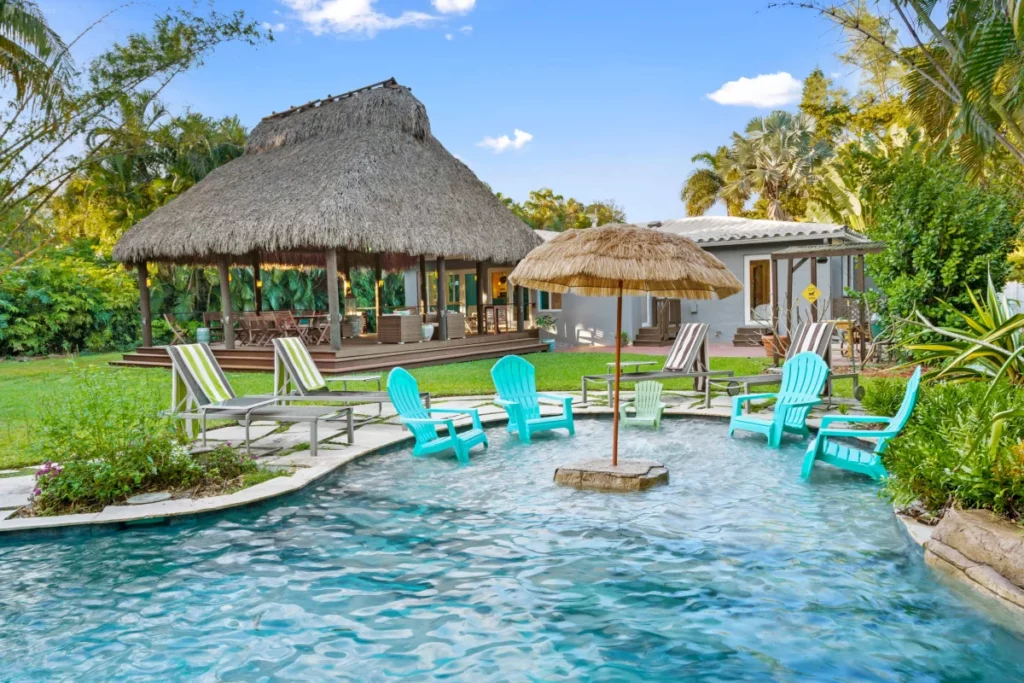 This pool party idea for kids is ideal for younger kids or toddlers. Break out the shark inflatables and throw a Baby Shark-inspired pool party.  
For little ones who haven't earned their fins just yet, why not fill up an inflatable kiddie pool where they can splash around? You can also keep an eye out for pools with a shallow end, like this tropical garden oasis in Miami, FL.
4. Nemo pool party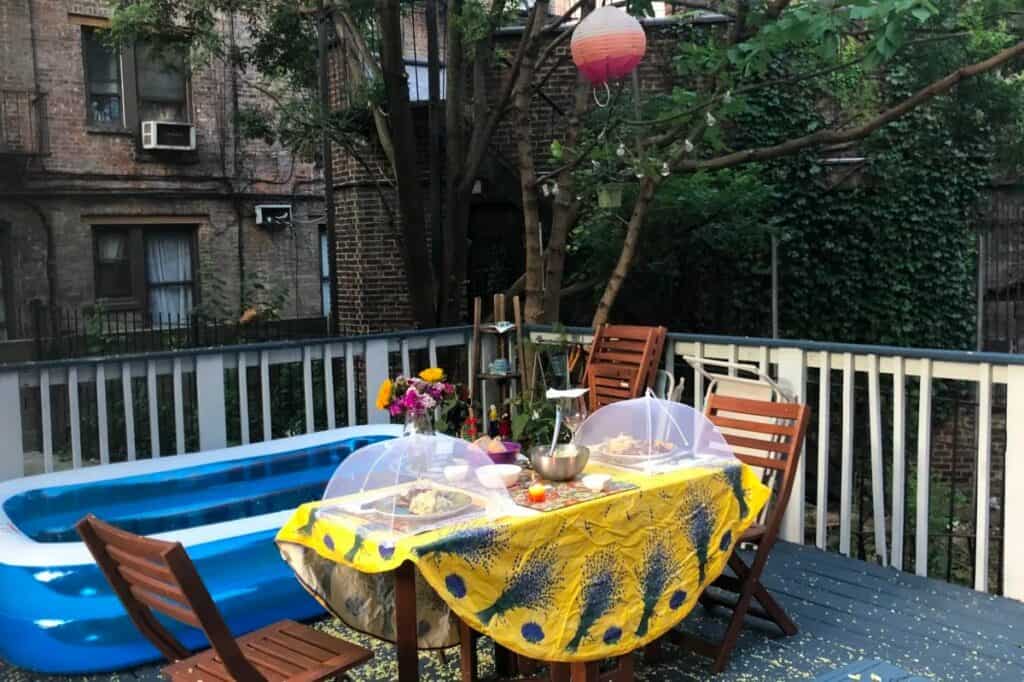 Is your little one obsessed with Nemo and Dory? Take a page out of P. Sherman's book and throw a Nemo-inspired pool party for your little one.
Decorate with clownfish-inspired colors, like orange and white, or keep the party Finding Dory-centric, with decor in shades of blue. Throw in an adorable Nemo-inspired cake, and your party guests will have enough fuel to "just keep swimming" all afternoon.
If your little one isn't quite up to braving the deep yet, Peerspace venues with room to set up a kiddie pool are your best friend.
5. Luca pool party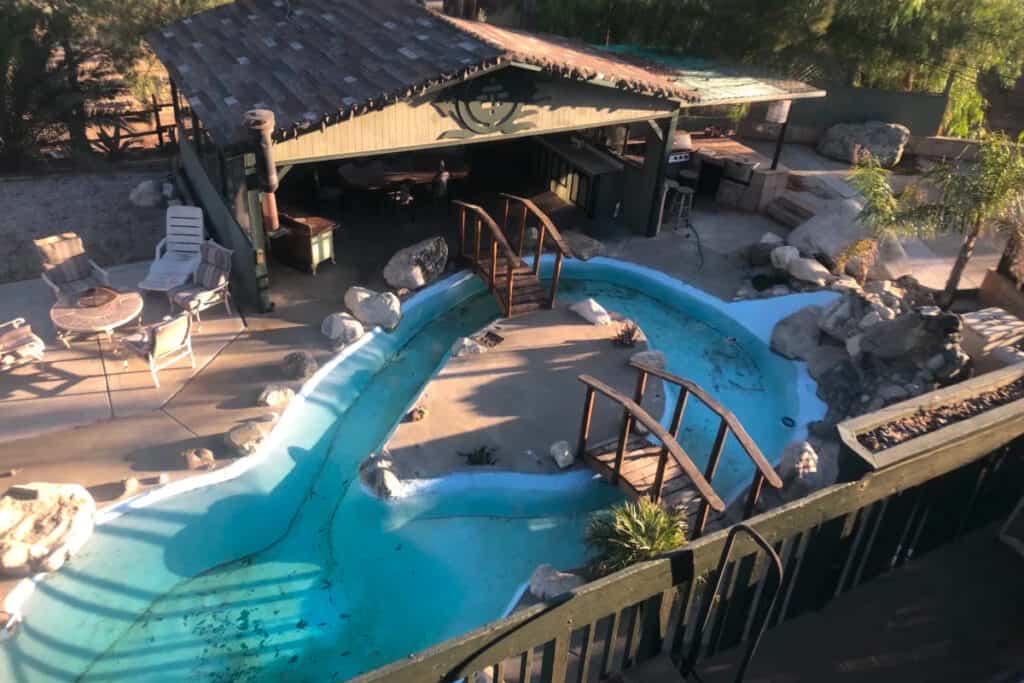 Is your little one not a fan of Nemo? Don't worry. There's a new Pixar movie on the block with plenty of undersea fun – Luca. 
To put a Luca-inspired spin on the pool party, you could serve up Italian treats like Gelato, or play the movie's soundtrack to set the scene. Keep an eye out for pools with a relaxed country vibe, like this country oasis with crystal blue water. It's the perfect place to channel the beauty of Portorosso in the real world.
6. Pirate pool party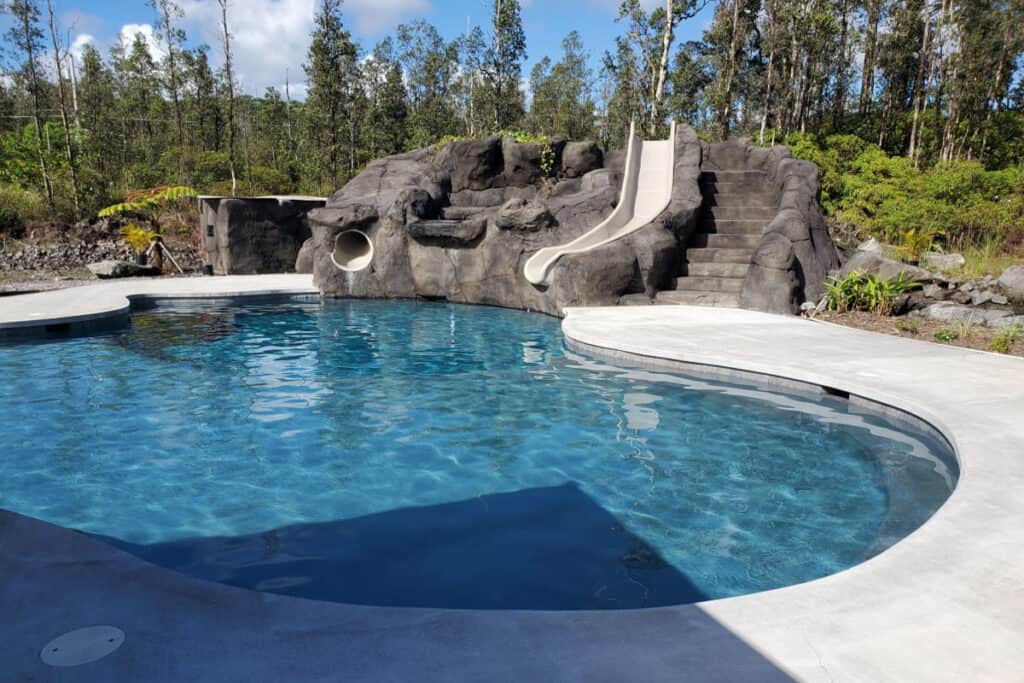 This pool party idea for kids is amazing for pirate lovers.
Throw a swashbuckling pirate-inspired pool party, complete with plenty of chocolate doubloons and Pirate's booty for snacks. For a fun party game, hide some "buried treasure" somewhere in your venue and give the kids a list of clues to find it. Want to up the ante at your pirate bash? This incredible Peerspace pool has a realistic rock feature with built-in waterslides, perfect for swashbuckling fun in the sun. 
Check out even more swashbuckling pirate party ideas here!
7. Jungle expedition pool party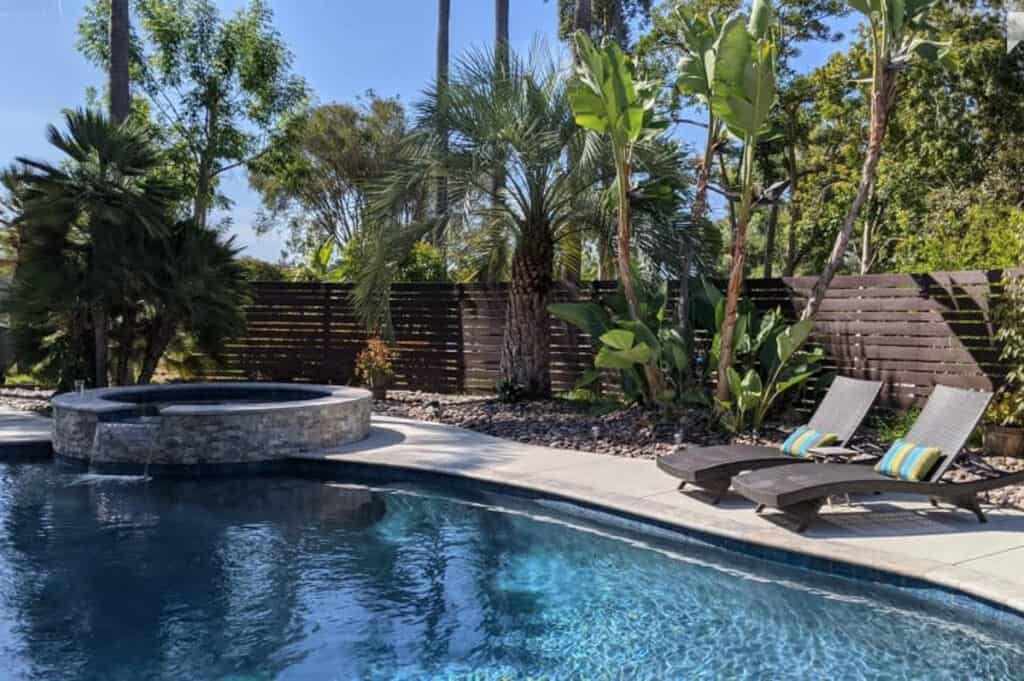 Want to put a tropical touch on your pool party? Pay homage to the tropics and host a pool party with a jungle adventure vibe. You can decorate with greenery and tropical flowers, making your pool seem like a jungle watering hole.
Don't feel like decorating? Check out tropical Peerspace pools, like this paradise pool and spa. There's even a waterslide that's perfect for jungle adventurers. 
8. Deep-sea pool party 
The deep sea is home to some of the most bizarre and fascinating creatures in the world, like giant squids and anglerfish. Captivate your child's imagination by hosting a pool party inspired by the creatures of the deep sea.
Have giant squid inflatables to play with, or decorate with jellyfish lanterns. You can make it even more magical by hosting at a pool designed for nighttime swimming, like this glow-in-the-dark wonderland.
9. Aquaman pool party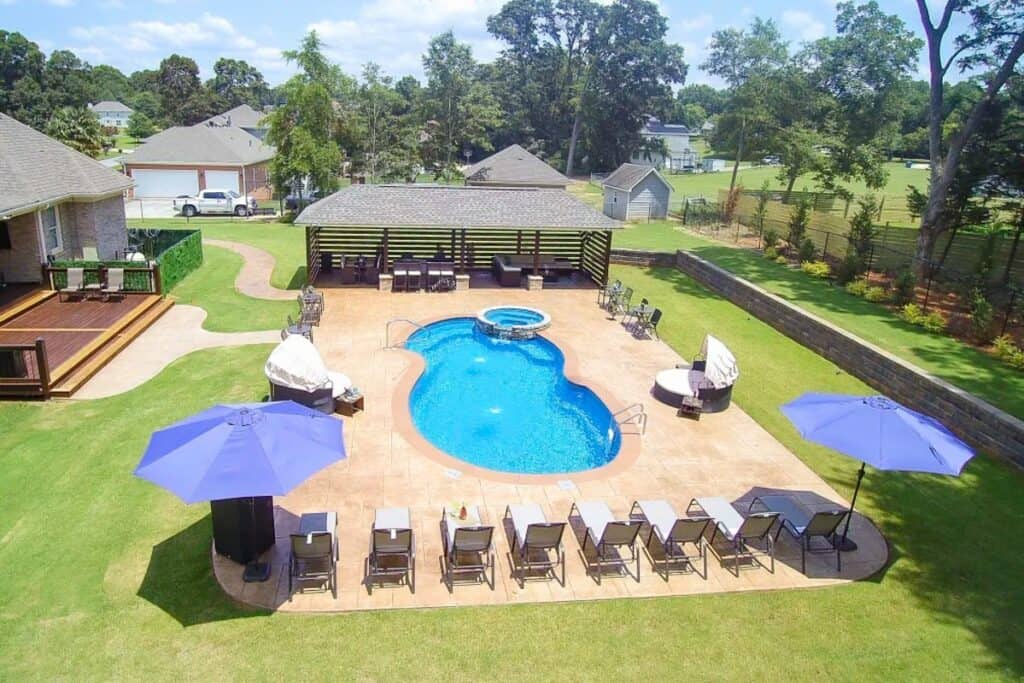 Does your little one love superheroes? You've got to check out this pool party idea for kids.
Throw an Aquaman-inspired pool party with plenty of undersea-inspired fun. You could keep it classic with theming based on the comic books or style your decor after Jason Momoa's DC movie. Don't forget to scout out a Peerspace pool, like this resort-style pool near Atlanta. 
10. Volleyball pool party 
This kid's pool party idea is perfect for little ones with tons of energy.
Grab a beach volleyball net designed for the pool and let your kids have fun lobbing the ball around. It's a great way for everyone to work up their appetite for cake! To make your job easier, host at a Peerspace pool that features a volleyball net, like this backyard oasis. 
11. Rainbow Fish pool party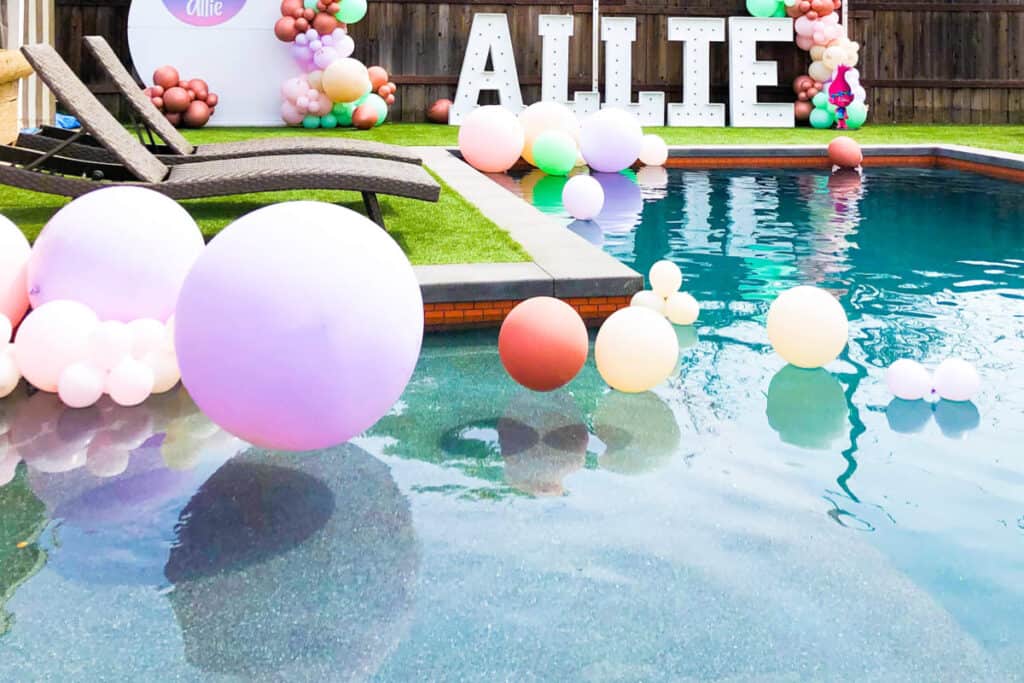 Rainbow Fish by Marcus Pfister is a classic picture book that's earned a spot in children's libraries across the globe. Encourage your little one's love for reading by hosting a rainbow fish-themed pool party.
Have plenty of rainbow-inspired decorations for the occasion and a shiny cake or cupcakes, like the Rainbow fish's scales. Keep an eye out for colorful Peerspace pools, like this heated backyard pool.
Our 11 cool rainbow party ideas offer you even more rainbow-party fun!
12. Fiesta pool party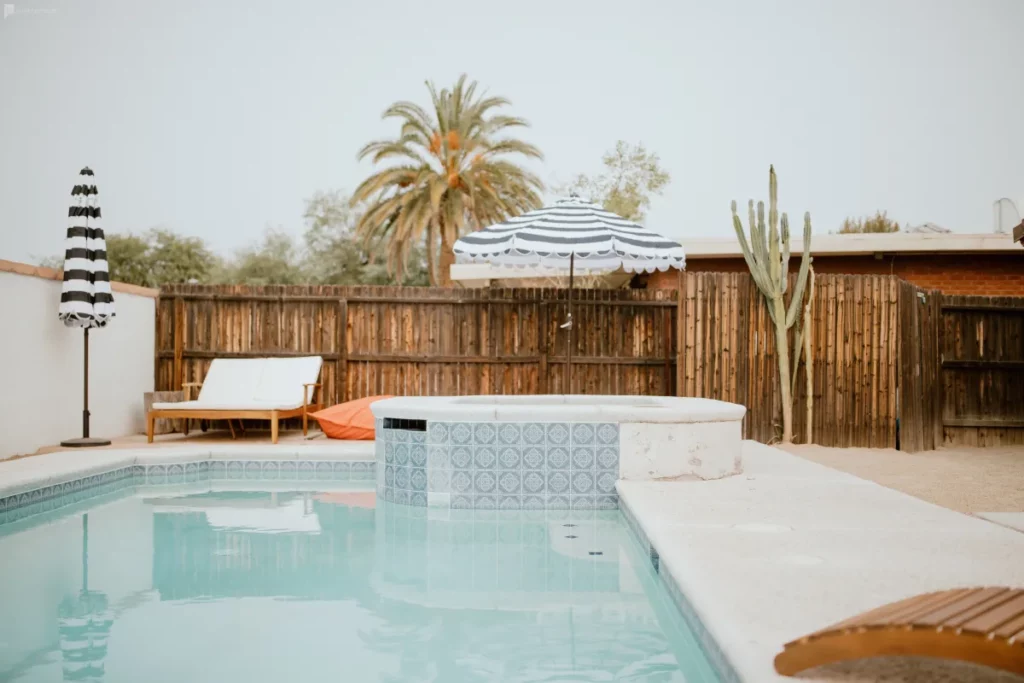 Head south of the border with this pool party idea for kids.
Make your little one's pool party an outdoor fiesta with inflatable cacti and Mexican-inspired party food. You can make your pool party fiesta even more fun by hosting it at a Peerspace pool with a southwestern flair. 
13. Lego pool party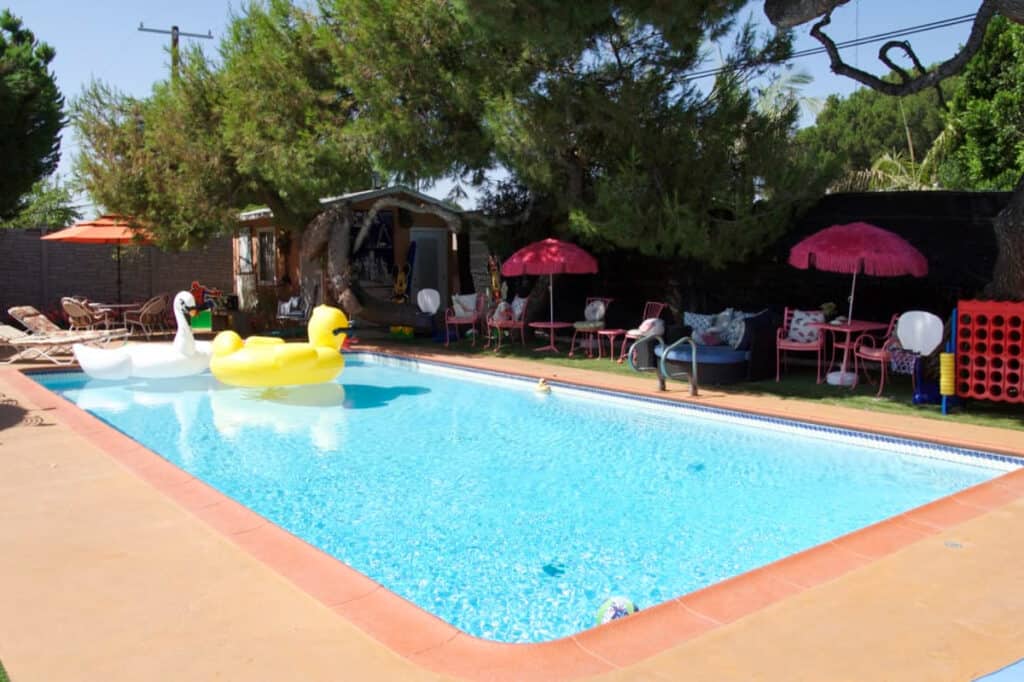 No matter how old you get, Legos are something we all love. Celebrate your little one's love for their favorite building bricks by throwing a Lego-themed pool party!
Blocky inflatables and square-shaped pool noodles make the perfect decorations for the water. A lego cake is a must, too!
And of course, you can count on Peerspace to have amazing venues for your Lego-inspired pool party, like this adorable backyard paradise.