How Much Does it Cost to Rent a Birthday Party Venue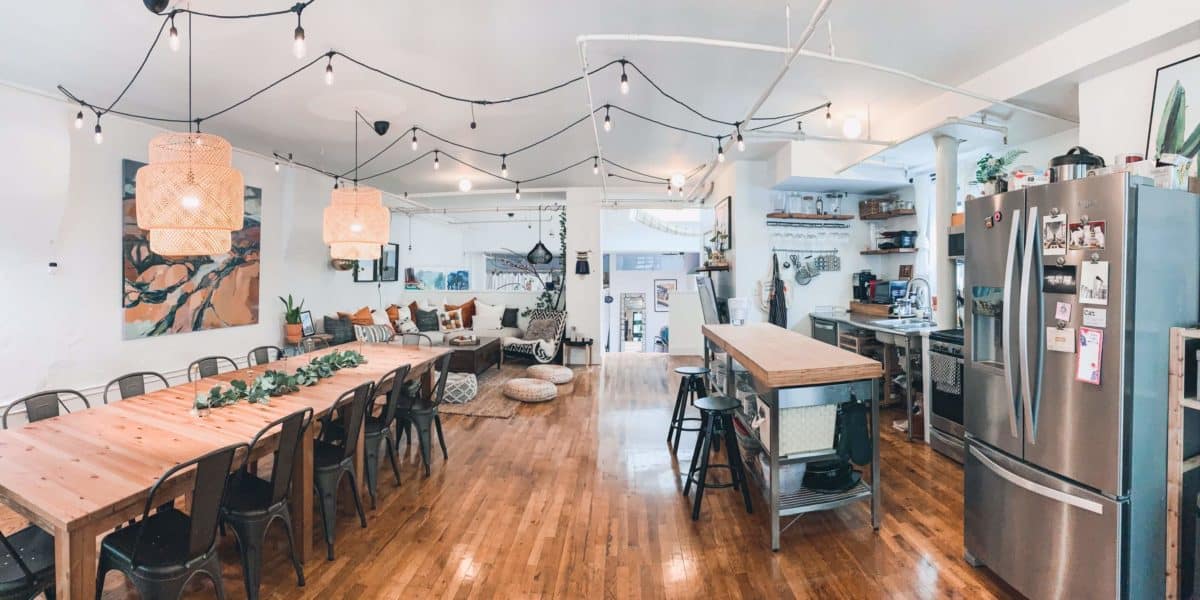 Answered
Birthday Party Venues on Peerspace cost on average between $85 — $145 per hour.
Birthdays are a great time to gather together with loved ones and celebrate just being alive. Hosting a birthday party is a great way to show your special someone that you care about them but it can also bring a host of questions—where, what theme, and is it easier to rent a birthday party room? In our opinion, given the slew of amazing spaces, yes, it will be easier, but the theme is still up to you! If you're wondering about the cost of a birthday party room, there are examples for every budget below.
Why rent a birthday party venue?
First, let's get the obvious out of the way–hosting a birthday party in your home can be a hassle. There's the matter of parking, of space, and no one we've ever met has said "I love cleaning up my house after a party". Plus, it is a lot easier to end a gathering at a rented birthday party room rather than a house party because there are set hours, no one wants to be the host kicking people out of their home because they want to go to bed.
When you rent a birthday party room, you're outsourcing some of that hassle and solving your logistical problems. Don't know what kind of food to serve? Hosts deal with events all of the time and can put you in touch with great caterers and service people. Don't have 100 chairs laying around your garage? Many venues include chair and table rentals or they can be added for a fee. Want a jaw dropping setting with a view that your apartment doesn't have or want to host more people than your place can accommodate? The very easy answer is rent a venue.
Renting a venue that fits your aesthetic helps create the photogenic backdrop that you crave because of course there will be tons of photos. If you have a theme for your party, the right venue will really make it come to life—it's difficult to pull off a roaring 20's theme in a modern loft. As a bonus, a rented space adds a sense of anticipation upon arrival—since it's not one of your usual haunts, it can help create excitement for an out of the ordinary experience. If you want a festive theme for your party and you're feeling lost on where to start, check out this inspiration in the form of dance party ideas, that should help steer you in the right direction.
If you're worried about your chosen birthday party venue cost, take into consideration the fact that party rentals like tables and chairs are often very expensive with delivery. If you're planning a larger shindig, some venues offer amenities such as security, bar service, and parking which can give you considerably more value for your money.
Last but not least, if you're planning a surprise party, it is so much easier to pull off at a venue unknown to the recipient of the surprise!
How to rent a birthday party venue
If you have a specific idea for a setting, say an outdoor garden space or a boho artist's dream space, then search for those places first. Conversely, you can search for spaces in your area that you love and let the vibe of the place inform your choice of theme.
If you're planning to rent a birthday party room for a child, or a mixed party for a parent, make sure all ages are allowed by the host. It's uncommon, but some spaces with treasured furnishings prefer the little ones stay home.
On the flip side, if you are planning a more energetic party for adults make sure your host isn't surprised and clear this with them first. Most hosts and spaces have a clear closing time, limited by local ordinances, so if you are planning for an event to go past 10pm, make sure you choose a location that will allow it. In the same vein, if alcohol is on the menu, check the hosts rules for the space to ensure you won't run afoul of them, or the law in some cases.
Types of birthday party venues
When you are looking for the perfect venue, you are really only limited by your imagination, by how far you want to drive, and by your budget. There are spaces to fit every theme and whim, from elegant mansions to funky art galleries to arcades for the kids and inner children, the choice is yours! If you think renting a birthday party venue will be cost prohibitive, fear not, there are many affordable and gorgeous spaces!
Here are a few of the different types of Birthday Party Venues you can find on Peerspace:
How much does it cost to rent a birthday party venue
Due to the wide range of spaces available, it's difficult to give a set cost of a birthday party room, it really depends on what you're after and perhaps more importantly, the city you're searching in. In smaller cities, expect to pay between $75-$150 an hour on average, with most venues requiring a 3 hour minimum. This artsy intimate turn-key gathering space in Portland was designed with hosting events in mind and fits in that budget range.
So does this urban eclectic loft with floor to ceiling windows located in Hyattsville, MD which is perfect for intimate gatherings.
In big and/or famously expensive cities (you know who you are), a good average is $200-$300 an hour, with a 2-4 hour minimum. For really luxurious event spaces or one that can hold large groups of more than 100 people, the sky's the limit.
If you are hosting a longer event, and want to bring the cost of your birthday party room rental down, look for a host that offers a discount on longer stays.