How Much Does it Cost to Rent a Hotel Meeting Room?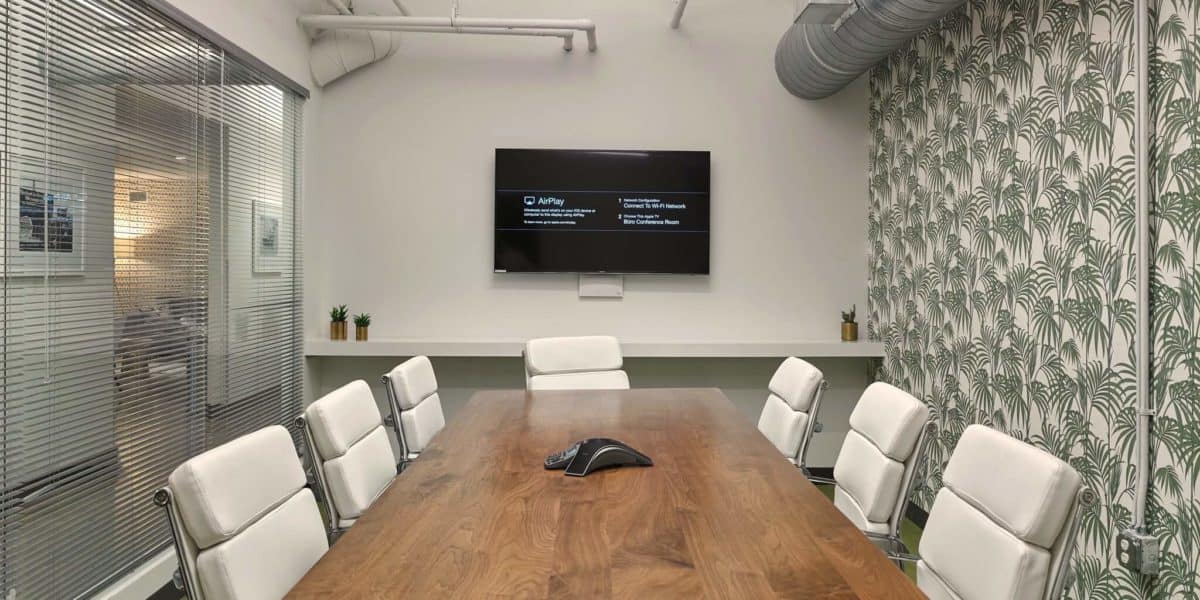 Answered
Hotel Meeting Rooms on Peerspace cost on average between $55 — $95 per hour.
If you and your company hold meetings regularly, you know the importance of location. Now more than ever, it's crucial we have the space we need, access to fresh air, and specific amenities. And with Peerspace, you can easily book meeting rooms that suit your location, amenity, and budgetary needs. But why rent a hotel meeting room? And more importantly: how much does it cost to rent a hotel meeting room?
When you use a hotel for your conference or presentation, you have access to all technology that many smaller spaces don't have. Plus, in many cases, other great perks like having staff are included. A hotel meeting room can make it as easy as possible to engage your meeting attendees and accomplish your goals. All for a competitive cost.
Ahead, we share how to find the perfect hotel meeting room. We'll discuss the types available and answer the titular question: how much does it cost to rent a hotel meeting room? We also share how to book alternative spaces that are actually a more affordable and modern option over traditional hotel meeting rooms. Let's get started.
Why rent a hotel meeting room?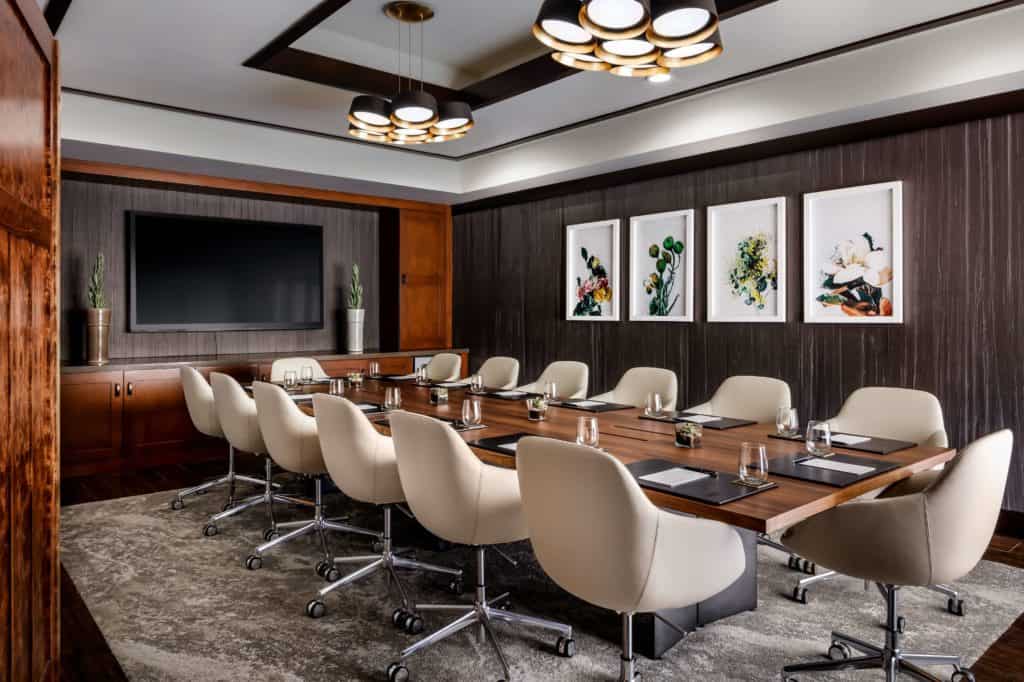 Why crowd around a tiny office conference room when there are so many kinds of hotel meeting room rentals available? From historic and elegantly furnished spaces to ultra-modern conference rooms, you can book the perfect spot for your team.
In fact, renting a hotel meeting room has multiple benefits, one of which is the amenities on offer. Most hotels offer meeting rooms with projection equipment, audio/visual services and operators, and food and beverage service.
You can also customize your event easily. Offer snacks with coffee and tea to power your team through their brainstorming sessions. Or, set up a buffet table for a serve-yourself event. Both options are possible when you rent a hotel meeting room.
If you are planning an event that includes a large proportion of out-of-town attendees, a hotel meeting room is the height of convenience. If your guests stay at the same hotel, they won't even need to commute. And after your event, attendees can relax over drinks in the hotel bar or grab a bite to eat in the restaurant.
Renting a hotel meeting room also allows you the space that your office may not have, especially if you're planning a more significant event. Most of the smaller spaces accommodate at least 25 people, some up to 100, which most office conference rooms cannot.
Plus, there's the matter of set-up and clean-up. When you rent a hotel meeting room, that duty is handed to the hotel's staff, saving you time and energy better spent on your presentation. 
If you're looking for an edgier option, some hotels have outdoor meeting spaces perfect for getting the creative juices flowing or for use as a space that transitions from a meeting to a mixer.
Check out these breakout session ideas before your next meeting!
How to rent a hotel meeting room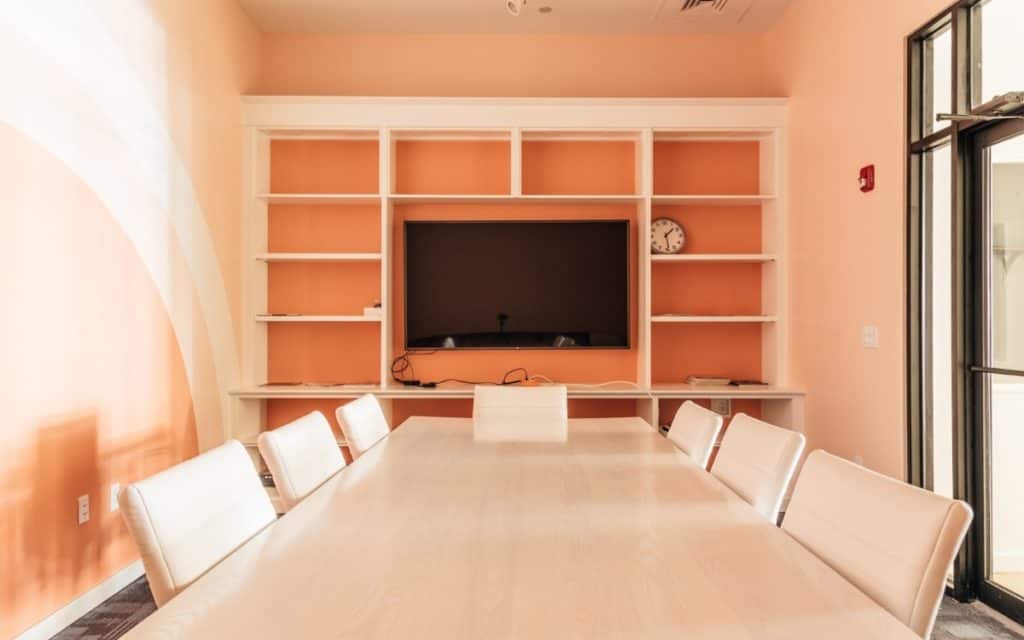 When you're looking for the perfect space, keep in mind the location of the hotel. Is it near your office, airports, and must-try restaurants or sightseeing spots that attendees can try after the meeting is over?
Also, keep in mind the intention of your rental. Do you want an intimate space, free from distractions for a brainstorming session or a multi-use space with a giant pull-down screen? The requirements of your specific event should guide you to a space that will suit your needs. 
Another factor to consider is the cost to rent a hotel meeting room. There are affordable options, but the fantastic range of amenities plus the addition of staff will add a bit to your final total.
Before booking, clarify the specifics of the space. For example, what, if any, beverage services are included? Is the necessary equipment included with the room rate, or is it an add-on? It's also good to clarify the allowed time for setting up and breaking down the room as it varies by the host.
Peerspace makes it easy to book a hotel meeting room, with hotel policies, amenities, and included equipment readily displayed on the venue's listing page. Just find one that suits your taste and can accommodate the number of people attending and offers the services you require, run through their specific policies, and press "book."
Next, we share the types of hotel meeting rooms and similar spaces that you can rent on Peerspace.
Types of hotel meeting rooms available on Peerspace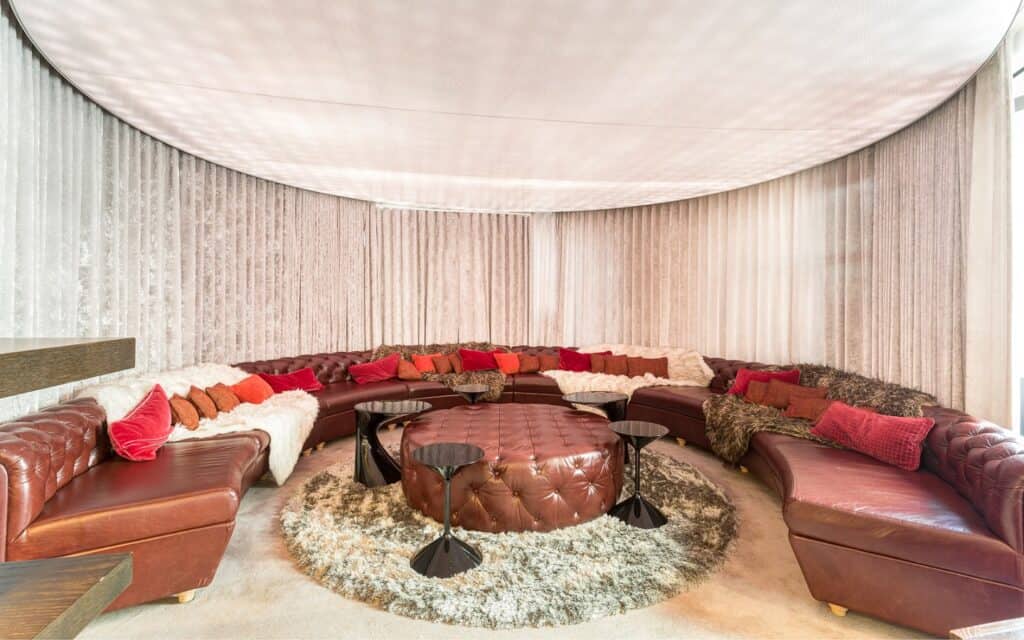 Hotel meeting rooms vary widely in their aesthetics and functions. It's essential to choose a space that not only suits the kind of meeting you're planning but also has the services on offer that you need. If you have a particular aim in mind—like a quiet space to focus or an energetically themed space to boost creativity.
Here are a few of the different types of hotel meeting rooms you can find on Peerspace:
You can also throw swanky parties in hotels. Find out how here!
How much does it cost to rent a hotel meeting room?
The cost to rent a hotel meeting room varies depending on various factors like the location, the size of the space, and the equipment provided. However, you can expect features like whiteboards, screens, and high-speed WiFi to be standard in any meeting room. Most of our hosts also include water or coffee and parking as part of their services. 
On the basic end, you can expect to pay between $50-$100 an hour, with a three-hour minimum. Boutique or ultra-hip hotel meeting spaces cost upwards of $200 an hour, and with luxury spaces, expect costs of over $300 an hour with a three-hour minimum. 
A closer look at the hotels we mentioned above
On the higher end of the price scale of the venues we mentioned above is the historic Chicago shag room. It is $150 per hour for just the room, but $650 per hour when you add on their food and beverage service.
Similarly, the NYC loft adjacent to the Mercer Hotel we mentioned above is $180 an hour, with a two-hour minimum. It combines a sleek and sophisticated style, a prime location, and superb amenities.
But don't just take our word for it! Check out one of the multiple five-star reviews this space has. For example, this Peerspace reviewer who booked the venue for a business off-site: "Wonderful space. We had several comments from guests about how nice it was. And Re is very helpful and responsive. This is our second time booking and would love to go back!"
On the lower end of the scale, check out the price of the executive boardroom in downtown Miami. It is just $75 per hour with a one-hour minimum.
In the words of a Peerspace reviewer who books this boardroom for some off-site meetings: "Always so clean and professional! I am happy repeat customer!"
Then there's the suburban private hotel meeting room in Vacaville, CA. It is just $54.82 per hour but has a four-hour rental minimum. It has all the meeting equipment you could need and is wheelchair accessible and offers on-site parking.
The only way to know how much a hotel meeting room will cost you is to search your location on Peerspace! You never know what amazing spaces you'll discover in your town.
How much does it cost to rent a hotel meeting room: conclusion
If you're looking for the perfect hotel meeting room that suits your budget and needs, be sure to check out Peerspace first. Whatever your budget or event, there are an incredible array of hosts eager to help you plan something that exceeds your expectations. 

Get together somewhere better
Book thousands of unique spaces directly from local hosts.
Explore Spaces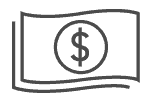 Share your space and start earning
Join thousands of hosts renting their space for meetings, events, and photo shoots.
List Your Space