How Much Does It Cost to Rent a Recording Studio?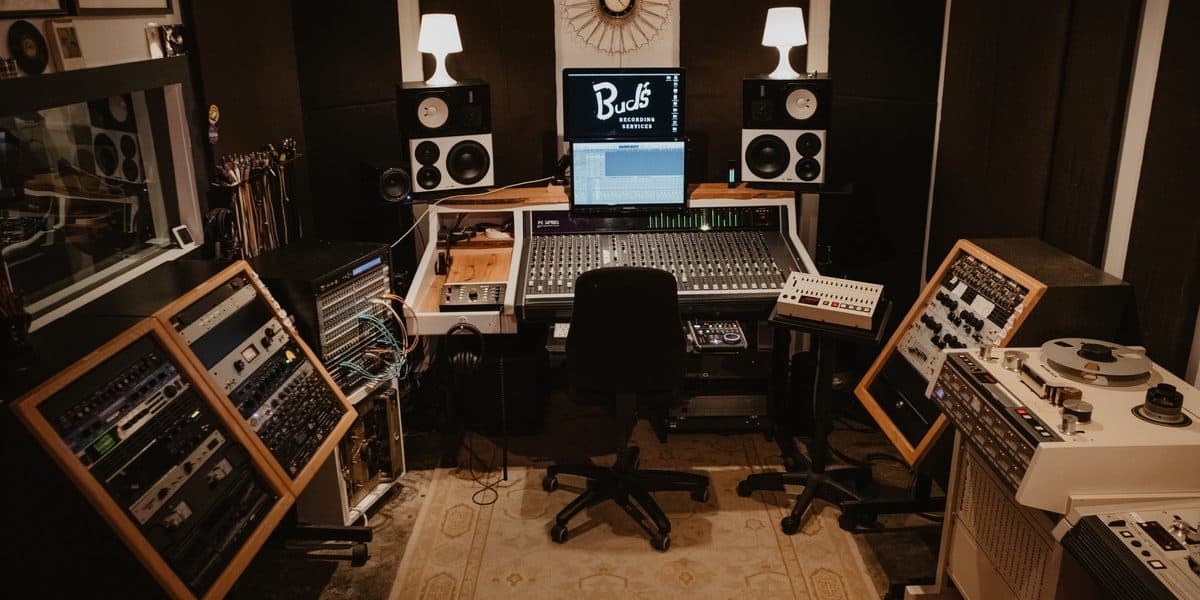 Answered
Recording studios on Peerspace cost on average between $35 — $60 per hour.
Recording studios have long played a major role in the American imagination. From Sun Studio in Memphis to Capitol Records in LA, many music fans know exactly where their favorite tracks were recorded. But with the rise in home recording equipment, today's recording artists are just as likely to create their own customized recording studios in an attic or garage. If you're looking for a professional space to record your next album, you may be wondering: how much does it cost to rent a recording studio with all of the modern equipment and instruments you need?
We'll discuss this very question as well as why to rent a recording studio. We will also explore the types of recording studios available and how to rent one. If you're looking to rent a recording studio, be sure to check out what Peerspace has available near you! As the largest marketplace for event and production bookings, you'll find the perfect space with the perfect vibe and perfect equipment in your chosen location. We'll include photos from real Peerspace recording studios available to rent from musicians like yourself throughout this article so you know what's out there.
Now, back to our topic at hand. Whether you're a musician, an agent, or simply curious, we have your recording studio rental information right here!
Why would you rent a recording studio?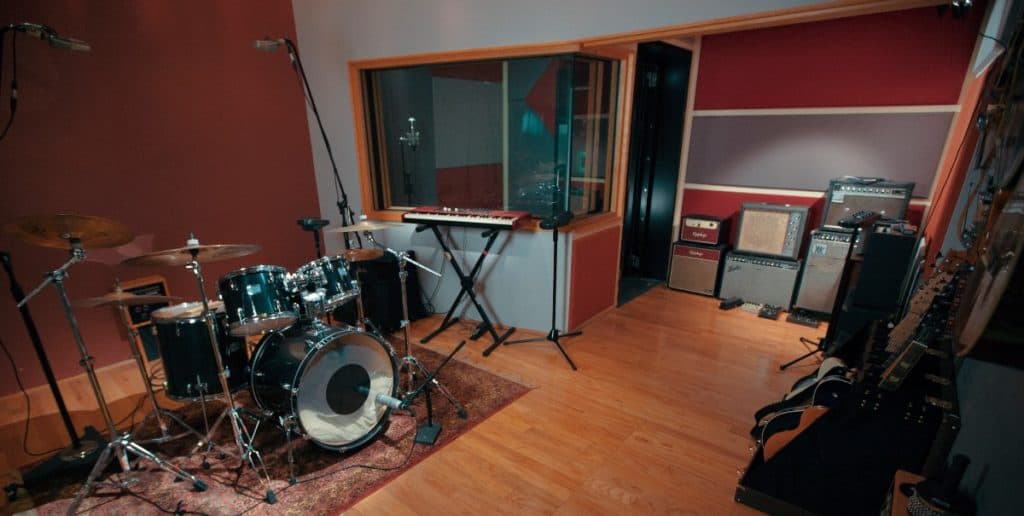 First, why rent a recording studio when you could just use your laptop and a microphone? The short answer is unless you've built your own recording studio at home, the acoustics will be better. Professional recording studios are designed to get the best sound possible. They usually have soundproofed walls and high-quality microphones to get the sound you're looking for.
Not only that, but many recording studios have top-quality instruments you can use. Even if you bring your own guitar, chances are you'll want some drums and maybe even a piano too. Many recording studios have large instruments that musicians can't easily transport themselves and may even have a larger selection of acoustic and electric guitars than you have at home.
In addition to that, most studios will have professional recording engineers you can hire for your session or studio musicians you can book for a live recording or backing tracks. And, of course, the studio you record in can be a great setting for your music documentary or music video.
What if I'm not a musician?
That's okay! The fact is, recording studios aren't just for musicians. There are plenty of other reasons you might want to rent a recording studio, such as recording a podcast or audiobook. A recording studio is also a great location for an interview or private meeting that needs to be recorded. You'll get high-quality audio in a comfortable, controlled setting.
You can also book a recording studio for a private karaoke party or listening party. Some studios offer parties for kids or adults to record their own karaoke tracks or music videos. They can also be a fun outing or team-building event for your corporate team.
From private workshops and events to professional recording sessions, recording studios are a place where you can get creative and be a part of the ever-changing music industry.
How to rent a recording studio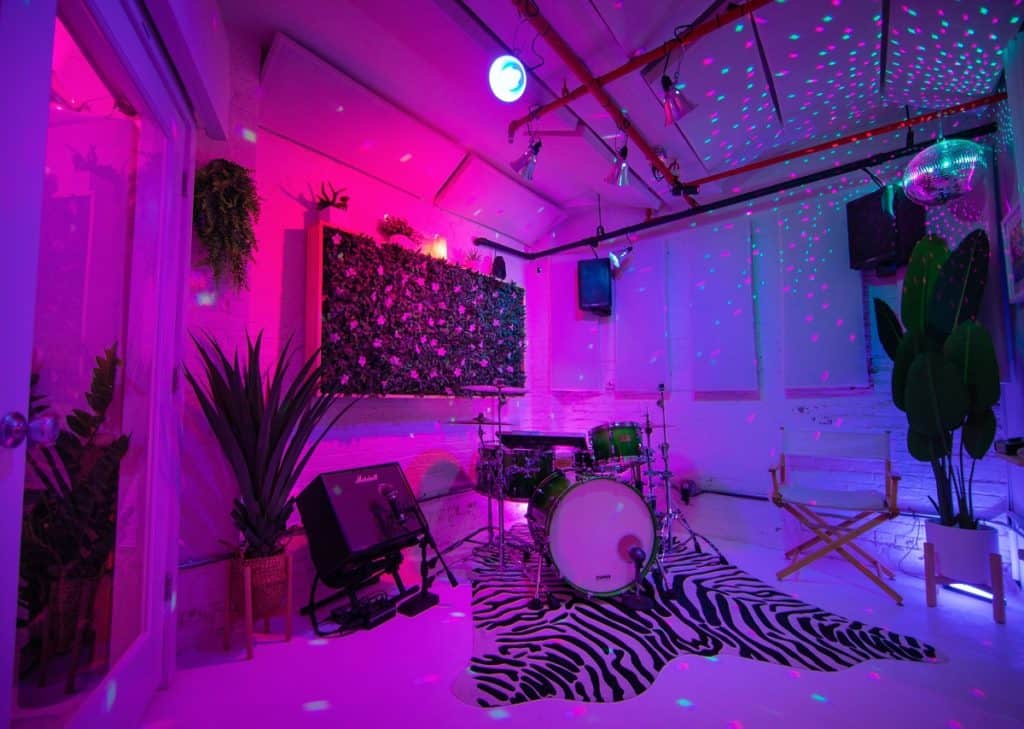 While some recording studios may have their own online booking system, we think the best way to rent a recording studio is through Peerspace. Peerspace is your go-to booking platform for all kinds of events, from parties to photoshoots to performances. Venues are available to rent by the day or the hour from local hosts, making it easy to book your own recording studio.
You can either search specifically for a recording studio or search for a related event type (such as "performance" or "music video") and filter your results to only show recording studios. Or, use keywords or other features (like "piano") to find a venue that suits your needs. You can also set the price range, location, capacity, and other factors to help you find the perfect space.
Once you have a place in mind, you can reach out to your local host. They can tell you precisely what else is available on site, such as additional musical instruments or recording assistance. If you need something that your host doesn't offer, call up the Concierge service. These dedicated logistical pros can help you add a professional photographer, catering services, or equipment rentals to your booking. Or, really, just about anything else!
Types of recording studios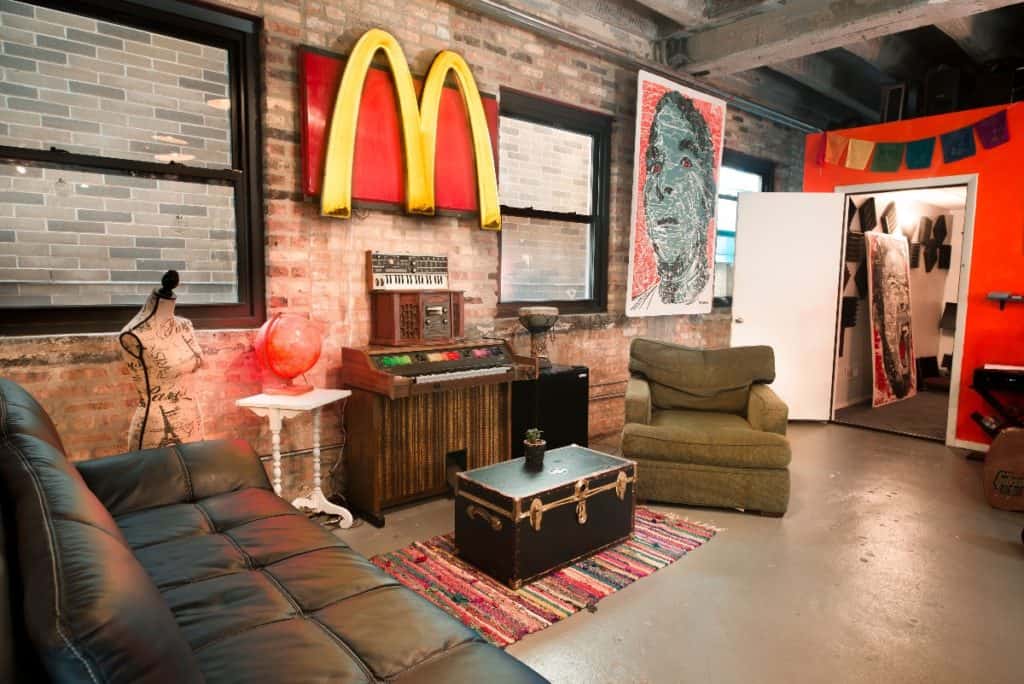 But how much does it cost to rent a recording studio? That depends on what kind of space you choose. You'll find everything from cozy home studios to large production spaces that can fit an entire band or orchestra. Keep in mind that the venue capacity may vary based on what kind of event you'll be hosting there.
Here are just a few of the great locations that are available:
As you can see, there are plenty of recording studios to book in cities across the country. The problem may be narrowing it down! To find the perfect Peerspace-bookable recording studio near you, browse the listings in your city, consider their amenities, check out the photos, and read their reviews.
How much does it cost to rent a recording studio?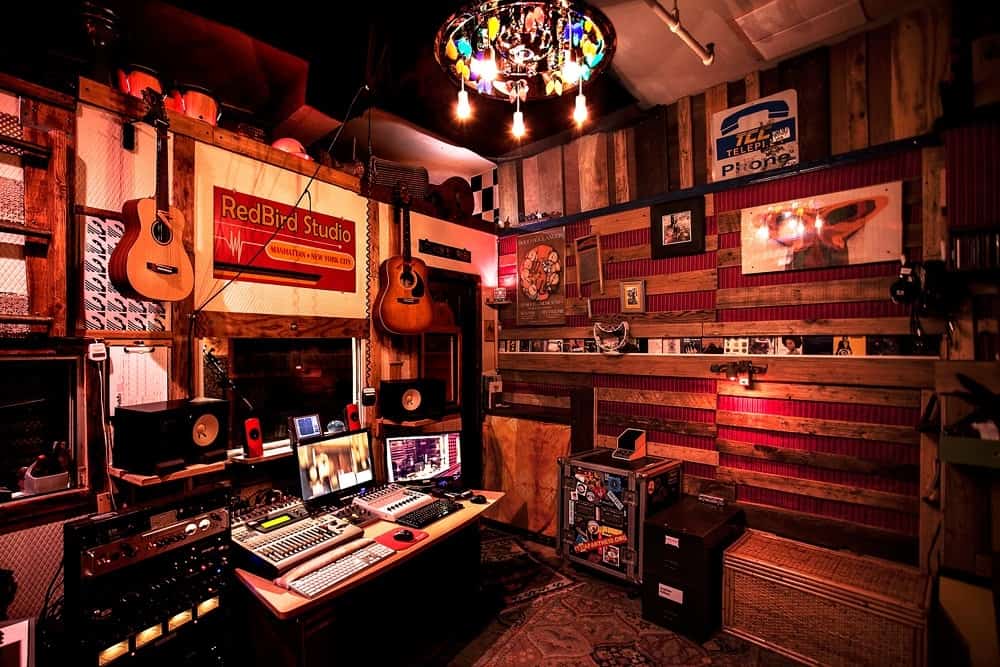 There are so many variables that go into rental rates that there's no one answer to the question, How much does it cost to rent a recording studio? But you can expect the cost to vary based on how many amenities and services are provided, the studio's location, as well as equipment and instruments.
Higher prices for professional equipment
For example, the private production space in Daly City costs $60 per hour and includes an onsite engineer, a custom Pro Tools setup, and a larger equipment collection. The studio also consists of several spaces, including the control room, the main recording room, an isolation booth, and an outdoor patio.
This studio has dozens of five-star reviews, for both the space itself and the host! Like this one: "Alex was great! The setup was awesome/clean, and so was the microphone quality. No surprises and I got the vocal export that I wanted. It was clear that he has a lot of expertise in this space. I am looking forward to working with him again!"
The professional recording studio in Williamsburg costs $200 per hour and has a range of A/V gear in addition to standard recording equipment. It's suitable for everything from performances, film screenings, and listening parties to off-site meetings. It has a 4K mobile screen, dry-erase board, 8-10 person conference table, and recording services are an extra $50 per hour.
According to one past renter who booked this studio for a recording: "Was an absolute pleasure working in this beautiful space. The staff was incredibly accommodating and the big room is even more impressive in person. Highly recommend!"
Higher price for more amenities
The recording studio in Midtown, NY, provides a cozy, luxurious vibe for $85 per hour, with room for up to 5 people. It includes tons of professional gear as well as incredible views of the NYC skyline. It's soundproof, has freight elevators, and lets in plenty of glorious natural light.
One Peerspace reviewer shared the following about their experience at this studio: "I recommend this studio for independent artists in NYC. Good location, cool studio, talented engineer. I got really satisfied session with the best engineer here. Thanks"
The recording studio in Atlanta offers a large space with a kitchen, lounge, and dance floor for $150 per hour. When you examine the Peerspace reviews, you'll also notice that past renters adore the host as well as this space's special vibe!
Just check out this review: "I absolutely adored this place and the pics doesn't do this space justice. The customer service and energy there is completely alluring and top notch. The owner Aris is a real stand up guy who's vibe allows the client to completely be themselves. It was the most rewarding experience and I plan to continuously use this space for future projects."
The Daly City studio is a modern home studio designed by experienced recording engineers with a range of microphones and vintage instruments. Still, it is one of the most affordable, at only $35 per hour.
This is another studio with tons of positive reviews! Like this one, from an artist who booked the space for a working session: "Absolutely LOVED this space for a solid jam session. Great host who ensured we were set up for success and very communicative! 10/10 will book again."
Find what appeals to you on Peerspace
Choosing a recording studio isn't just about the equipment and price. It's also about finding a space with a vibe that speaks to your performance style and sensibilities. Whether you want a bright and airy space with lots of natural light, or a cozy venue that brings you back to the days of vinyl, these recording studios on Peerspace offer you a great selection of spaces for any budget.
Plus, you'll know exactly what you're getting with your booking and can make your payment on our secure booking platform to avoid any hidden charges or fees!

Get together somewhere better
Book thousands of unique spaces directly from local hosts.
Explore Spaces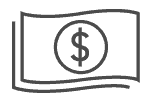 Share your space and start earning
Join thousands of hosts renting their space for meetings, events, and photo shoots.
List Your Space