13 Memorable 50th Birthday Party Ideas for Men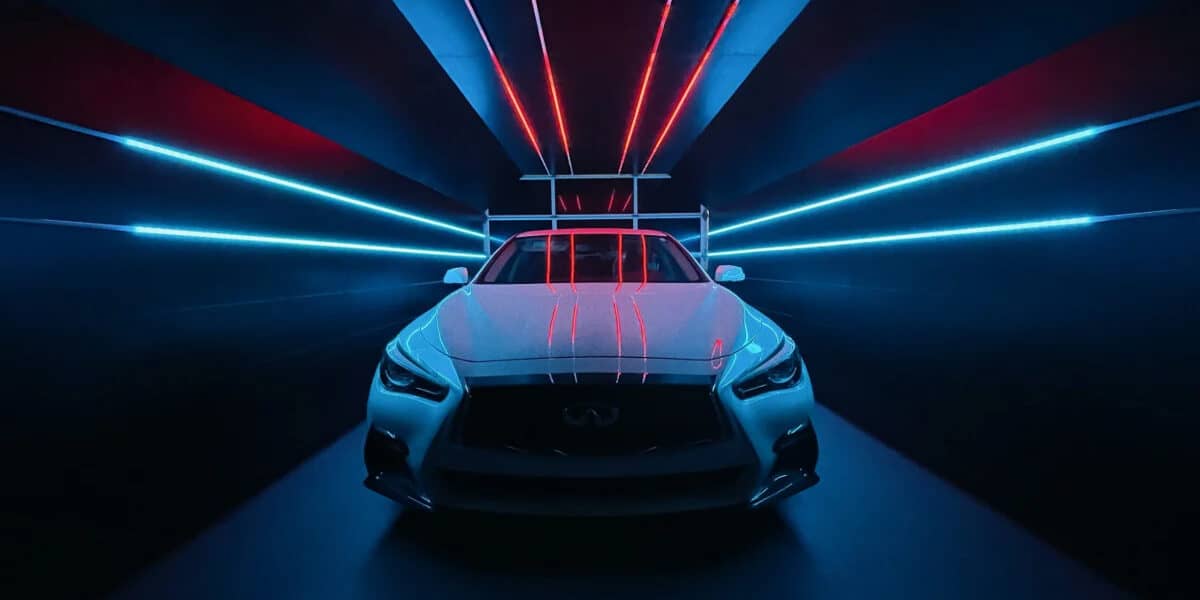 Looking for memorable 50th birthday party ideas for the men (or man) you care about most? We get it! A 50th birthday is a huge milestone event, yet creating a picture-perfect party is challenging. And now more than ever, celebrating our loved ones and resolidifying bonds is what it's all about.
So why not make this one particularly special by throwing him a party he'll remember for the next 50 years? If you're short on ideas, not to worry – we have you covered with our exciting, thoughtful ideas below!
Besides a few excellent birthday party ideas, you also need a sensational birthday party venue. Luckily, Peerspace has you covered there, too! As the largest online marketplace for hourly rental venues, you can book the perfect venue to suit the birthday boy and not break the bank in the process. We have thousands of stylish, pristine, and private venues in cities across North America and beyond.
Plus, when you book a Peerspace venue, you have the Concierge service at your beck and call. This trusted team can source and deliver any add-ons you need to maximize your party, like catering, entertainment, and furnishings.
So what are you waiting for? Check us out today and book a thrilling setting that lets you enjoy these memorable 50th birthday party ideas for men on their big day.
1. Book a Peerspace venue and change your scenery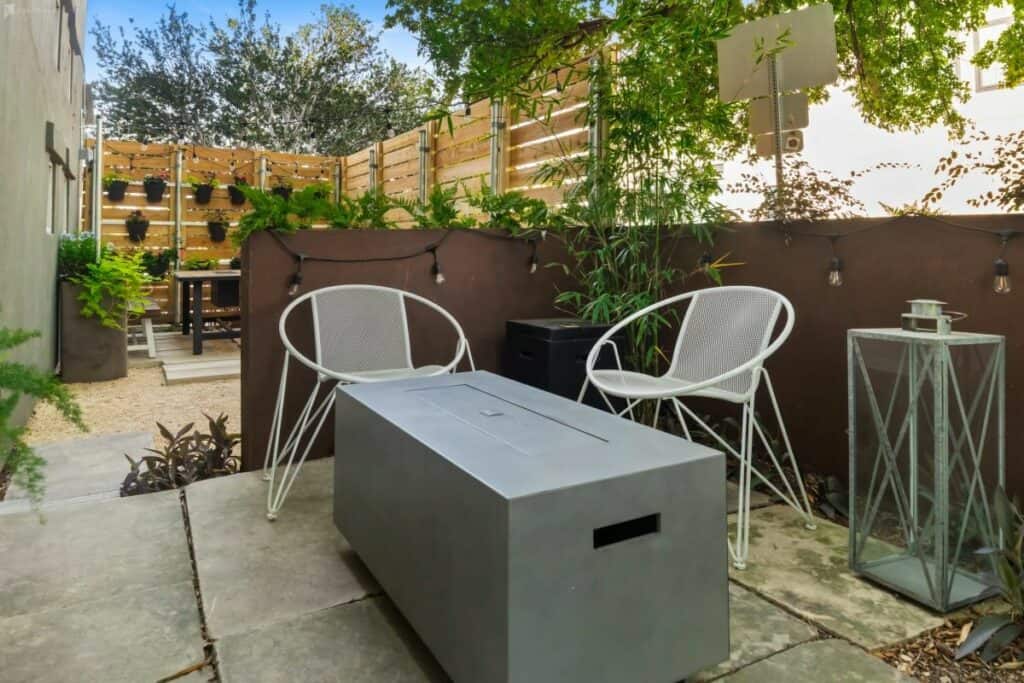 A birthday bash is much more memorable and livelier in a new, gorgeous setting. And that's exactly what's needed for the big 5-0, right? This is where Peerspace shines, offering you access to hidden gem venues across the globe. Peerspace venues run the gamut from mansions to photography studios to private art galleries.
Imagine spending his big night at this Portland penthouse that accommodates 50 guests and offers catering and bartending services. Or maybe he would prefer to spend his birthday at this secret garden just off Sixth Street in Austin (pictured above), which is an indoor/outdoor urban oasis for up to 20 guests.
When booking fun venues through Peerspace, you can communicate directly with the space's host to coordinate logistics. And if the venue you're eyeing doesn't have all the furniture or other gear you might need, remember that you can connect with Peerspace's Concierge service. This team provides trusted vendors who can deliver everything from food to audiovisual equipment straight to the venue.
2. Take him on a racecar driving experience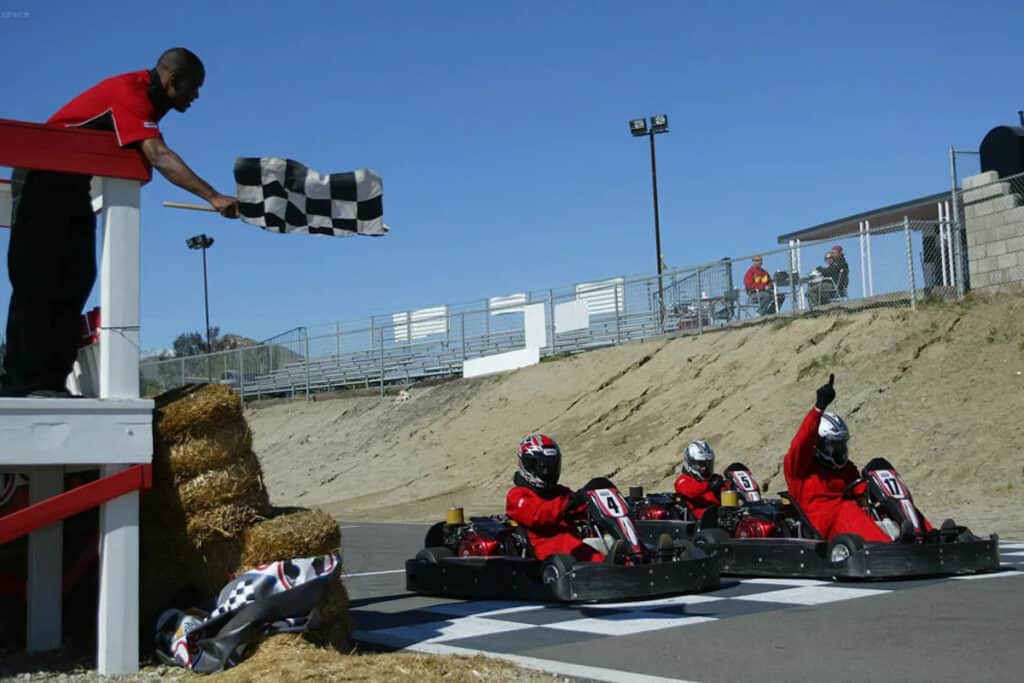 Fifty, as they say, is the age at the crest of the hill. He's not quite over the hill – yet. Rather, he's in the perfect chronological position to relive his youth while looking forward to a wise and healthy future. Celebrate the exhilarating pinnacle by enjoying a racecar driving experience together and possibly invite some of his hot-rodding friends.
These racecar rental facilities are available at tracks all over the U.S., and some even offer the use of extremely high-end vehicles. It's a 50th birthday party idea that he won't soon forget. 
Peerspace even has racetracks you can rent by the hour. For instance, you can book this Entire Motorsports Park (pictured above) in Riverside, California, and party with 500 of his closest friends!
3. Throw an over-the-hill surprise party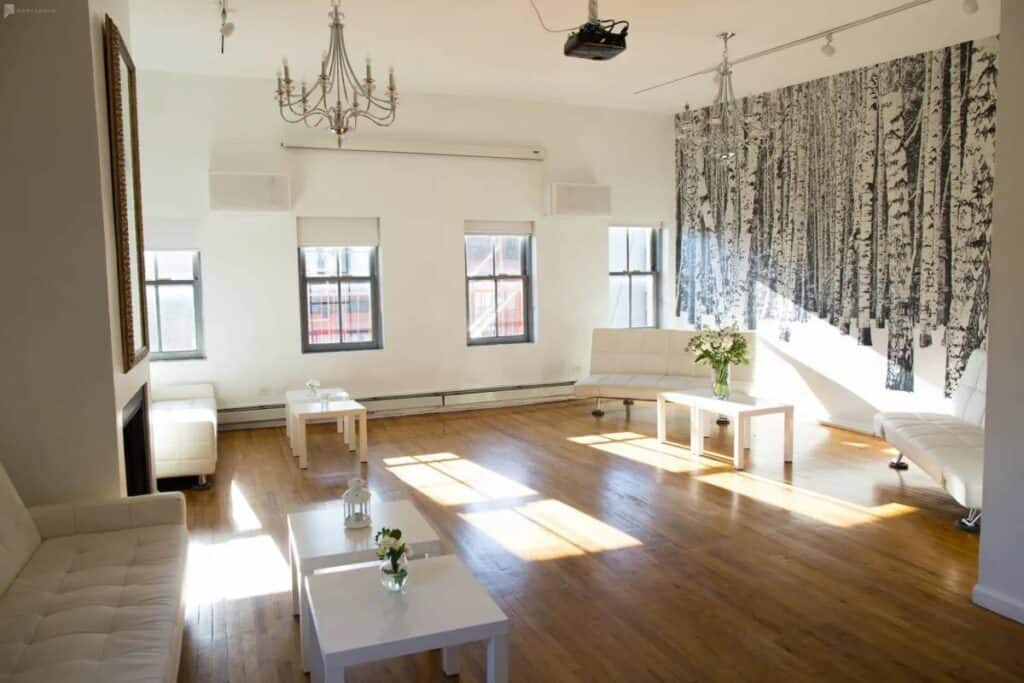 Why not rent a Peerspace venue and secretly guide your guy to the venue on the appointed day? Only you will know that a handful of his closest friends and family are waiting inside to surprise him!
It's sure to be a memorable get-together for the guests and the birthday boy alike. This is one of those 50th birthday party ideas for men that he will never forget. Be sure to have his favorite food and drinks on hand, and play his favorite tunes with a playlist you curate in advance.
Discover more of our awesome surprise birthday party ideas here!
4. Enjoy a special dinner out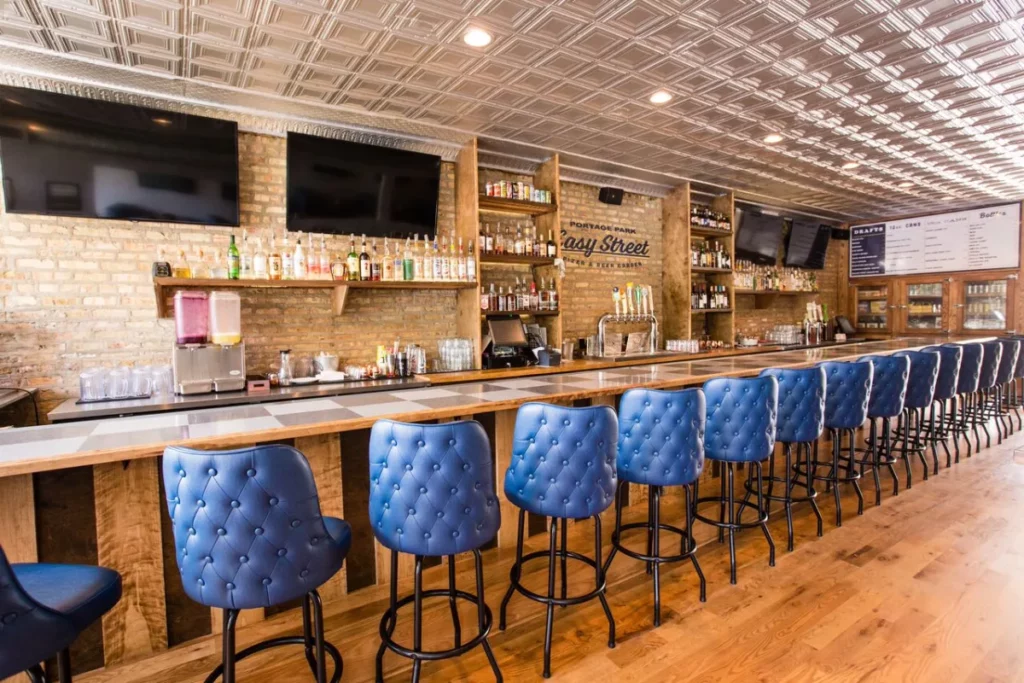 Secure a reservation at his very favorite restaurant of all time, or one that he's always wanted to try. Remember, a special dinner doesn't have to mean it's expensive.
His version of a perfect 50th birthday party ideas for men could involve eating at a taco truck, chowing down at a hot dog stand, or living it up at a five-star osteria. It's putting the thought into selecting the eatery that will make this a memorable party for him – that and the folks who join in the feast. 
5. Attend a coveted sporting event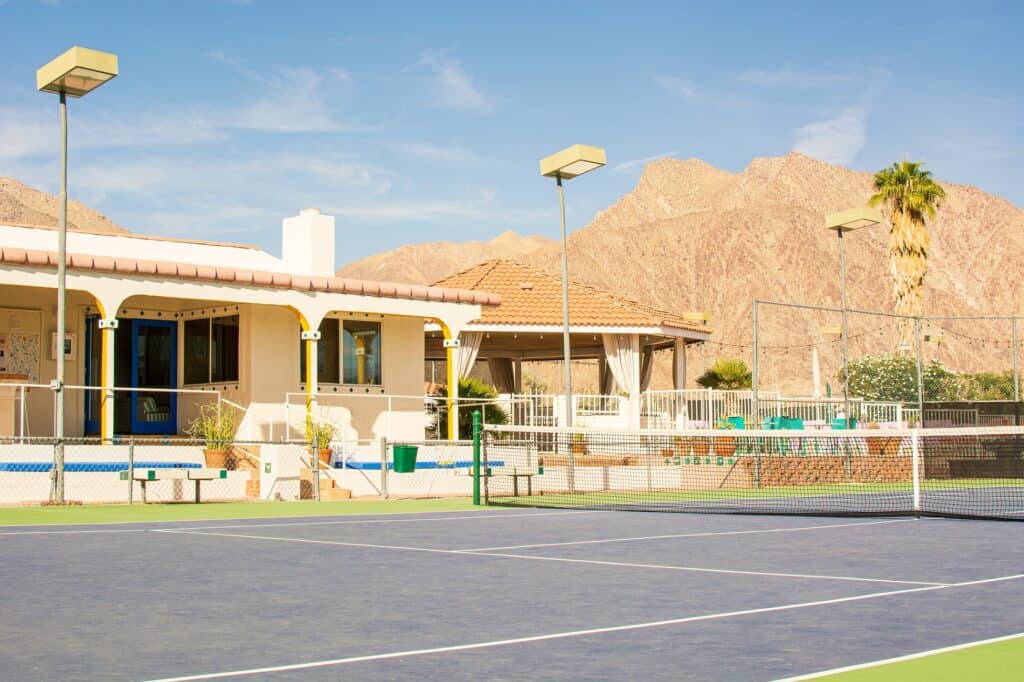 Not to overgeneralize, but it's safe to say that most 50-year-old dudes are passionate about one sport or another – if not several. If there's a home game he'd love to catch, reach out to his buddies, and buy some fantastic box seats. And if there's an away game, it's a perfect excuse to take him on a mini-vacation to wherever his team is playing.
You can also book a Peerspace venue that has its own sports court on-site, so your guy can be reminded he's still major league awesome while playing on a private court. We especially love this '70s-style tennis court (how fitting!) in Anza Borrego Springs and this industrial gym with a basketball court in Decatur.
6. Take the crew camping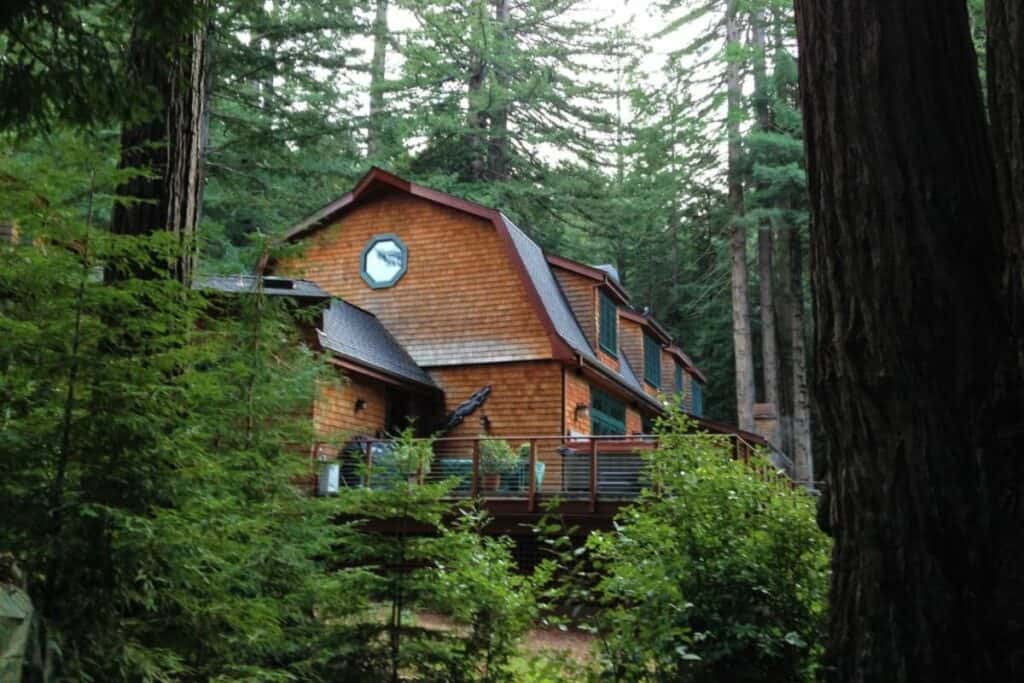 Plan a camping birthday party, complete with hiking and fishing and whatever other outdoorsy activities the birthday boy likes to partake in. This makes for memorable 50th birthday party ideas for men who like to rough it outdoors. Undoubtedly, the trip will be one for the ages.
Make the planning easy by booking a cozy cabin through Peerspace to get the party started.
7. 50 is brew-tiful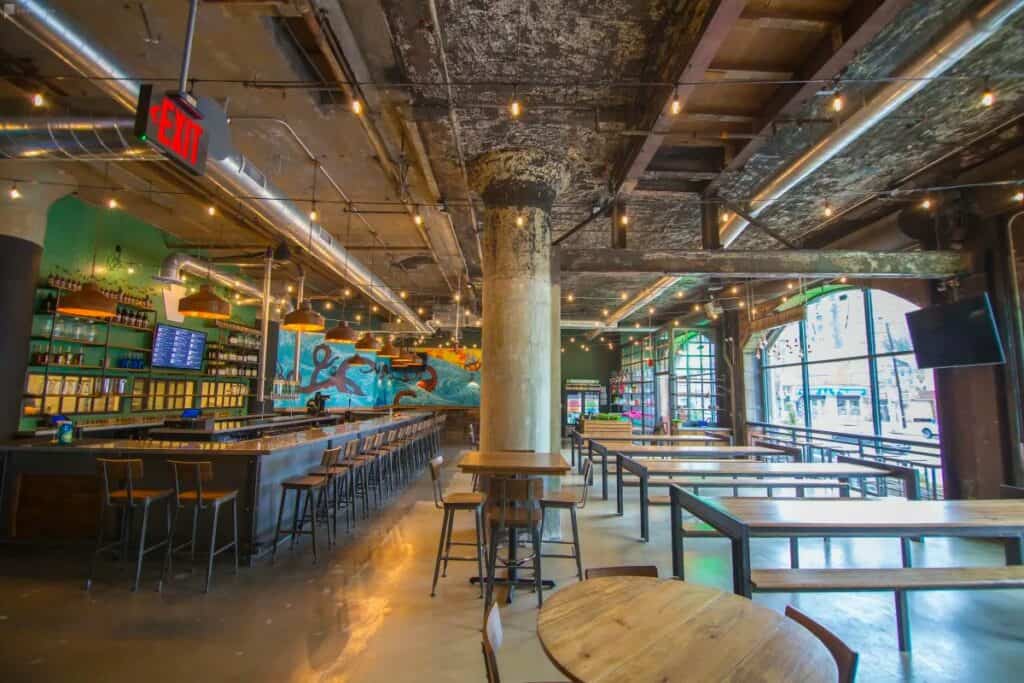 Cheesy?
Maybe.
But renting out his favorite brewery and throwing a private party just for him will become a cherished – if fuzzy – 50th birthday. Perhaps the brewmaster will provide the party with a tour of the facility to add some more effervescence.
Search Peerspace for breweries near you so that you know you can rent a brewery space for your party with just a click of a button.
8. Throw a throwback party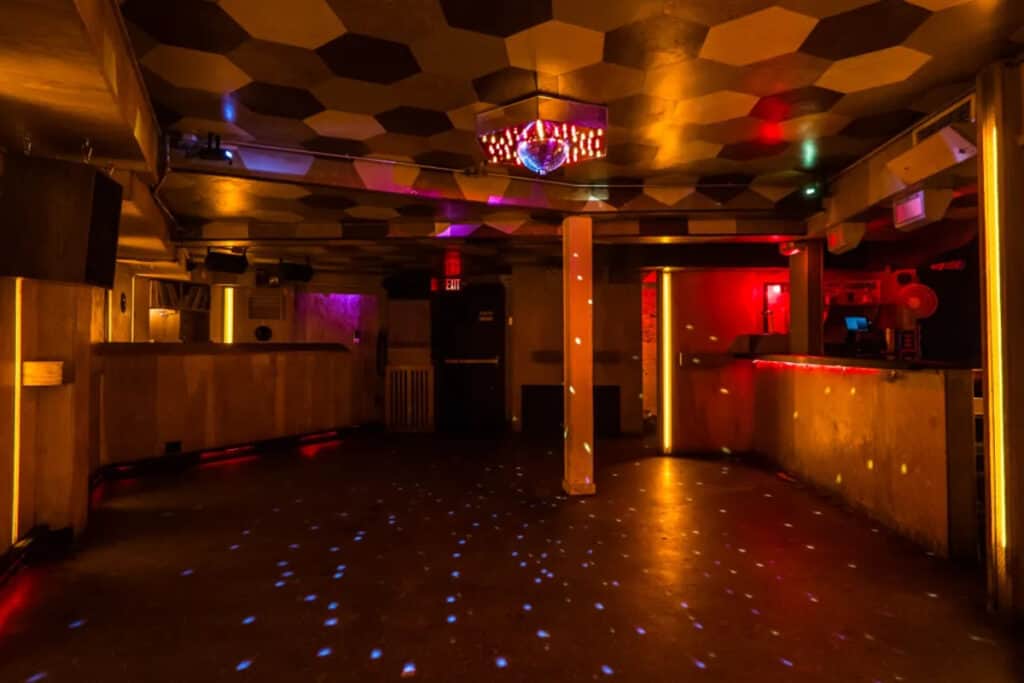 Center his party around the year of his birth. Figure out that year's top songs, décor, foods – the works – and theme the event accordingly. To get started on the menu-making, check out this article that details the most iconic party dishes from the 1970s. Heads-up: there is a lot of cheese going on! Hopefully, your guy likes his dairy! And if not, you probably already know that there are plenty of tasty dairy-free cheese substitutes.
Between the decor, the menu, and the playlist, the birthday boy will be thrilled! It's a sweet and thoughtful gesture that will make his 50th birthday party especially memorable.
Love this idea? Then plan it to the max by using our retro 70s party ideas guide!
9. Host a movie night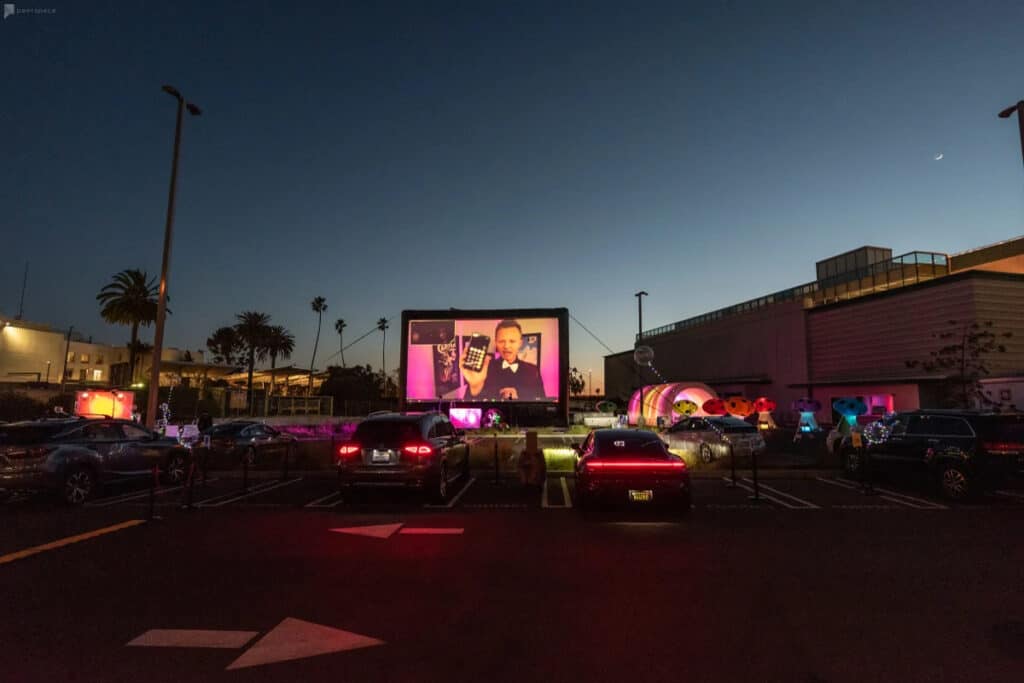 If he's turning 50, there's a good chance that he spent at least part of his youth at a drive-in movie theater.
Here's an idea for a memorable birthday party: recreate those nights by sourcing a wall or screen upon which to project a double feature of his favorite films. Serve him and the other guests popcorn and whatever other historic drive-in theater foods he would fancy. Set it up so folks can watch from their cars or spread some blankets around, picnic-style, for guests to curl up on.
10. Vegas, baby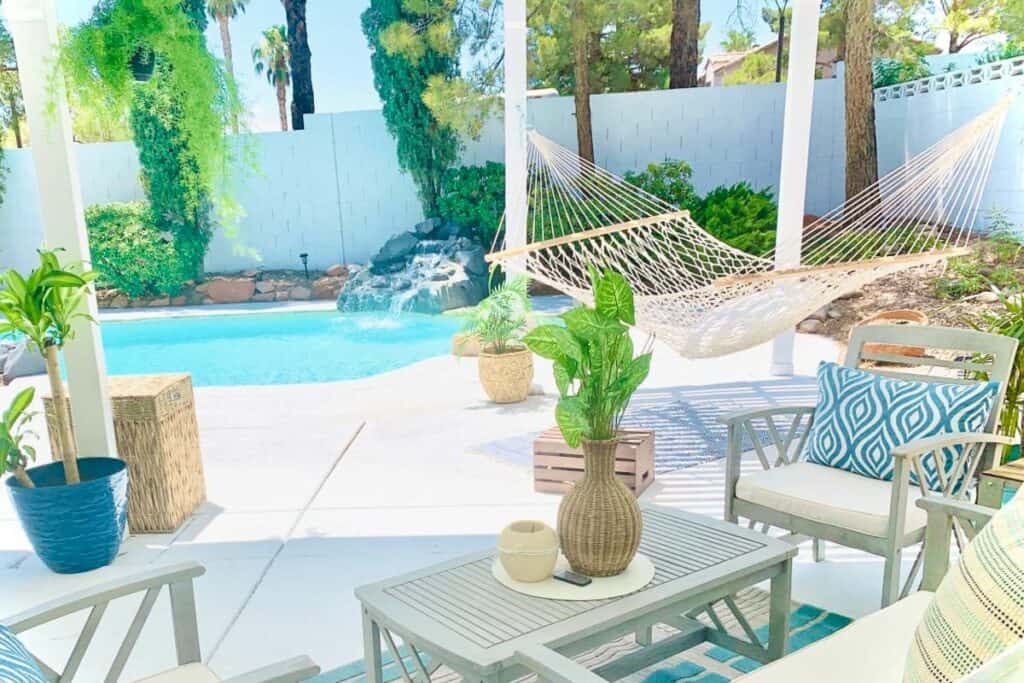 If there's one birthday in life when he should live it up, it's his 50th. What better time to head to Las Vegas to party like a rock star? Together, he and his friends can eat at the finest restaurants, drink some scotch, see shows, and play cards.
Vegas is one of the world's finest playgrounds, but it's easy to make 50th birthday party ideas for men like this feel like it's just for him.
11. Pretty Woman … but for men?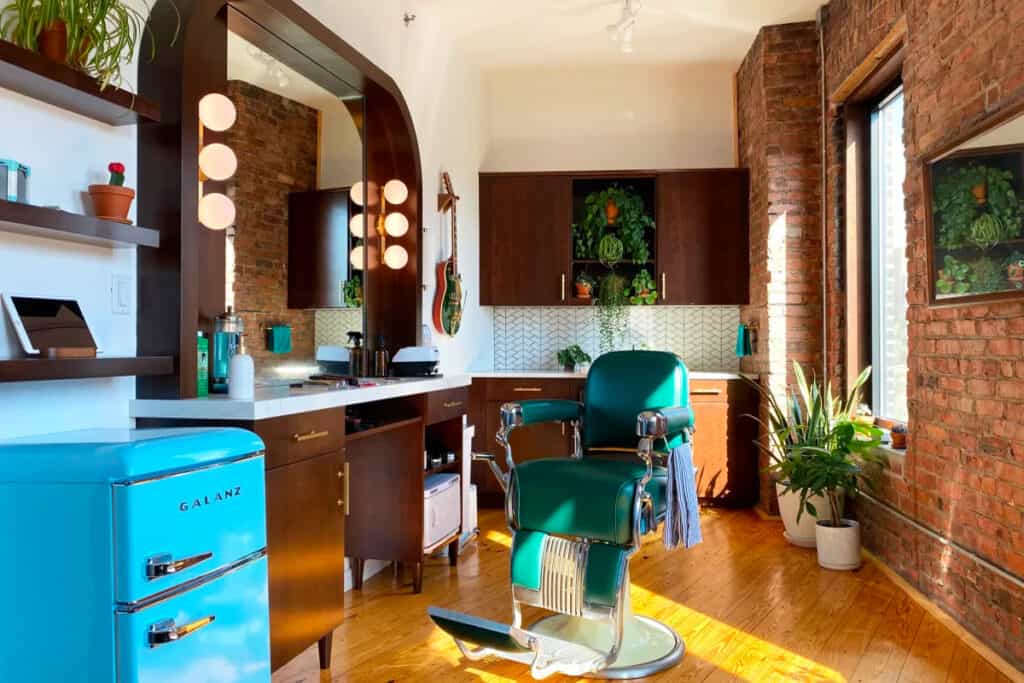 Here's an idea for a man's 50th that might seem counterintuitive at first. Get all his friends together and head out for a makeover party. Sounds silly? Read on. Men like new clothes, especially getting fitted for a new suit and buying new shoes. Men like spa days, haircuts, massages, and being pampered in general.
Don't be fooled into thinking this kind of treatment is or should be reserved for only one sector of the population. His 50th birthday pampering party will be incredibly memorable when he emerges from his chrysalis as a whole new man.
12. Reminisce to help him feel extra loved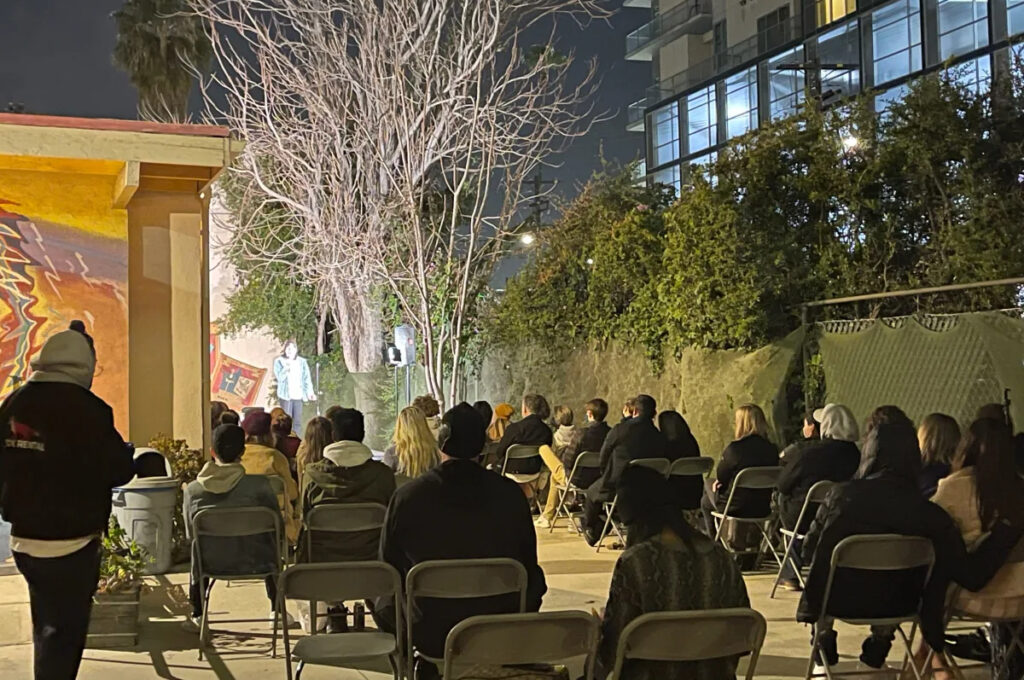 Upon turning 50, many people feel a little deflated or even defeated. Here's an idea about how to help them overcome that. Throw him a party, inviting all the folks he's known the longest. Arrange beforehand for them to bring either a photograph (digital is fine) or object, song, or other memorabilia that reminds them of him. Together, you can chronicle his life story using these memories.
At the party itself, guests might perform using these memories or give speeches starting with his birth and going right up to the present. This powerful and poignant 50th birthday party idea will remind him just how many people care for him and why.
13. Road trip + rentals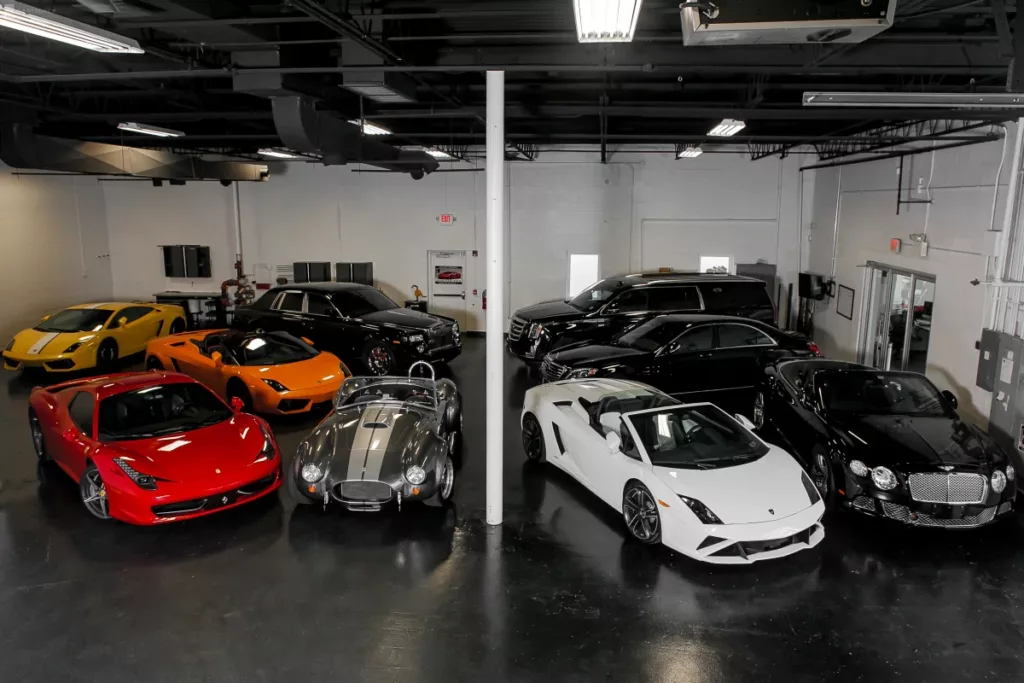 No man in the world would turn down the gift of a road trip for his 50th birthday, particularly if his friends and family joined and if he was in a special vehicle for the mobile extravaganza.
One idea is to rent a convertible and pack four friends and their stuff for a weekend cruise. Alternatively, rent an RV or motorcycle, and do the same. There's nothing like fresh air and the open road to remind him why he should be excited about the next fifty.
Bonus idea: birthday party photoshoot!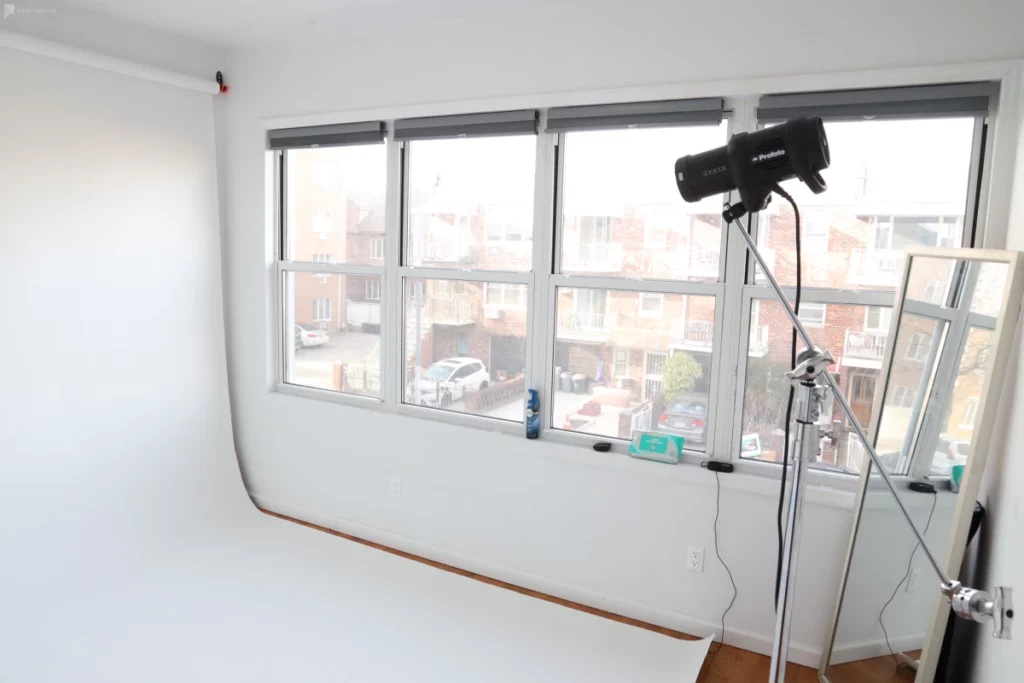 Like our makeover idea, this one may sound unusual at first. But trust us, it's the perfect party idea for milestone birthdays!
Start by renting a Peerspace photoshoot space that has incredible backdrops and an overall exciting ambiance. Then, consult the Concierge service and ask them to send over a professional portrait photographer. The photographer will take pictures of the birthday guy and all his friends posing together and having a blast in general.
Not only will incredible memories be made, but he'll be gifted with pictures that serve as the ultimate birthday gift.
Check out our 50th birthday photoshoot ideas to bring his photoshoot to life!
50th birthday party ideas for men are better with Peerspace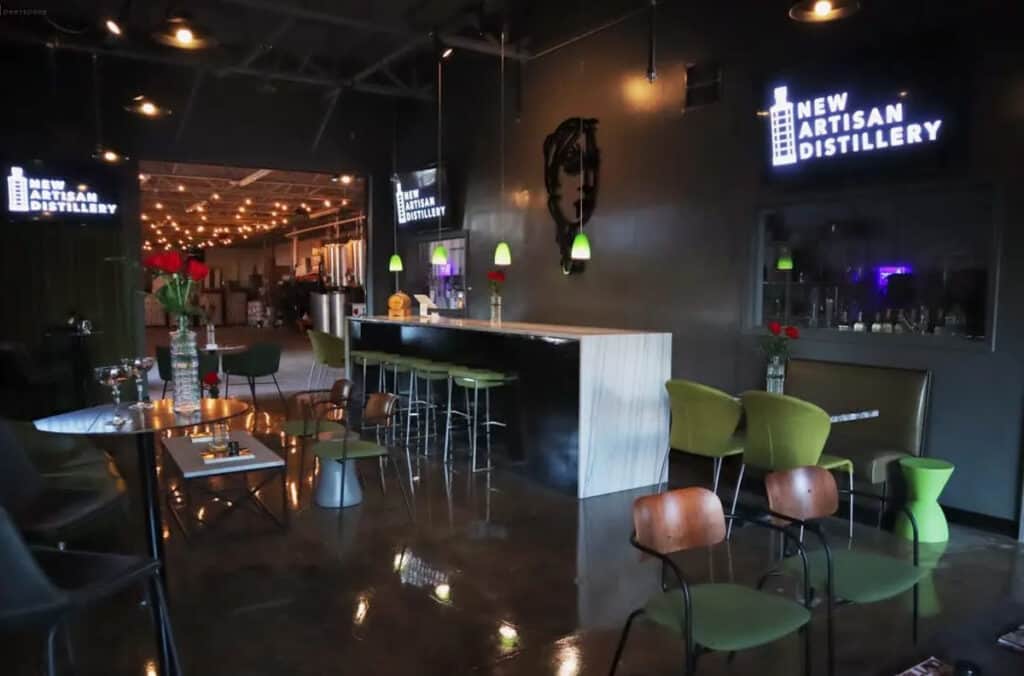 No matter what the special man in your life likes, you can book him a sensational Peerspace venue that makes it easy to show him how special he is. From lounges and penthouses to cabins and racetracks, the perfect space for your party is only a quick search away.
And remember, you can rely on the Concierge service to source and deliver any extras you need. Peerspace makes it easy to handle the most crucial aspects of party planning with a single booking!

Get together somewhere better
Book thousands of unique spaces directly from local hosts.
Explore Spaces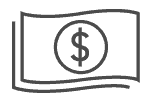 Share your space and start earning
Join thousands of hosts renting their space for meetings, events, and photo shoots.
List Your Space