How Much Does It Cost to Rent a Commercial Kitchen?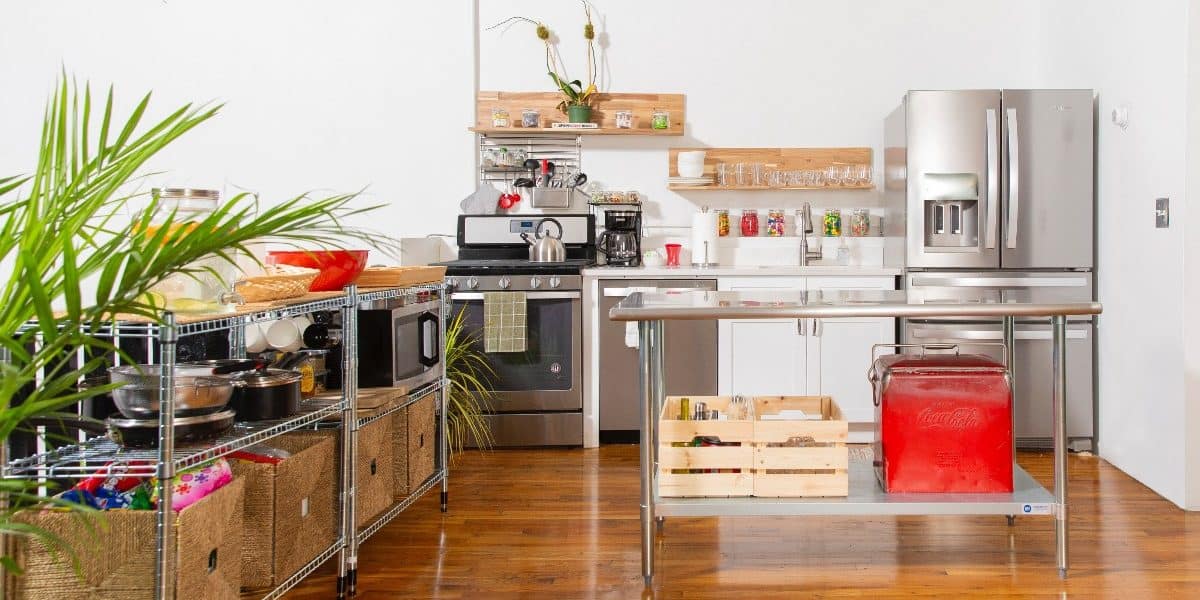 Answered
Commercial kitchens on Peerspace cost on average $95 per hour.
There are a number of ways to tackle the question, "How much does it cost to rent a commercial kitchen?" Of course, you'll want to find the most affordable option that fits your business or event's needs. But it can be daunting to figure out where to start your research and how to find a commercial kitchen to rent. To save you the hassle, we've done some digging and compiled helpful tips to help you find the perfect commercial kitchen rental.
And when you're looking for a commercial kitchen with all the space and equipment you want within the budget you need, remember to use Peerspace. As the largest online marketplace for hourly venue rentals, we have commercial kitchen rentals in cities across North America and beyond. Besides offering you the freedom to rent for as many hours as you like, booking through Peerspace also provides you with access to the Concierge service. These dedicated events and logistics pros can provide you with any extras you need, like waitstaff, equipment, and furnishings, and deliver them to you at your rental space. That should knock a few to-dos off your list!
Ahead, we'll delve into the cost of renting a commercial kitchen. We'll also explore why it makes sense to do so and how easy Peerspace makes it. Now, back to the topic at hand!
What's in a commercial kitchen?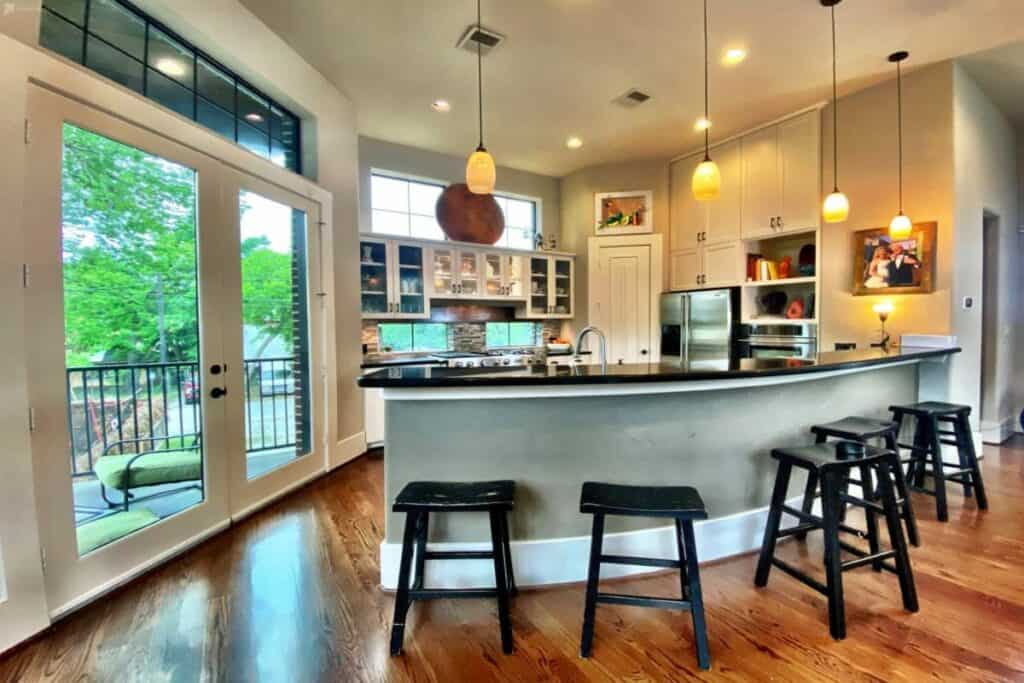 Commercial kitchens are so called because they're commercial-grade facilities that come in all sizes, shapes, and styles. With most licensed to prepare and serve food, you can likely expect an oven, grill, freezer, and cooler in most kitchens. Larger facilities may include several of each, as well as multiple prep tables and dishwashers to keep the kitchen flowing.
You should keep in mind that each commercial kitchen is different and come with their own set of rules, equipment, and usages. Also, it's essential to do some research on the kitchen you're interested in renting to make sure it fits your business or event needs. Size, location, a precise list of equipment, and available hours should all be noted as you begin your commercial kitchen space search.
Why should you rent a commercial kitchen?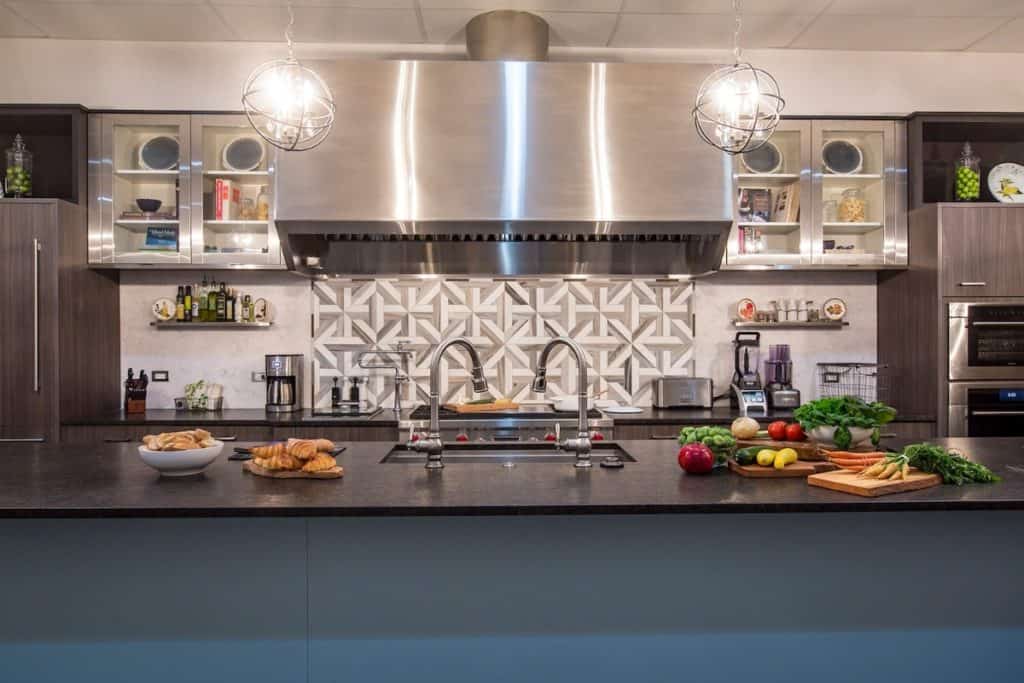 Catering teams, independent chefs, food truck owners, bakers, and anyone else needing access to a professional cooking space often use commercial kitchens. Unlike a restaurant, multiple teams of professional chefs book a commercial kitchen for a time slot to prepare meals for an event.
The owners of these communal kitchens pay for required permits and ensure they adhere to the local health codes. Smaller businesses, such as the ones mentioned above, benefit from having a professional space without the huge overhead costs. So if you wonder how much does it cost to rent a commercial kitchen, keep all that in mind, too.
Here are some other reasons people may rent a commercial kitchen:
Pop-up experiences for artists, brands, or restaurants that want to make a splash in a new market
Photo and film shoots displaying chefs with certain products
You can also use a commercial kitchen for cooking classes — where a chef demos recipes and students get to try to make their own creative rendition
Social media influencers trying out a brand's new product may rent a commercial kitchen for the purpose
If you're throwing a food-centric party and need ample space and pro equipment, a commercial kitchen is a superb way to do so.
What about shared and private kitchens?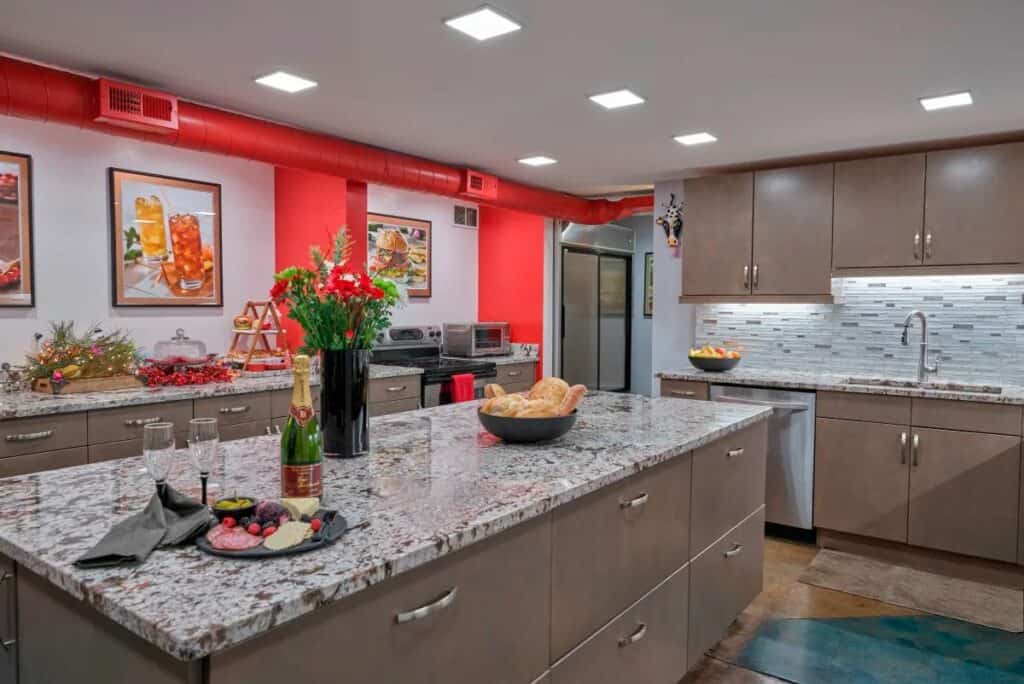 A recent trend growing throughout the country is shared space kitchens (also known as commissary kitchens). These allow multiple people or teams to have access to the kitchen. Also, any type of operation from small businesses or full-service catering operations can use group kitchens.
Most shared commercial kitchens operate on time slots — which are typically for either ongoing or single-use. These commissary kitchens are a wonderful option for those who need the occasional space and don't want to spend too much money.
You can also choose to rent a private kitchen for your business or catered event. Private kitchens do cost more, but you'll have more say in the equipment and storage of the facility. We'll get into your question, "How much does it cost to rent a commercial kitchen?" a bit later in the article. Next, we'll explain how to rent a commercial kitchen in the first place.
How to rent a commercial kitchen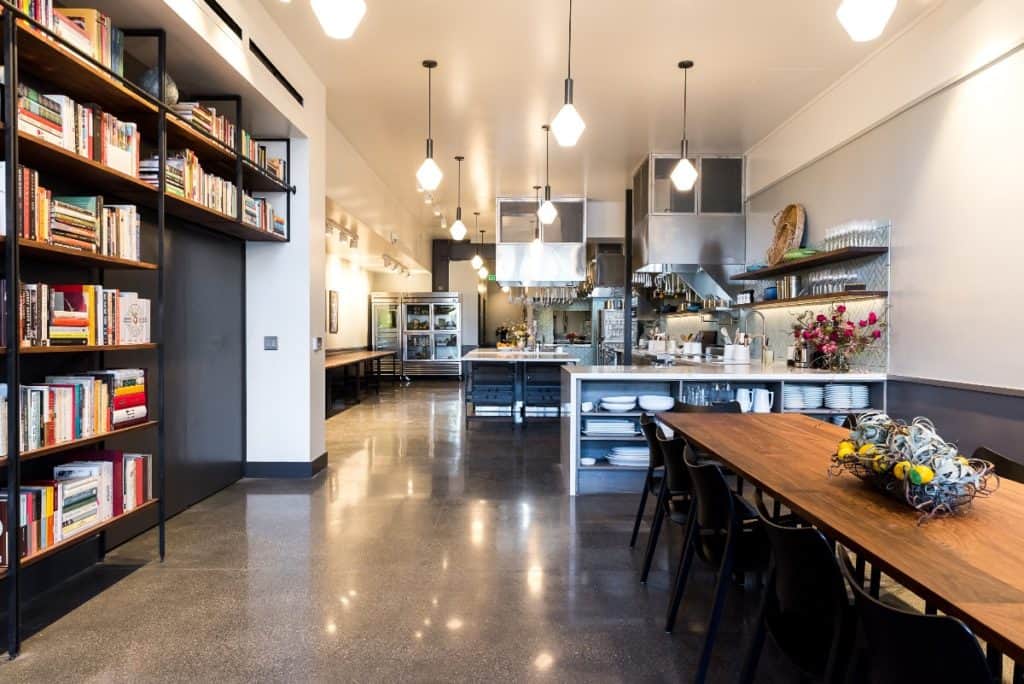 You could spend hours online searching for the commercial kitchen that is the right size, price, and location for your list of needs. Or, you can book your space through Peerspace — the largest online marketplace for hourly space rentals. 
Helpful listings
One of the most attractive parts of renting a commercial kitchen through Peerspace is the high-quality photos of each space. You'll know exactly what your kitchen is going to look like and what kind of amenities and equipment it comes with. You can also read reviews from previous visitors. Plus, you'll get direct communication with the host to help plan logistics and ask any questions that may arise.
The Concierge service, at your side
And, we should mention that the Peerspace Concierge can help you find the right caterer to come directly to your venue if you're hosting an event and don't wish to don the apron.
Clear pricing without membership fees
Prices for Peerspace rentals vary by the hour and can cost $75 to $200+ an hour. What makes this an incredible deal is the fact that there are no memberships or monthly fees required to book your space. And that's something you won't find when renting most commercial kitchens through other avenues.
You may even be able to book the same day, depending on your event and the venue. It's easy to see how this type of flexibility can be valuable to owners of businesses of all sizes!
Types of commercial kitchens available on Peerspace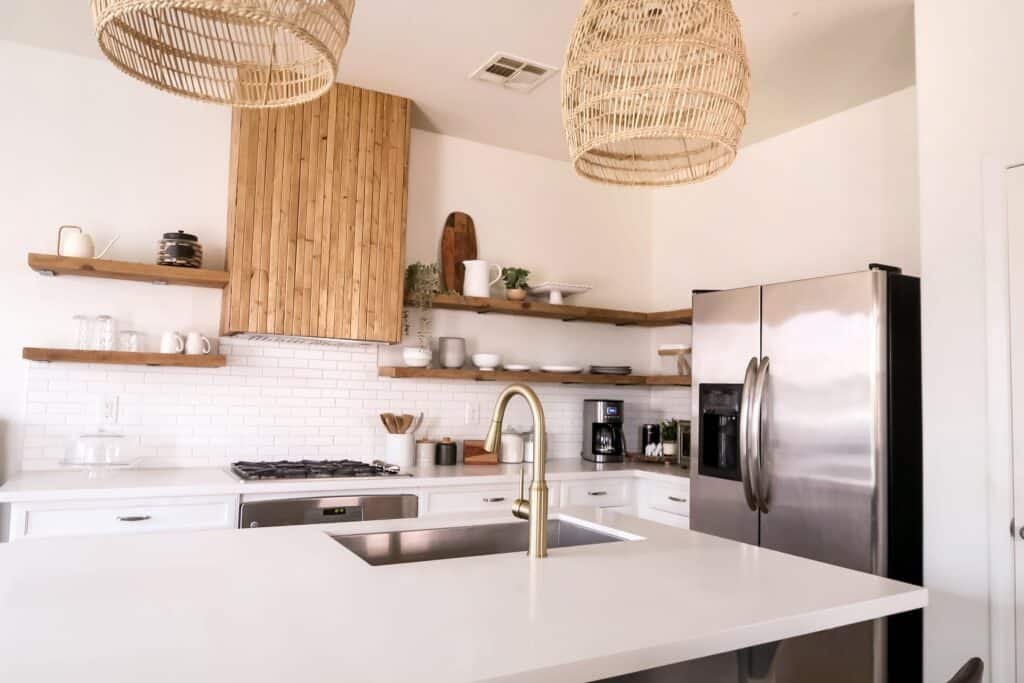 With commercial kitchens and communal cooking spaces available in thousands of cities, it's easy to find your ideal cooking space on Peerspace! Here are a few of our favorites to get you started:
All inclusive
Many Peerspace rentals come with tables, chairs, dining plates, utensils, and even an on-site event manager. For example, this commercial kitchen and meeting space in Chicago is perfect for a corporate event. Along with state-of-the-art kitchen gadgets and tools, it also boasts high-tech A/V equipment and space for 20 guests.
Several satisfied customers have left reviews, like this one:
"The space was perfect for hosting casual consumer focus group sessions. The team blocked off a waiting area and we had ample seating for both the consumers and the clients. Love the new couch! 🙂 Our contact, Joseph, was incredibly helpful. It was fantastic that he stayed on site for the entire meeting. Thank you!"
— Susan M.
Variety and versatility
There is also an assortment of cafes and restaurants available for rentals on Peerspace — including this cafe with a commercial kitchen in San Francisco. Like many kitchen spaces available on Peerspace, the cafe comes with the use of all equipment and areas. Need ovens, stoves, blender, knives, pots pans, containers, dishes, glasses, silverware, refrigerators, freezers, and prep stations? It's got it all!
Peerspace's real reviews — like this one from a production/event manager — can help when making rental decisions:
We used this space for a team cook off during our offsite. They were super easy to work with and kitchen had everything my team needed.

– Marlo M.
Pretty for your production
Check out this commercial kitchen with loads of light and stainless steel appliances in Harlem, NYC. It's a production darling, thanks to its sleek style and incredible amenities. The host also offers add-on options, like a food stylist and cooking classes, making it ideal for production and events alike.
A Peerspace user who booked this commercial kitchen for a production shared the following review:
"Spacious commercial kitchen! We were able to move stuff around for our needs. Host and site reps were helpful and accommodating. Would definitely come back!"
Sleek and stylish
We adore this renovated commercial kitchen and event space in southwest Houston! Located in Missouri City, it has space for 25 guests, WiFi, parking, and of course, a commercial kitchen. There is also an open kitchen layout, which may be ideal if you're hosting a dinner party or cooking demonstration.
These are just a small sampling of the commercial kitchen space you will find on Peerspace. The only way you know what's available near you or your destination is to click the link and explore the possibilities! Next, we'll tackle the main question: how much does it cost to rent a commercial kitchen?
How much does it cost to rent a commercial kitchen?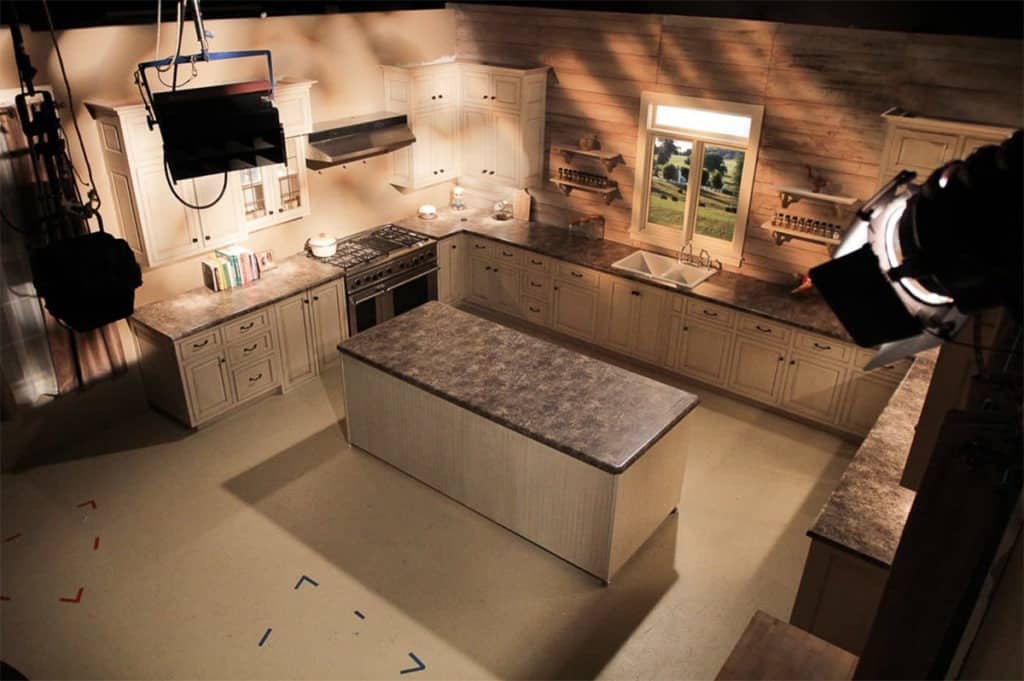 First, you need to consider the size of the space you'll need and what you'll be doing in the kitchen. Then, take into account where you are located and how often you'll want to use the space.
Many commercial kitchens require a monthly lease and security deposit on top of an hourly rate — which typically ranges from $15 to $30 per hour. Plus, the monthly leases or memberships include minimums of $300 to several thousand dollars — making it hard for those that just want to use a kitchen a few times a year. Based on these estimates, it could cost several thousands of dollars just to book a commercial kitchen for one event.
Let's take the commercial kitchens on Peerspace we mentioned above as examples. The intimate Chicago kitchen costs $250 per hour and has a five-hour minimum. The San Francisco kitchen and event space is $300 per hour with a three-hour minimum. On the higher end of the scale, the NYC commercial kitchen costs $400 per hour with a four-hour minimum. And finally, the renovated commercial kitchen in Houston costs $85 per hour and has a four-hour minimum.
How can Peerspace help?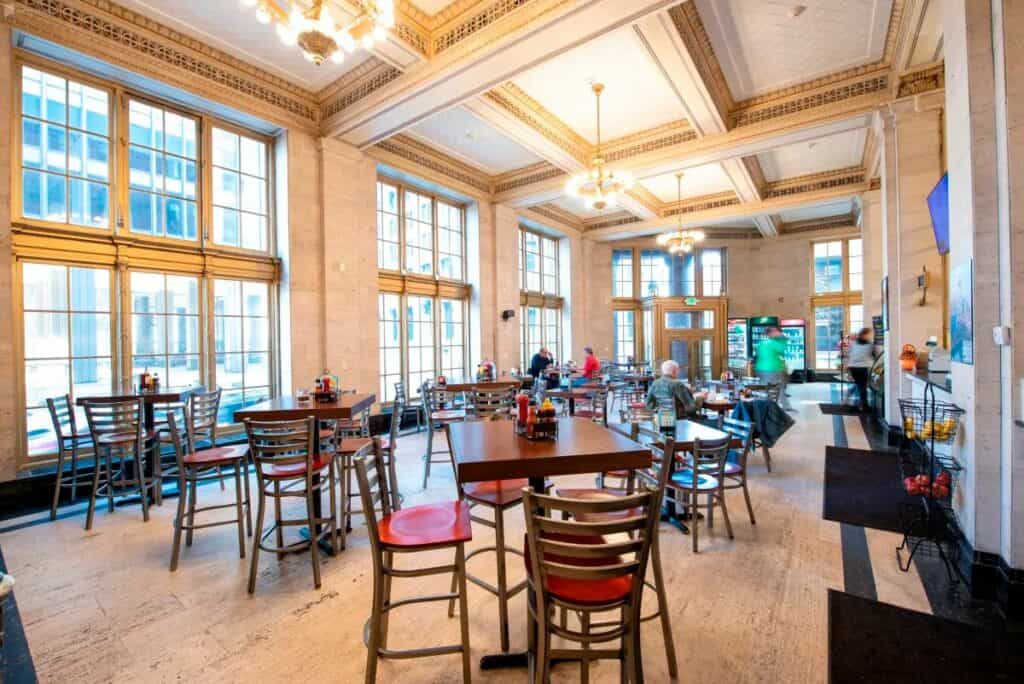 As mentioned above, Peerspace charges hourly for spaces and has thousands of unique spaces in hundreds of cities to choose from. In addition, you'll get options like cafes, penthouse apartments, and even stunning museums that you wouldn't have previously imagined using for a commercial kitchen space. You can easily find a space that's the perfect mix of style and practicality, all within your budget and with no minimums or memberships to worry about.
Peerspace is also easy to use. Simply choose the type of venue you need, select your metro, and the date of the event. You will be presented with a list of available venues, which you can further narrow down with filters. Scope out the fine details of each listing, its incredible high-depth photos, and contact the host if need be. You're sure to end up with a space you love — and may even have a bit of fun in the process!
And remember, the Concierge service is always at hand to help you wrap up the tiny details that make a production or event perfect.
Whether you choose to rent a commercial kitchen directly or go with Peerspace, we hope this article gave you an idea of how much it costs to rent a commercial kitchen.



Get together somewhere better
Book thousands of unique spaces directly from local hosts.
Explore Spaces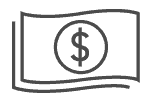 Share your space and start earning
Join thousands of hosts renting their space for meetings, events, and photo shoots.
List Your Space