Here's Where to Rent Office Space by the Hour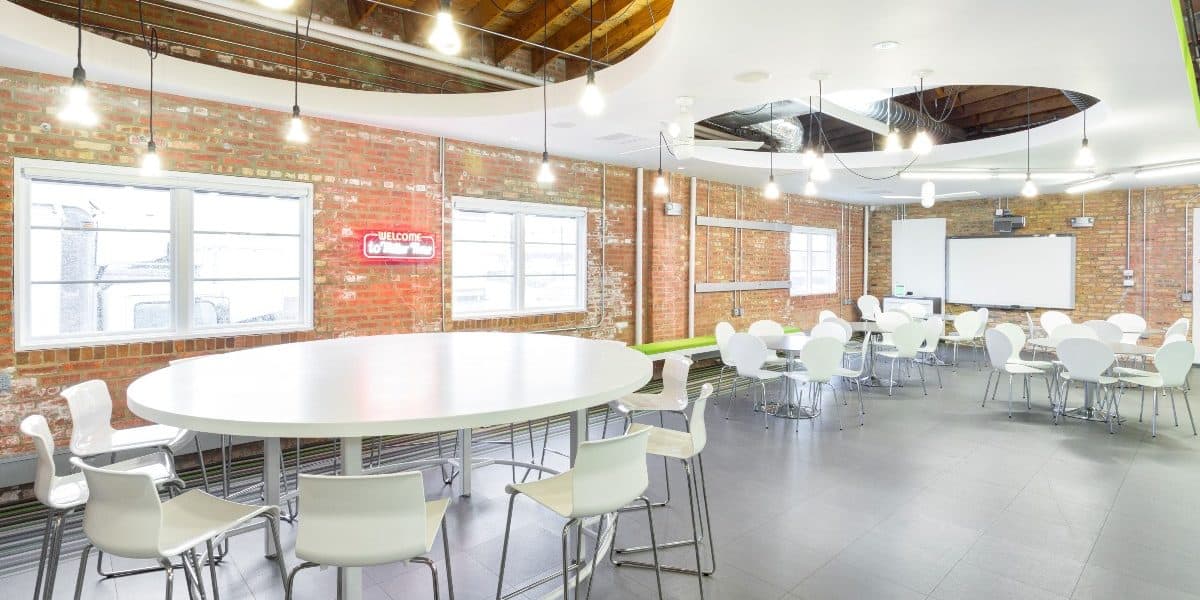 Answered
There are more than 10,000 spaces for rent by the hour on Peerspace.
Do you need to rent office space by the hour for an upcoming event or just to finish some important work? Finding the right space can be difficult with so many choices out there. Plus, it's often a challenge just to understand the rental terms, like pricing per square foot, rental length, etc. Luckily, you've found Peerspace, the world's largest online marketplace for meeting and event spaces.
Peerspace makes it easy to book just about any kind of space by the hour. All venues are hosted by locals who outfit their spaces with incredible amenities and stylish features to create the perfect experience for someone like you. In fact, Peerspace offers access to thousands of office space venues throughout the country and beyond, which you can use for board meetings, pitches, and getting stuff done in a bright, professional space.
Ahead, we'll go in more depth about where to rent office space by the hour. Also, we'll discuss why to rent office space by the hour and take a look at some of the types out there.
Why rent office space by the hour?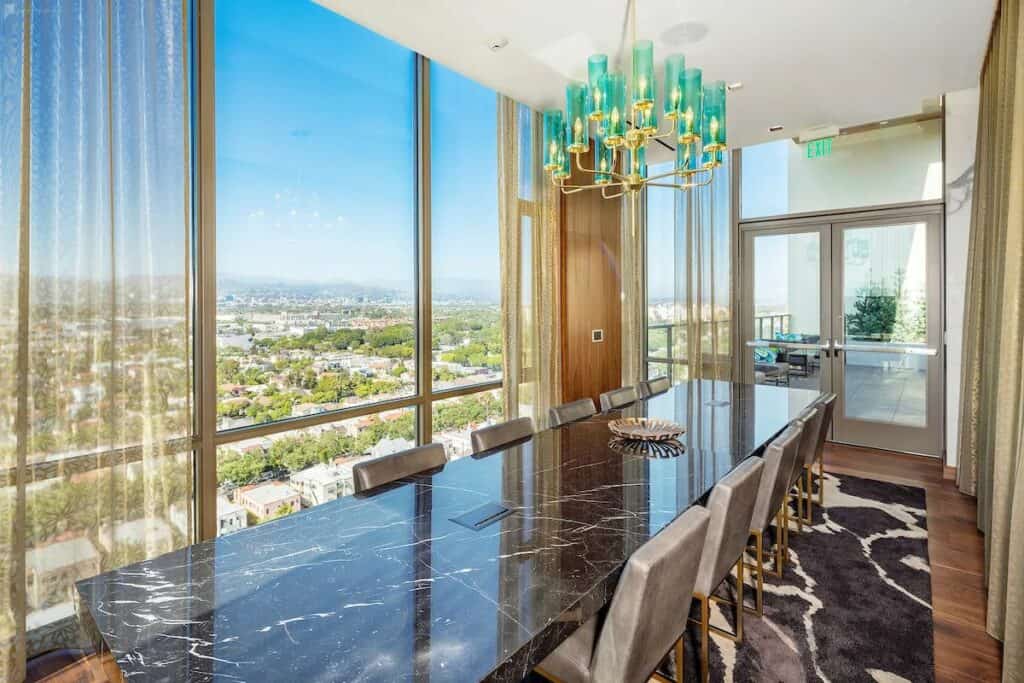 Make your next business meeting easy and stress-free by renting office space by the hour through Peerspace.
Many people use hourly office space to meet with prospective clients or hold professional board meetings. You can also use office space for company retreats, interviews, or staff meetings. Freelancers also use office space by the hour to change their settings and hold meetings with clients.
And let's not forget productions. People rent office space by the hour for photoshoots and filming purposes, too!
So why are office spaces such popular options for these different groups of professionals?
Office space rentals typically come with plenty of chairs, tables, and amenities like high-speed internet, a kitchen, and bathrooms. Plus, having a new, creative space may help get ideas flowing and bring new energy into any meeting. No matter how drab you may picture office spaces in your mind, what's available on Peerspace may just surprise you!
To sum up, the most common reasons people rent office space by the hour include:
For businesses to meet with clients and prospects
To have a neutral yet professional setting when holding interviews
When you need a new space to focus on work when you freelance
To meet up with your co-workers during an off-site or team-building event
As the set for a photo or film shoot
Inspire further creativity with your team by exploring our 9 engaging off-site meeting ideas!
Benefits to renting office space by the hour through Peerspace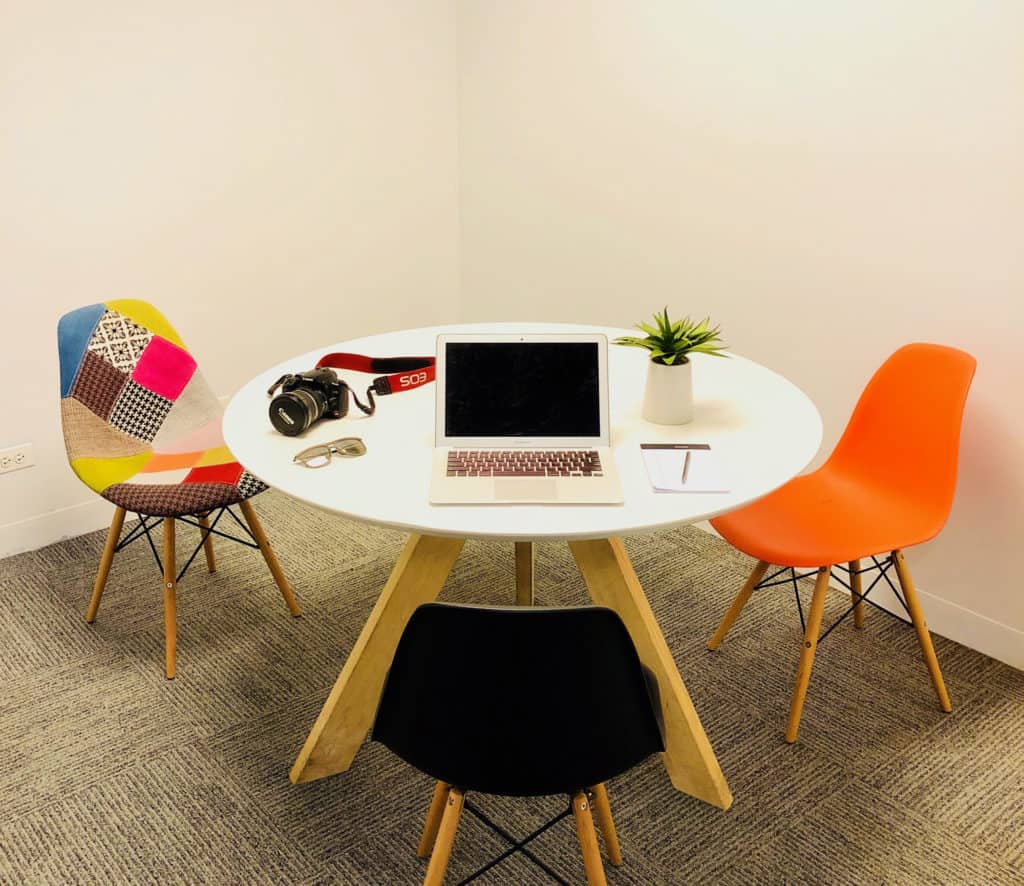 There are several benefits to renting office space by the hour. Some of which you may not have thought of yet!
Here are our top reasons why renting office space by the hour may benefit you:
It's affordable
On Peerspace, you can see exactly how much a venue costs per hour. You won't have to pay any leases, utilities, or unexpected fees just to have office space every once in a while.
In fact, there are offices available that will fit any budget, with a handy filter to sort spaces by price by entering your own range or using the preset options, which include up to $100, $100 to $250, and $250 to $500.
It can suit your personal style
We all work in a different style — and your space should be able to reflect how your team prefers to work. Whether it's a colorful office space with fun décor or a hidden board room with city views, there are so many choices for every work style.
It's private
Meeting at coffee shops and tight office spaces isn't always the best choice for crucial meetings or busy days. Office space by the hour gives you a quiet space to work and play away from many of the outside world's distractions.
It offers the amenities you need
When you work from home, it's a challenge to replicate everything a professional office has. Sure, you may have high-speed internet and an ergonomic chair. But what about the atmosphere? When you work from home, getting into work mode and focusing on your work tasks isn't easy.
But when you rent office space by the hour, you enter a space designed for work. You'll have access to a venue separate from your living space and equipped with all the gear you need to finish your tasks.
Start the workday the right way with our 13 creative morning meeting ideas!
How to rent office space by the hour on Peerspace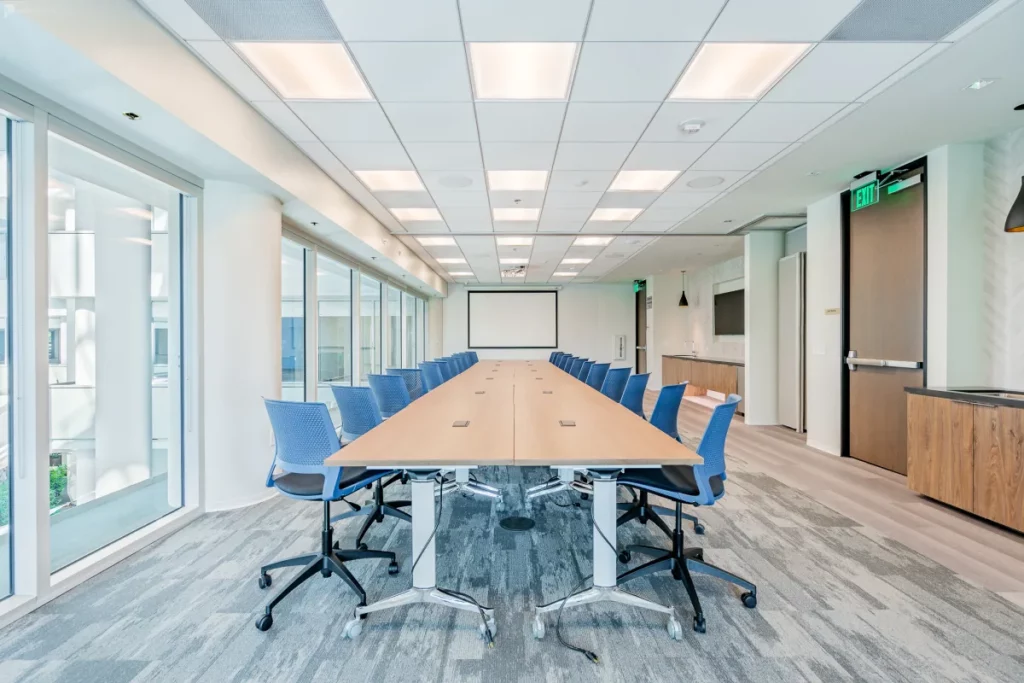 A variety of companies and venues allow you to rent office space by the day or half-day. However, Peerspace gives you the flexibility to rent office space by the hour with no excessive rules on how long you need to rent. 
Each Peerspace listing has the price per hour and minimum time needed to rent the space listed upfront. Some spaces can be rented for just an hour while others need to be rented for a longer duration. Listings also include a full description of amenities, guest reviews, and high-quality office space photos.
You can even reach out to the host directly if you have any questions about the venue and what's included. It only takes a few minutes to book once you find the right space for you. Now, let's see some of the unique office spaces that are available to rent by the hour on Peerspace.
Learn more about our 11 favorite locations for destination meetings!
Types of office space on Peerspace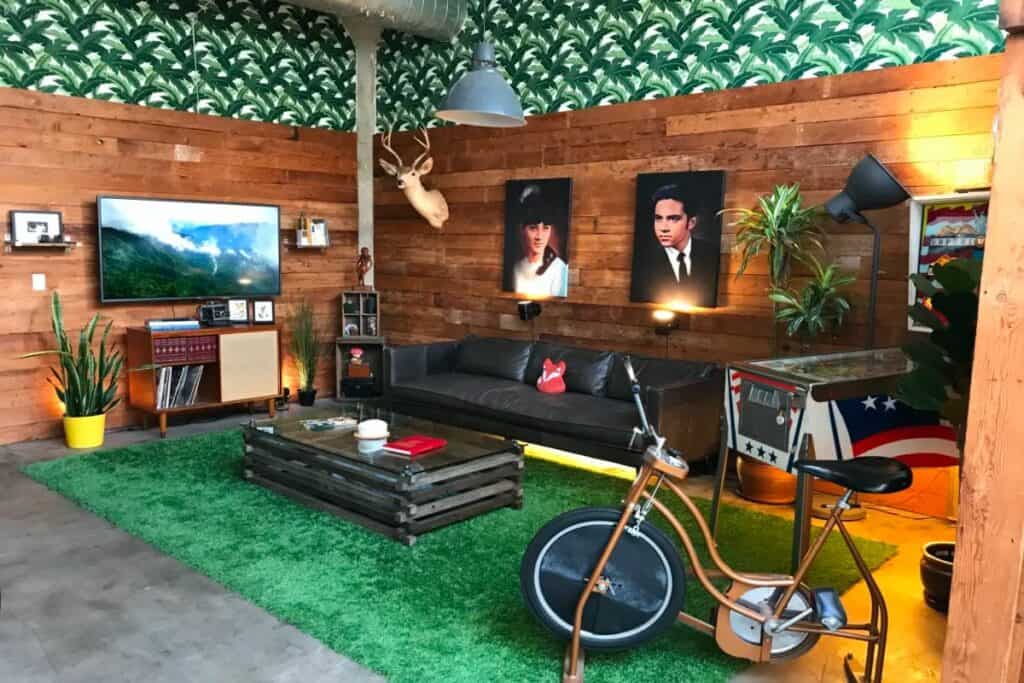 Office space rentals by the hour vary from large venues with multiple rooms to just a boardroom. Whether you need lots of space or just a private getaway, there's an office space for every profession and need on Peerspace.
Here are just a few venues you can easily rent:
An unforgettable office in Los Angeles
We love this funky space in central Los Angeles (pictured above). It includes more than 1,000 square feet of space for workshops, team-building activities, and corporate meetings. The natural lighting and high industrial ceilings give the colorful space even more energy.
Take a break and play an arcade game, or grab a cup of coffee. This space also has two edit bays for videographers, journalists, or other creative professionals. You'll even get event support staff on-site to make sure everything runs smoothly.
Office space reviews help you get an idea of what the space is like and how you can use it. Here's one review of the Los Angeles office space from someone who used it for an off-site meeting:
"[Hosts] James and Richard were the most gracious host. The space was unique, fun and perfect for our creative team to collaborate. I would recommend this space for any group who is looking to recharge."
Renting through Peerspace means you also have access to the venue's professional host for anything else you need. Talk to them if you need help with catering, entertainment, or photographer needs.
An inviting meeting room in Philadelphia
This bright meeting space in Philadelphia's Center City is more than a convenient location for most city dwellers. It includes high-speed internet, a projector, whiteboards, large windows that let in tons of natural light, and even a sound-proof phone booth!
The host can even configure the seating based on your needs. There is also a kitchenette on-site and an optional lunch service add-on. A pastor who booked this office for a team meeting shared the following review on Peerspace:
"Awesome location and event space. The host was extremely nice & quick in responding. Will use again for our next meeting."
A charming workshop in Seattle
If you love city views and plenty of light, this bright Seattle office space just might be for you. This spacious downtown conference room includes large windows, a kitchenette, sturdy oak tables, and views of the city and waterfront. You'll also get a mobile dry-erase board, coffee, high-speed internet, and access to a conference phone.
According to a Peerspace reviewer who booked this venue for a company off-site meeting:
"We had an amazing experience with both Seaton and Natalie. It was smooth, convenient and Natalie was so helpful and courteous. It was a great spot for my team of 25 people to get together and have a meeting. They had a camera to do a webex also. Reasonable and awesome"
An impressive conference room in San Francisco
When in San Francisco, opt for a spacious boardroom in Embarcadero Center with a spectacular view of the Bay. This office has everything you need for a successful meeting and is equipped with conference phones, televisions, projectors, speedy wireless internet, and more amenities.
A satisfied client left a glowing review after renting out this San Francisco boardroom:
"I hosted a business meeting for about 6 people and this conference room was perfect. The room itself is spacious, allowing for plenty of separation between participants, and the furnishings are very comfortable and upscale. There are nice views out over the city, great natural light, and excellent support services… Everything was well organized and spotless and the communication from our host, Ryan, both during booking and at check in, was very professional."
A downtown Miami modern office
This Miami modern office space is conveniently located and consists of several different workspaces. You can make use of the two private offices, the kitchenette, and even add on an overhead projector provided by the host. The stunning ambiance this modern office provides even makes it popular with productions!
It can host 45 people in its 7,000 square feet space and costs $125 per hour. In the words of a Peerspace reviewer who booked this office for a production:
"Incredible space and an amazing host who accommodated all of our crew's needs. We booked this space for a 2 day interview shoot, and had a lovely experience all around. The freight elevator made load-in/load-out very convenient, and the space was overall very film-friendly. We were thrilled to have access to such a large space with different rooms/looks, as it gave us the visual variety we needed when constructing frames."
A midtown Toronto private office
And finally, check out this high-rise private office in midtown Toronto. At 150 square feet, it's best for small meetings with up to three attendees or for just when you need a private space to get some work done. While you'll get private access to the office, you can also make use of the shared spaces, including a lounge.
This high-rise office even provides cityscape views and lets in plenty of natural light. Make use of the A/V equipment, coffee bar, and parking while here.
Plus, it's a steal at CA$40 per hour!
A classy Chicago office space
This modern office space in Chicago's Lower West Side has a lot going for it. It offers you access to, of course, tables, chairs, and Wi-Fi. However, you can also make use of the conference room and kitchen. The office is also wheelchair accessible and has an extremely inviting atmosphere.
It's only about $55 per hour and has space for 10 guests.
A bit of breathing room often comes with a huge price tag in a city like New York. But not when you book this centrally located Midtown private day office space! It is only $40 per hour and grants you access to a private office room and shared spaces.
While here, enjoy the professional seating, the Wi-Fi, and the conference phone. Plus, there is a reception area, a lounge, a kitchen, and Starbucks coffee and Tazo tea on-site.
This office also has downs of glowing reviews from other Peerspace users. Here is just one example: "The perfect small space for a day. Everything was tidy, quiet, and clean! Would use again."
Make the most of your new space with these 14 unique breakout session ideas!
Rent office space by the hour on Peerspace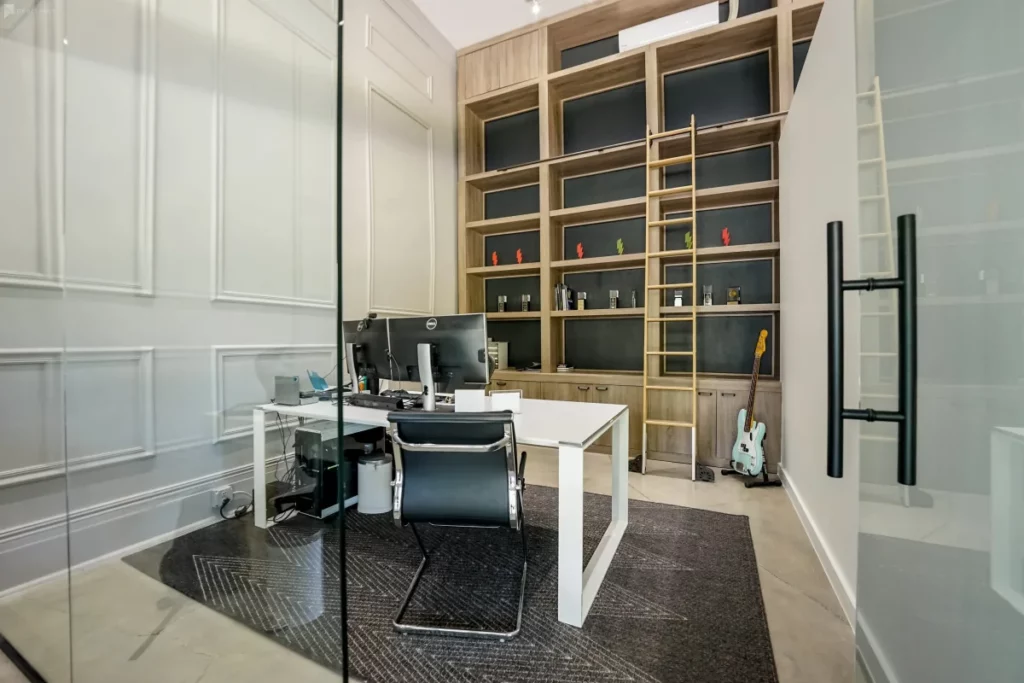 We hope this article gives you a good idea of where to rent office space by the hour, as well as a glimpse at the wide range of office space venues available on Peerspace. Whether you need it for the day or longer, Peerspace makes the process easy.
On our platform, you'll find office spaces that are stylish, outfitted with the latest tech, and comfy. And since all offices are available to book by the hour, you can easily find a space in your price range.
Plus, you don't have to deal with membership fees or contracts. Simply look around and see what's out there near you!


Get together somewhere better
Book thousands of unique spaces directly from local hosts.
Explore Spaces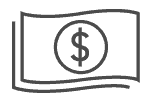 Share your space and start earning
Join thousands of hosts renting their space for meetings, events, and photo shoots.
List Your Space