Here's Where to Rent Office Space by the Hour in Chicago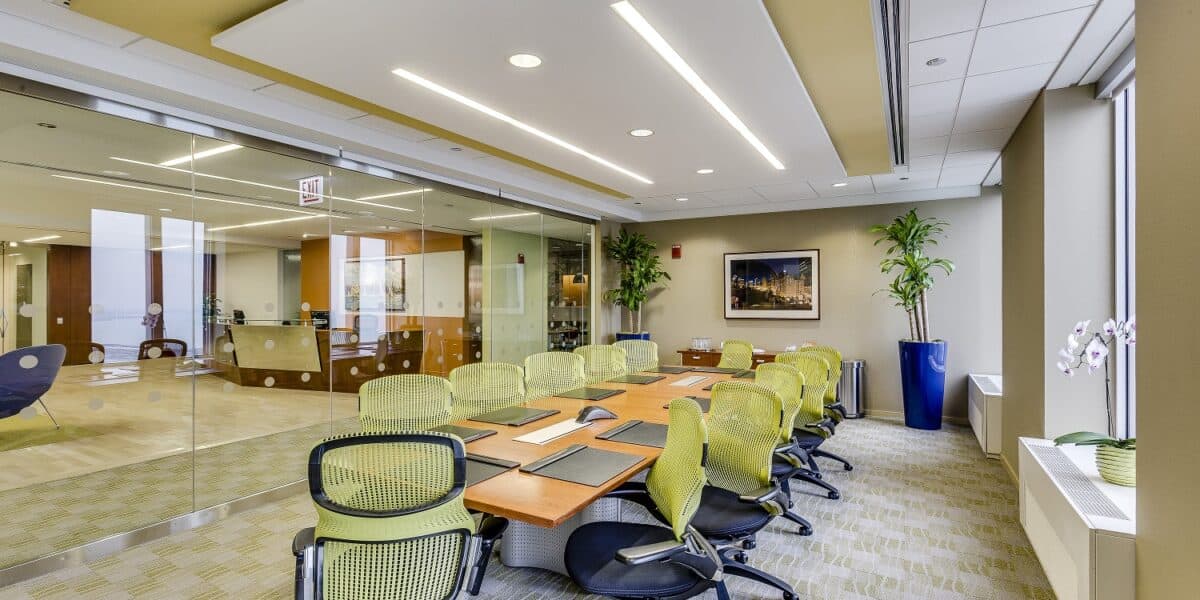 As a business owner, you have to figure out the best available options for renting office spaces for your company. However, sometimes as an entrepreneur, it's difficult to rent an office on a monthly basis. In these circumstances, you have to go for smarter and efficient solutions. One convenient and cost-effective way of renting an office is hourly. If you need to rent office space by the hour in Chicago, it provides you a chance to save money and presents a great opportunity for your colleagues to implement effective time management.
Renting by the hour means you don't have to pay any additional charges for maintenance, electricity, or any other extravagant fees. In simple words, there is no down payment on the lease, and you only have to pay for the time you need the space. It's the owner who has to take care of logistics, such as cleaning, keeping the printer running, and ensuring the bathroom is stocked.
Adding to this, if you have a smaller company, renting office spaces by the hour can help you create a professional image for your business when it comes to meeting with clients. Isn't it great? Now the question arises, where to find these professional office spaces? The answer to this is Peerspace.
At Peerspace, there are thousands of office spaces available to rent by the hour located in many major cities in the US, Canada, the UK, and beyond. With Peerspace, you never have to pay utilities or membership fees, and you can forget about engaging in lengthy contracts. If you are living in Chicago and need to rent office space by the hour, then keep reading!
If you are looking to organize a meeting in Chicago, then this stylish, bright venue in Humboldt Park definitely should be on your radar. Spanning over 1,100 square feet, this spot is a beautiful mixed-use space with a vibrant sitting area, a full chef's kitchen, and a private courtyard for outdoor activities. The host allows renters to rearrange the furniture as needed for the duration of the meeting. Among the many amenities are a NEST thermostat, 50 stackable chairs, and a 65" smart TV ideal for pitches, presentations, slideshows, and more.
Another great feature about renting office space by the hour through Peerspace is that you can read genuine reviews from past renters. Here's one of the many rave reviews concerning this stunning meeting space: "The pictures of the space doesn't do any justice, the space is BEYOND AMAZING! I was super happy and impressed when I walked in."
This pristine boardroom boasts a conference table to seat 18, a whiteboard wall, a projector, and a kitchen available for an additional fee. It's easy to see how getting work done here is a breeze, all while encased in a lovely setting. Plus, it's airport adjacent setting makes it ideal for jet-setting clients or team members. If you need additional seating and tables, the host can provide up to 30 folding chairs and 10 four-foot-by-two-foot folding tables.
A CEO who booked this space for a meeting shared the following Peerspace review: "Host was exceptionally communicative and helpful! Space was just as described, close to airport, very clean and a great venue for our board meeting."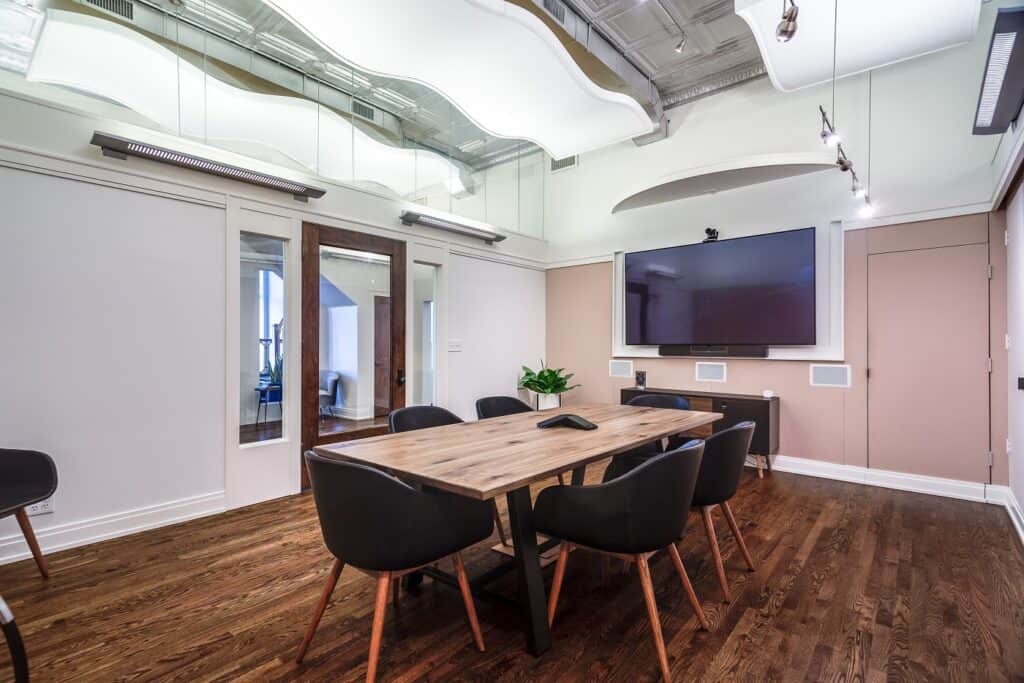 This 280-square-foot space is situated in a 1922 European Shopping Arcade and decorated with state-of-the-art acoustics, walnut floors, and brilliant lighting while maintaining the glory of its past through its original tin ceilings, stained glass oculus, and the vault door.
This space has all amenities for your needs. Specifically, it includes a conference table with six chairs with additional space for more chairs, an 86" TV monitor, speakers, a Logitech video camera with remote control, a stocked beverage fridge, and more for your next board meeting.
A business owner who booked this office for a group workshop shared the following review on Peerspace: "Absolutely beautiful venue! The Hosts are exceptionally professional and accommodating. I will definitely book this venue again for my events!"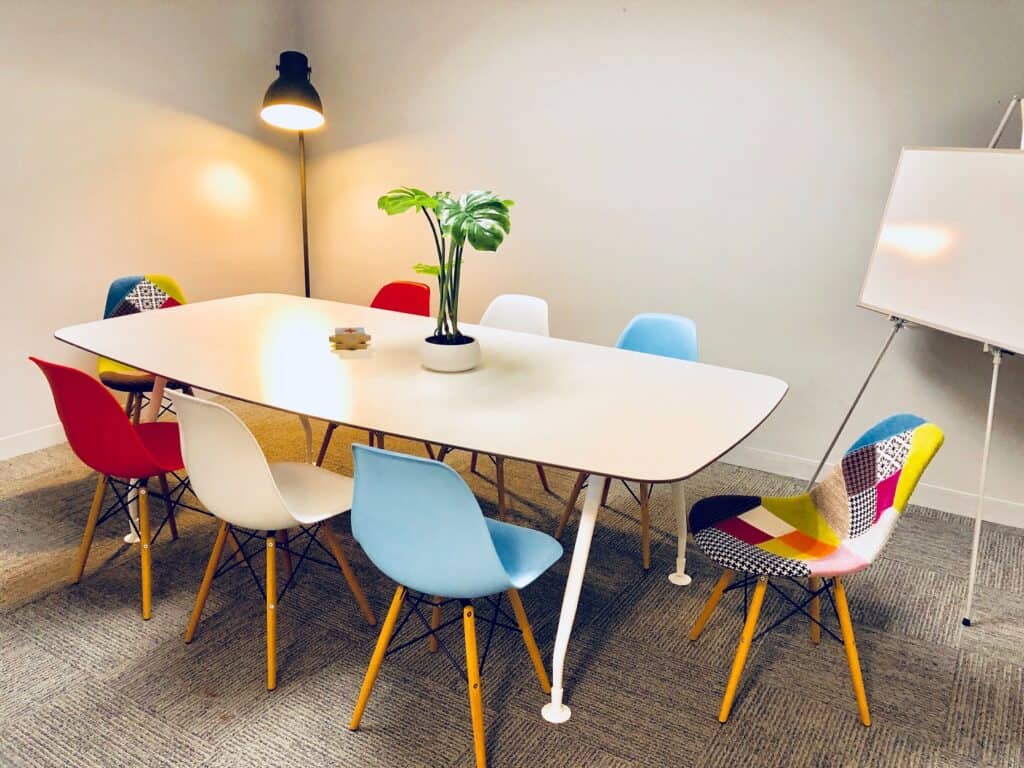 Accommodating up to eight people, this space has a unique design, natural lighting, and a modern feel. Plus, the staff is always on-site to facilitate a smooth experience for your guests. If you choose to rent this Chicago office space by the hour, add-on services you can enjoy include catering, printing, and administrative assistance.

One of this space's many cheery Peerspace reviews points out the value of an office like this: "Everything is easy about having team meetings in this space. It's a great place to focus and be productive."
5. Spread out in a collaborative office overlooking the Chicago River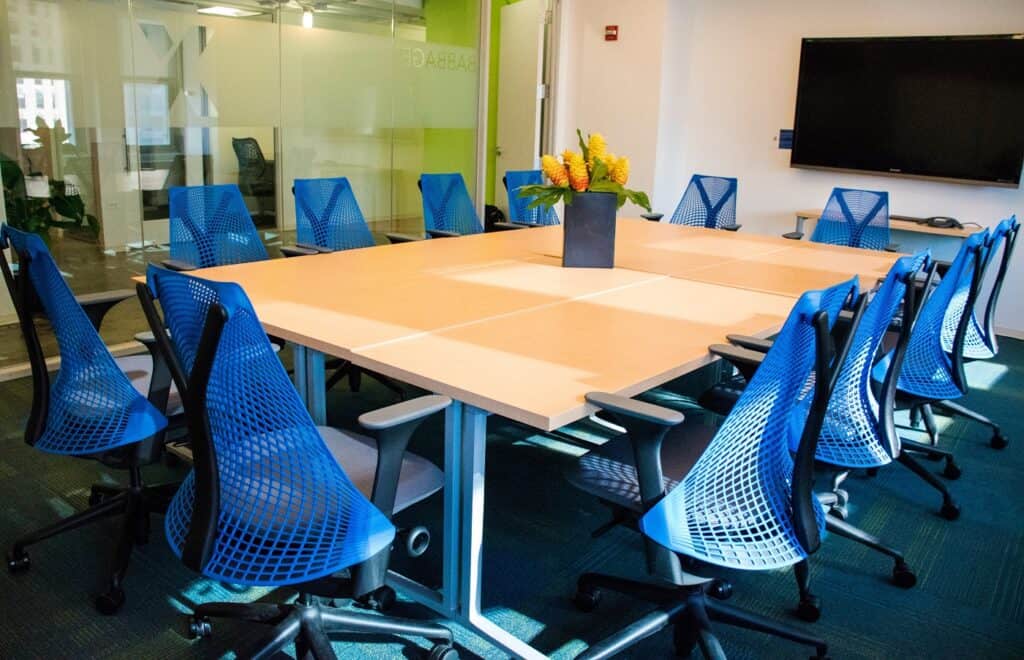 This contemporary office space offers you a modern boardroom with plenty of features, such as a full whiteboard wall, all needed cables, and dongles for A/V capabilities. This space can accommodate 12 people at once and, if needed, has the ability to expand into Cerf to accommodate up to 30 people. The venue comes with a variety of other standout amenities, including an outdoor roof terrace, wellness center, podcast studio, and more.
A Peerspace reviewer who booked this space for an executive team meeting shared the following: "Samantha and team was nothing but helpful when booking this spot. The room was exactly how it looks in the photos and even put an extra table for us to store our snacks and drinks. Would 100% book again with them"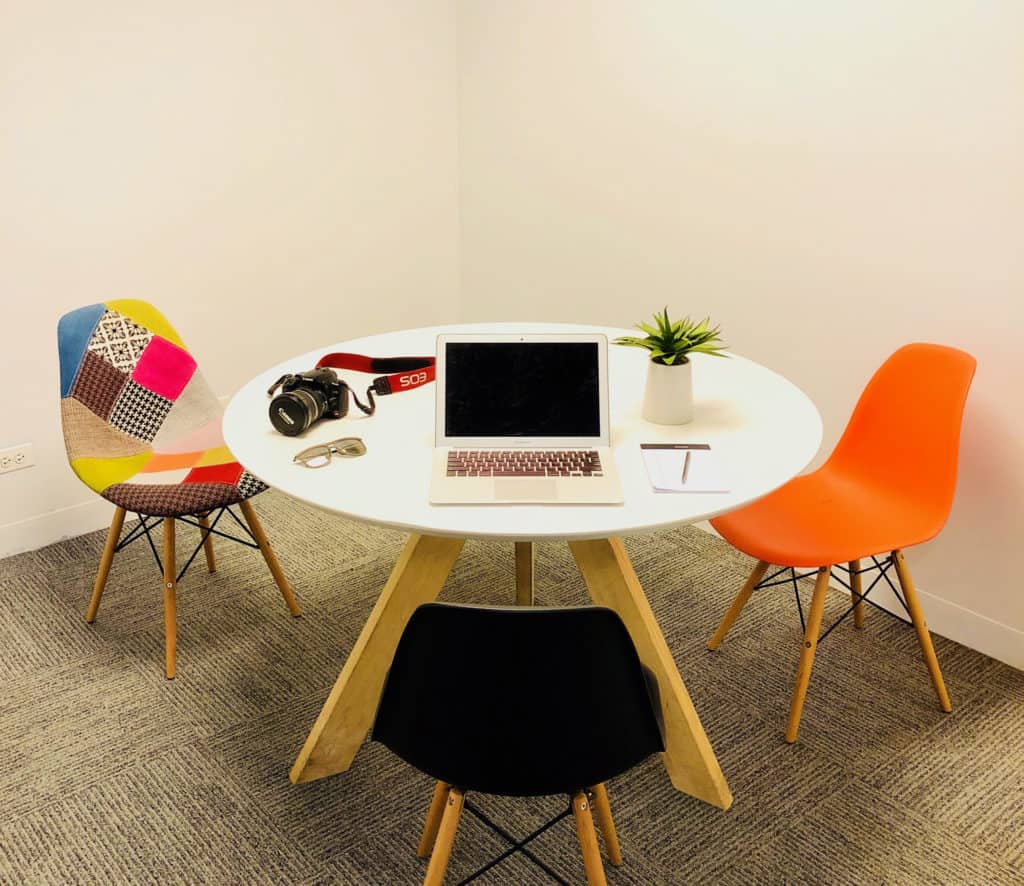 Able to accommodate up to six people, this cozy private day office can be used for smaller, last-minute meeting and interview requests. Boasting a contemporary vibe and unique design, this space is fully equipped with quirky office chairs, high-speed Wi-Fi, and whiteboards, which are available upon request.
If you'll need refreshments like unlimited premium coffee or an assortment of tea, the host offers a beverage and snack service for an additional fee. You also have the option to book this individual office or additional breakout spaces. When it comes to office space in Chicago to rent by the hour, it doesn't get better than this seamless space.
Take it from a program coordinator who booked this space: "Completely surprised how nice this space is! Just fits my need for a small workspace to do a last-minute conference call."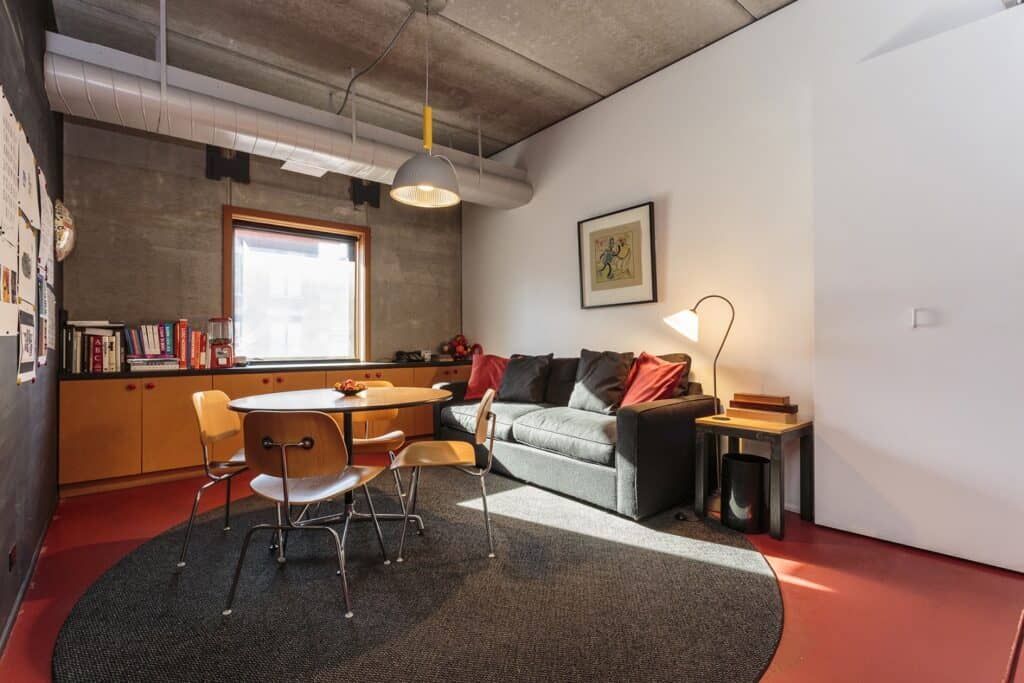 Situated in the heart of Wicker Park, this 300-square-foot industrial space offers a cozy conference room for your meeting with basic amenities like Wi-Fi, tables, a chalkboard, and a printer. This space also offers additional features like restrooms, an outdoor area, and easy public transportation. In addition, you can look forward to being within walking distance of local coffee shops, restaurants, and stores.
A CEO and co-founder booked a team meeting here and shared: "Beautiful, clean, spacious and convenient. I would book this place again to work out of (and we did twice in one week!)."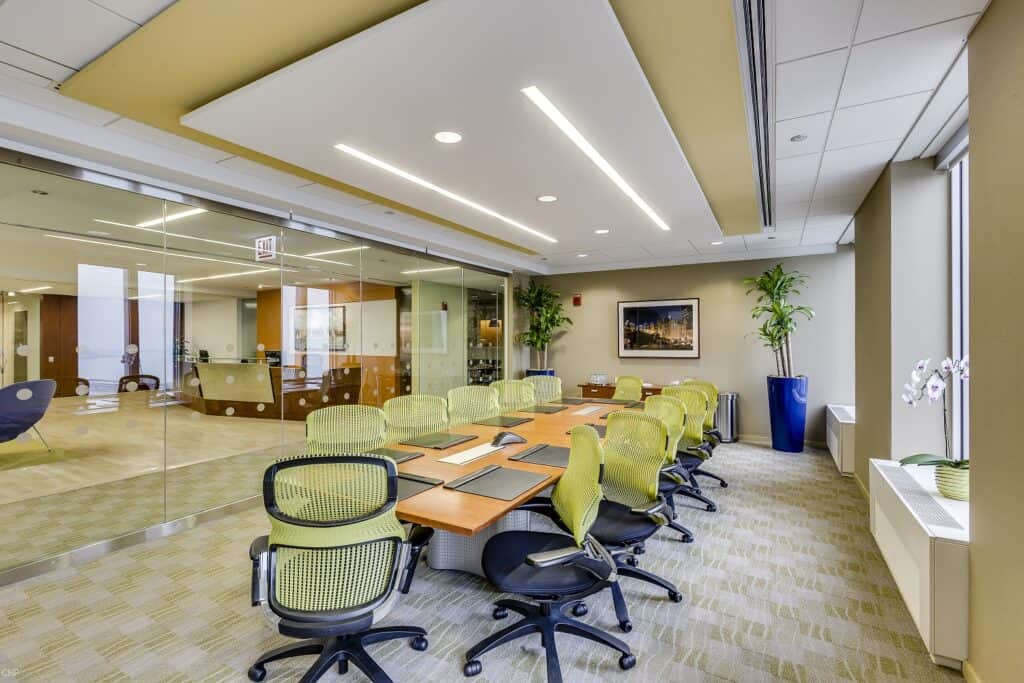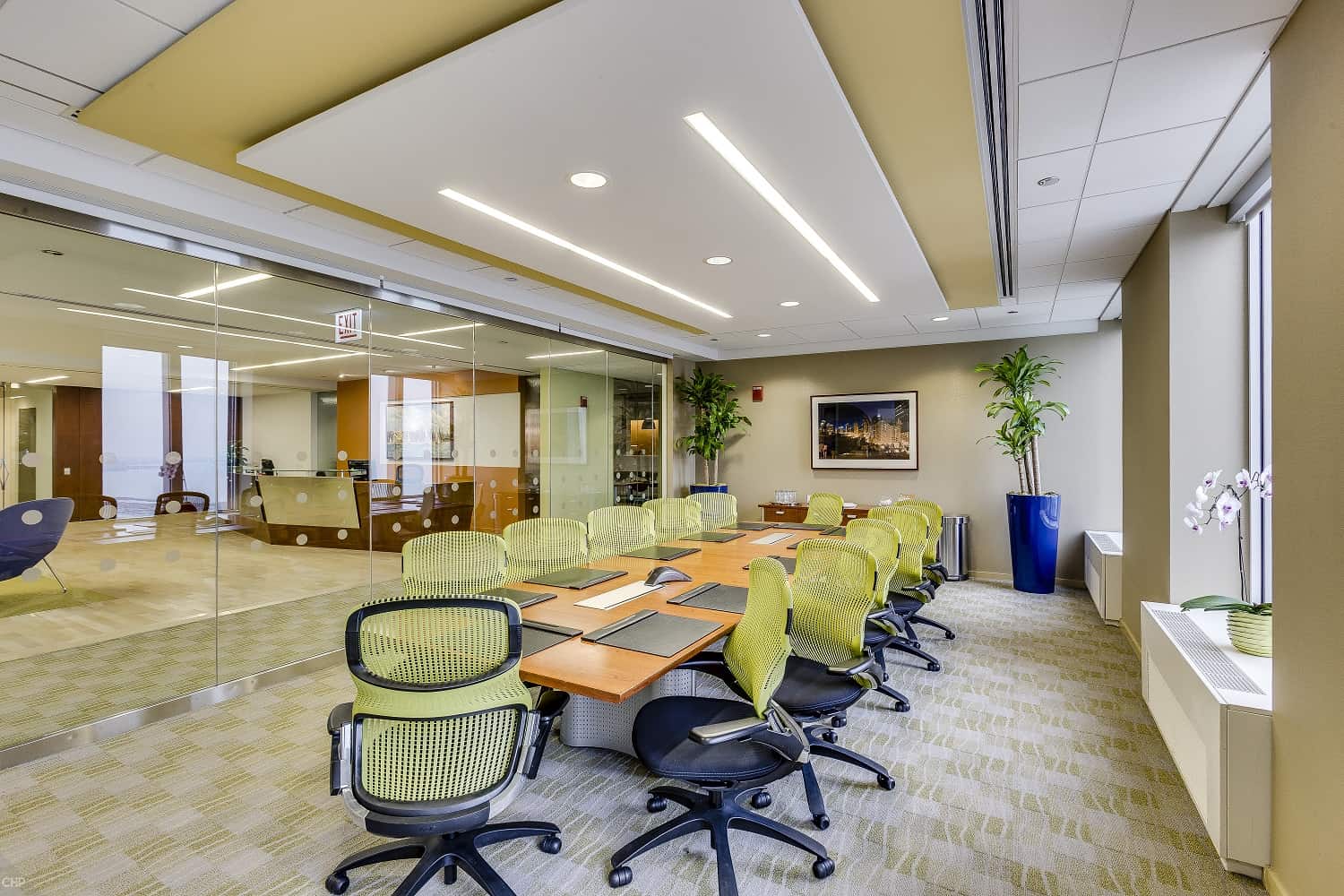 What about having a meeting in a space with the best views of the city? If you're aiming to impress your clients, then this Millennium Park boardroom is a perfect meeting place for you. The room can accommodate up to 12 people with all basic amenities like Wi-Fi, a projector, a conference phone, a whiteboard, and flip charts. Plus, find a variety of culinary options on the building's main floor. For an additional fee if you have at least 10 people at your meeting, you can arrange for a beverage service, which includes refreshments like gourmet coffee, tea, bottled water, and soda.

A media coordinator who booked an off0site here shared the following review on Peerspace: "Everyone was so delightful and the room had such an amazing view. Would definitely book again!!!"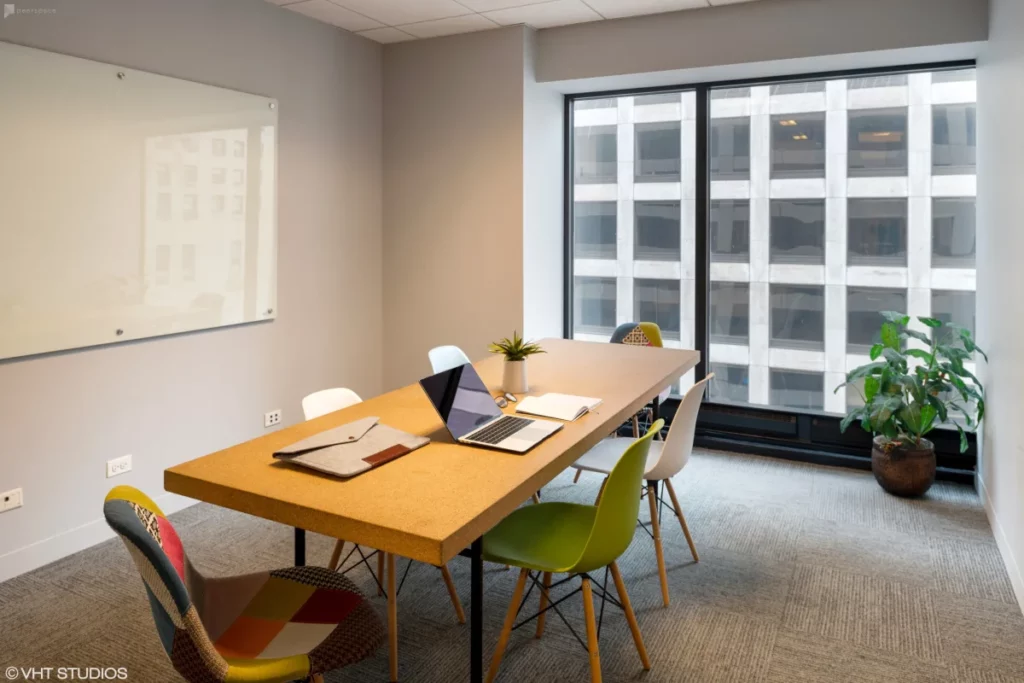 This large focus room located on North Michigan Avenue boasts a central location and a setting that invites contemplation. The room includes a conference table with seating for eight, whiteboards, and a massive window that lets in plenty of sunshine. You also have access to the kitchen with snacks and drinks for an additional charge. It's a simple and efficient space ideal for focus groups and other small meetings, making it easy to rent office space by the hour in Chicago.
An HR manager who booked this space for a company off-site shared the following review on Peerspace: "Absolutely perfect for our needs and right on Michigan avenue! The front desk secretary was so nice and easy to work with. Will be back!"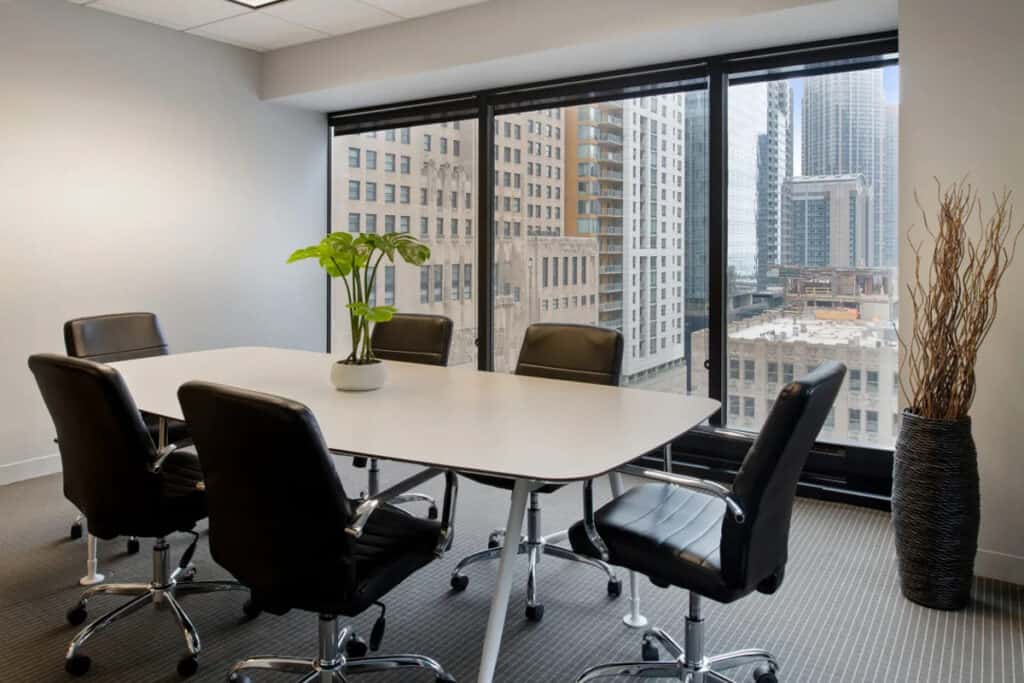 As you can see, it's easy to rent office space by the hour in Chicago when you use Peerspace. You can find spaces ideal for a small or large team, in any part of the city you like, and with all the amenities you need. If you need catering services, A/V rentals, or additional chairs or tables that the venue host may not be able to provide, feel free to reach out to the Peerspace Concierge team, which consists of event planning pros who can arrange those logistics for you. Plus, rental prices are listed upfront, and there are no hidden charges or membership fees.

Get together somewhere better
Book thousands of unique spaces directly from local hosts.
Explore Spaces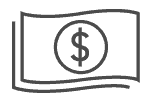 Share your space and start earning
Join thousands of hosts renting their space for meetings, events, and photo shoots.
List Your Space