11 Sick Music Video Locations in Los Angeles
Need music video locations in Los Angeles for your next project? If there's one thing LA is known for, it's the music industry. In fact, LA is home to some of the biggest music labels in the world. It's also a hotspot for artists and bands looking to make their big break. If you're an enterprising artist looking to film a killer music video, you're in the right place. From neon sound stages to sultry lofts, we've rounded up 11 totally sick music video locations in Los Angeles that are perfect for artists of any genre.
You may notice that you can rent all of these music video locations through Peerspace. As the largest online marketplace for peer-to-peer rental venues, Peerspace offers you access to thousands of hidden gem venues in Los Angeles. All are available to rent by the hour, and all are hosted by local creatives just like you. Plus, when you book a Peerspace, you can enhance your booking with the help of the Concierge service. This exclusive team can source any extras you need — like props, furnishings, even catering — and deliver it all to your venue. Why interrupt your artistic vision when a team has your back?
But now, let's get back to the topic at hand: sick LA music video locations. Put on your headphones and turn up the bass. It's time to start the list! 
1. Versatility is the name of the game at the Village HQ
Located in central LA, this 3,200-square-foot studio has options for every artist. The Village HQ features 10 pre-built sets in their expansive creative space, including an LED Cube, a Jungle TV Safari, and a Rowdy Record room. The studio also provides the freedom to design a customized set from the provided backdrops and props. Filming here also offers you a ton of opportunities to put your unique stamp on your video. Be sure to check out all its photos on Peerspace to get those creative juices flowing!
One of the best things about Peerspace is that its listings include genuine reviews from past Peerspace renters. And in the case of Village HQ, it has hundreds of such glowing comments! Like this one: "The location was great, really amazing sets and friendly staff to accommodate! Very grateful we got to shot there!"
These 10 cool music video ideas may be all the inspiration you need!
2. Give your shoot an edge at the HouseOfWax
Coming in at 3,200 square feet, the HouseOfWax is the Village HQ's sister studio located in the same building space. Just like the village HQ, this creative filming space comes with plenty of pre-built sets to use for shooting. There's a Belvedere Lounge, a vertical LED cube, a full wall of CDs, and also a "Hell in a Cell'. Feel free to experiment with props, backdrops, and lights until you find the combo that makes your shots sing. Best of all, you can book both the Village HQ and the HouseofWax directly on Peerspace.
According to a director who booked this space for a video: "Great space and the host was amazing! The flame throwers were spectacular!! Would definitely book again!"
Next up on our list of music video locations in Los Angeles, this 3,000-square-foot studio has plenty of room for innovation. In fact, there are six different film sets to choose from for filming, including an industrial floor with a massive video wall, a vintage apartment, an LED tunnel, a neon retro world, a hacker's headquarters, and a newspaper room with RBG lights. Each set comes with plenty of props and equipment that's free to use during your booking. Head over to Peerspace to see detailed photos of every set.
A producer who booked this site for a video shoot shared the following: "Great space that met our needs perfectly! Andy was extremely communicative and accommodating throughout the whole pre-booking and booking process."
Still want to scout spaces? Then these 9 great places to find photoshoot inspiration in Los Angeles can help!
Our next listing is perfect for artists who love all things colorful and quirky. The Hue Ville Studios boasts seven unique sets spread out over 3,000 square feet with tons of eclectic and colorful props. There's a rainbow candy room with a person-sized lollipop, a retro living room with checkerboard floors, and an ultraviolet graffiti room that glows beneath blacklights. Your followers will go wild for the off-beat videos you shoot at this studio! See all of the sets for yourself at Hue Ville's Peerspace listing.
Peerspace reviewers seem to love Hue Ville's host as much as the venue itself, as evidenced by the reviews! "Brianna was great! She and the location were as advertised. This location was soooo much fun! :)"
Rich with grit, character, and life, this industrial warehouse also has the urban vibes you're looking for. Located at the outskirts of DTLA, the Barracks is a 5,000 square foot industrial hangar designed by creatives for creatives. You can capture some truly cinematic shots among the pre-built sets and rustic architecture. In fact, we think it's one of the best music video locations in Los Angeles for hip-hop artists and rappers. Learn more about it and book it today on Peerspace!
"This was the second time I filmed a music videos in this location. Travis is always in touch and answers my questions immediately. Jamal is the best site rep. Thanks for having us". Shared a director of a music video on this studio's Peerspace page.
Want to shoot your video outdoors? Then you need to check out our most popular outdoor event spaces in Los Angeles!
Featuring three separate rooms under one roof, this neon sanctuary is truly one-of-a-kind. With over 3,000 square feet of space, the warehouse sports a unique lighting system that can shine in a whole spectrum of neon colors. In fact, you can completely transform the whole vibe of the shooting space to compliment your unique sound! The space also features a solid yellow Kill Bill-inspired room and a neutral white set with gradient LED lights if you want a little variety for your video. Check out its Peerspace listing and see the full kaleidoscope of set colors for yourself!
According to a Peerspace reviewer: "This place was very cool and we had a great time shooting here. The host was very accommodating and flexible with me, even when schedules changed back and forth. We were able to extend our stay by a simple text the communication was very easy and quick. Would definitely rent here again."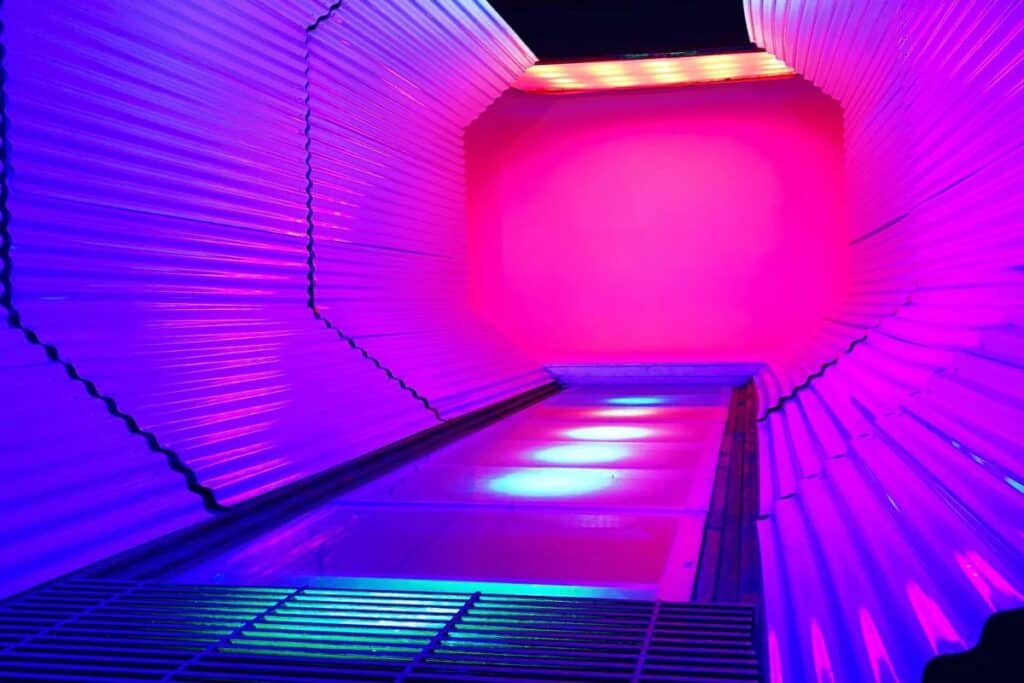 Coming in at under 1,000 square feet, this cyberpunk-inspired tunnel packs plenty of awe into a small studio. Located in the heart of Hollywood, THE ANGLE features a unique multi-dimensional light tunnel with color-changing lights that provide plenty of opportunity for unique shoots! In fact, you can customize the studio's layout and lighting scheme to create a unique, eye-catching video. And at only $60 an hour, this filming space is also a bargain for productions on a budget. Book your session today on Peerspace.
In the words of a Peerspace review: "AWESOME! this place was so cool! I loved it and the host was super nice. Super chill vibes and the tunnel will give you the best video or photos you need. One of my best shoots, definitely come back here."
8. Make a bold statement at the Color Crib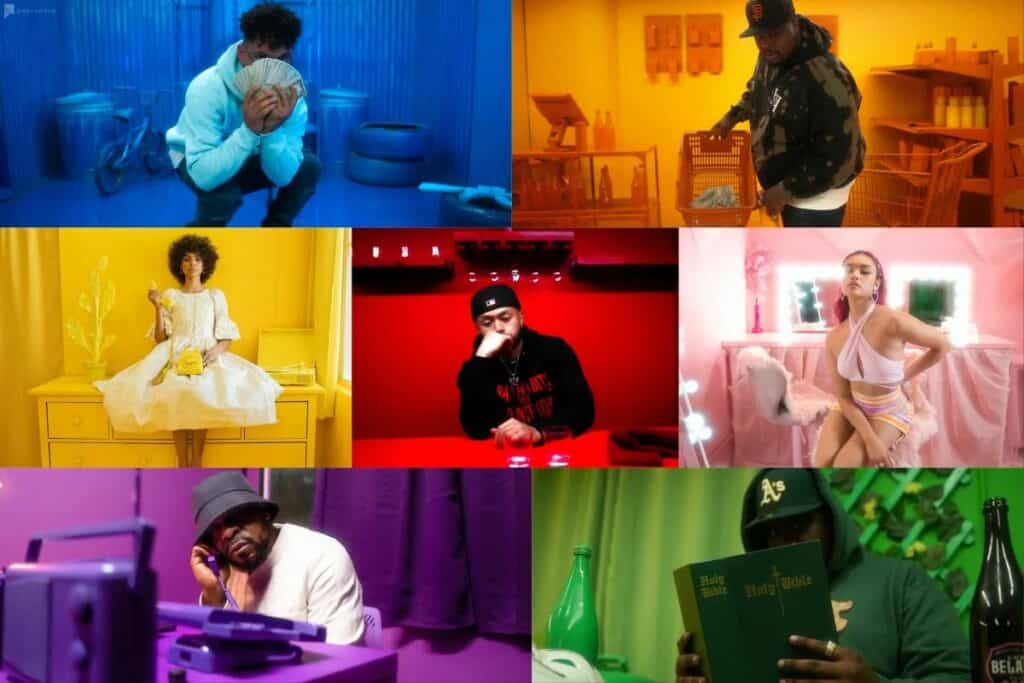 Located in the heart of LA's fashion district, the Color Crib is ideal for musicians who want to make a bold statement in their videos. This 2,800 square foot warehouse features seven monochrome sets, each connected by passageways. Go shopping in the orange convenience store, have a drink at the red bar, and then get to work in the vibrant purple office. Wherever you want to take your music video, you can go there with vibrant style at this one-of-a-kind Peerspace bookable studio.
Of its many, many glowing reviews, this one stands out: "The space was great and we'll maintained. We were able to complete everything that we needed with time to spare. The set also included extension cords, lights and everything you need for a photoshoot. Jaimar and Keke were very helpful with the set up. Great experience, will be back."
What's like an Airbnb for filming locations? We tackle that question right here!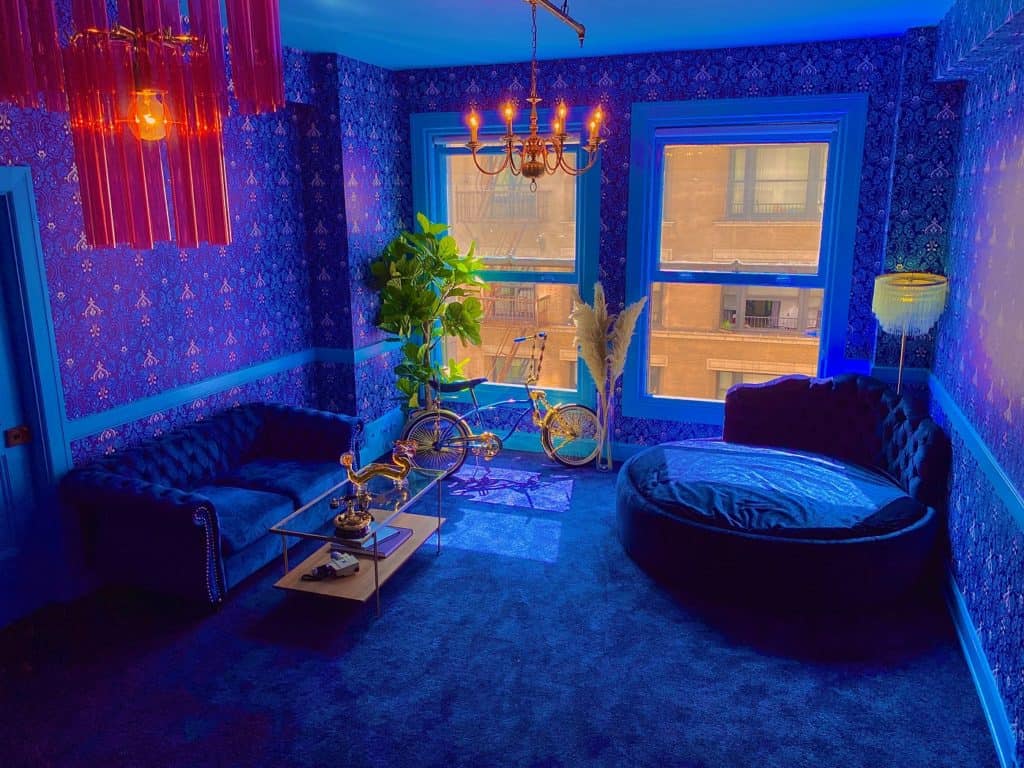 If you're an artist looking for a more chill, lowkey place to shoot a video, then this '70s inspired room has the vibes you're looking for. Awash from floor to ceiling with rich monochrome wallpaper, carpet, and furnishings, the Blue Wave Room oozes sultry romance. Turn the lights down low to capture some truly sexy shots on the plush circular bed or the vintage low-rider bike. It's also a steal to book at only about $50 an hour on Peerspace!
In the words of an actress who booked this space: "The space was perfect for our needs. Spacious and clean. Check in info was easy. Will rent again"
Pop art and retro furniture give this downtown studio a far-out feel that's perfect for the camera. Featuring five different stylized walls, quirky decor, and large bay windows for plenty of natural light, the studio is ideal for artists who aren't afraid to walk on the wild side. This would also be an amazing place to shoot surrealist or retro-inspired music videos. Break out some groovy bell bottoms and platform shoes to round out the look at this Peerspace venue! 
A Peerspace reviewer who booked this studio for a photoshoot shared the following: "Gorgeous space and amazing hosts. Michelle was extremely accommodating and worked with us every step of the way from rescheduling to extending hours. The room itself was so vibrant and made our vision come to life so easily. Thank you for everything! 10/10 would book again!"
11. Retro romance is in the air at this three-room studio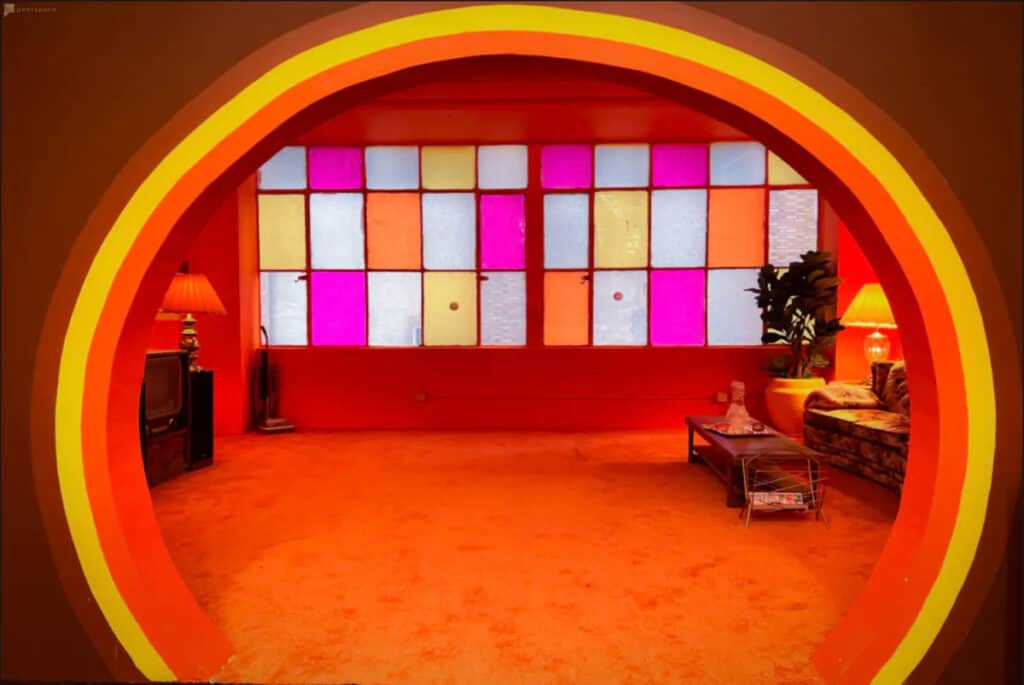 If you're looking for a space with lots of 70s charm, then this wild vintage-inspired studio may be your dream space. Coming in at 1,600 square feet, the loft sports plenty of vintage furniture and homey accent pieces, like a living room, bedroom, and lounge, all outfitted with tons of color and retro aesthetic. And did you check out all the circular doorways? That's a surefire way to make your followers gasp! There's even a lot of lighting equipment included when you book your next filming session on Peerspace.
According to a photographer who booked this studio: "Amazing atmosphere! My team and I felt right at home. We enjoyed every bit of the vibe that the Orange Room was radiating. Damien was professional and a well communicator. I would definitely work with Damien and book another of his rooms again for future projects."
Considering shooting on the other coast? Then our 11 sick music video locations in NYC can help!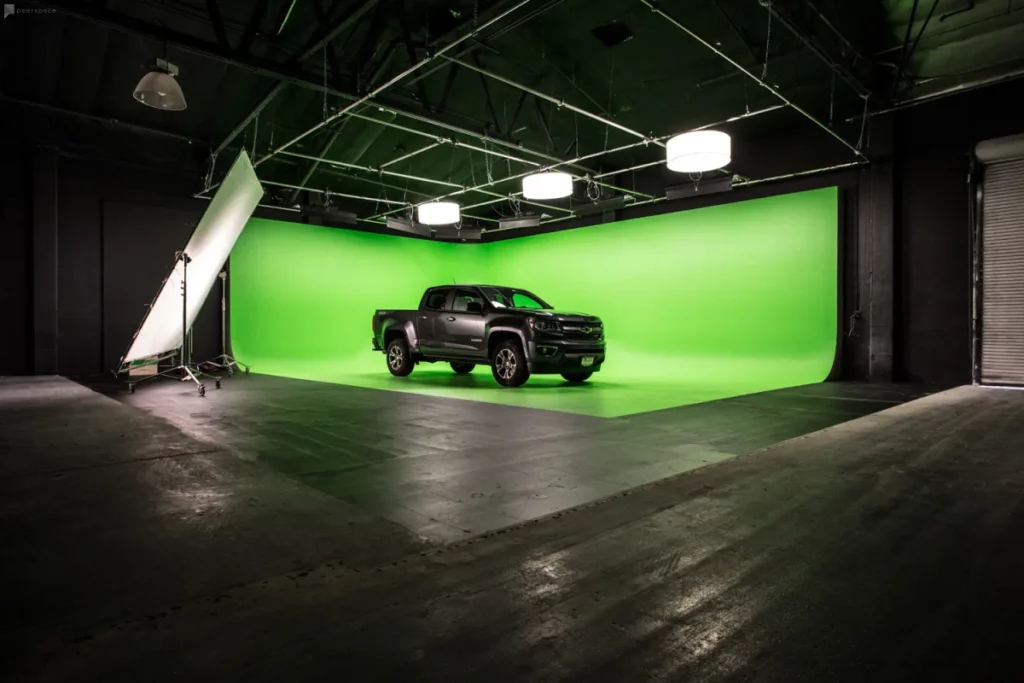 As a bonus for all of you music video creators out there, check out this massive green screen studio. We love this idea for a possible music video shoot location since it allows you to create whatever look you want in post-production. It boasts a customizable 36′ x 24′ x12′ green screen with a full, pre-lit lighting grid. The hosts also offer you the use of a fog machine, tables, chairs, and a full production package as add-on charges.
A musician who booked this green screen production studio for his shoot shared the following review: "The space is incredible, pictures are accurate. Put a 1965 lincoln continental on the green screen with ease. Connor was kind, helpful and nice to be around. Will recommend to my friends if they need a place like this to shoot."
Find music video locations in Los Angeles on Peerspace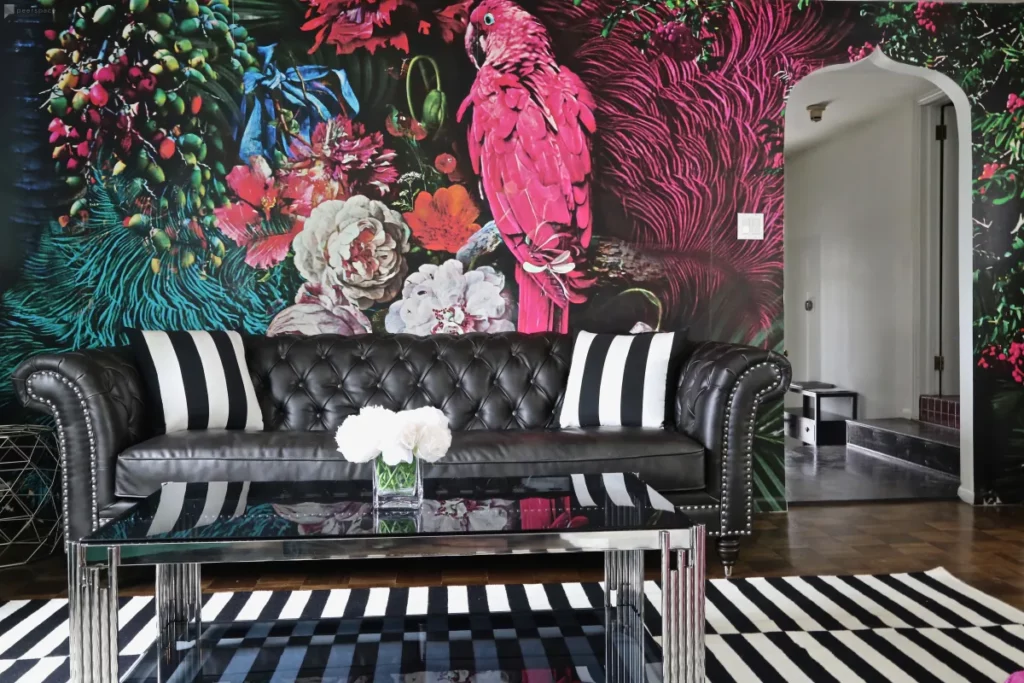 This list is only the tip of the iceberg of what's available for your LA music video! First, be sure to head to Peerspace to find the most incredible music video locations in Los Angeles and beyond. Then, book your favorites and share your art with the world! In fact, it's always that easy when it comes to booking sensational spaces by the hour on Peerspace.
And when you can maximize your booking with the help of your very own Concierge service, then you get everything you want without sacrificing time, money, or your artistic vision.

Get together somewhere better
Book thousands of unique spaces directly from local hosts.
Explore Spaces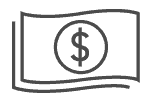 Share your space and start earning
Join thousands of hosts renting their space for meetings, events, and photo shoots.
List Your Space