Here's How and Where to Rent a Desk for a Day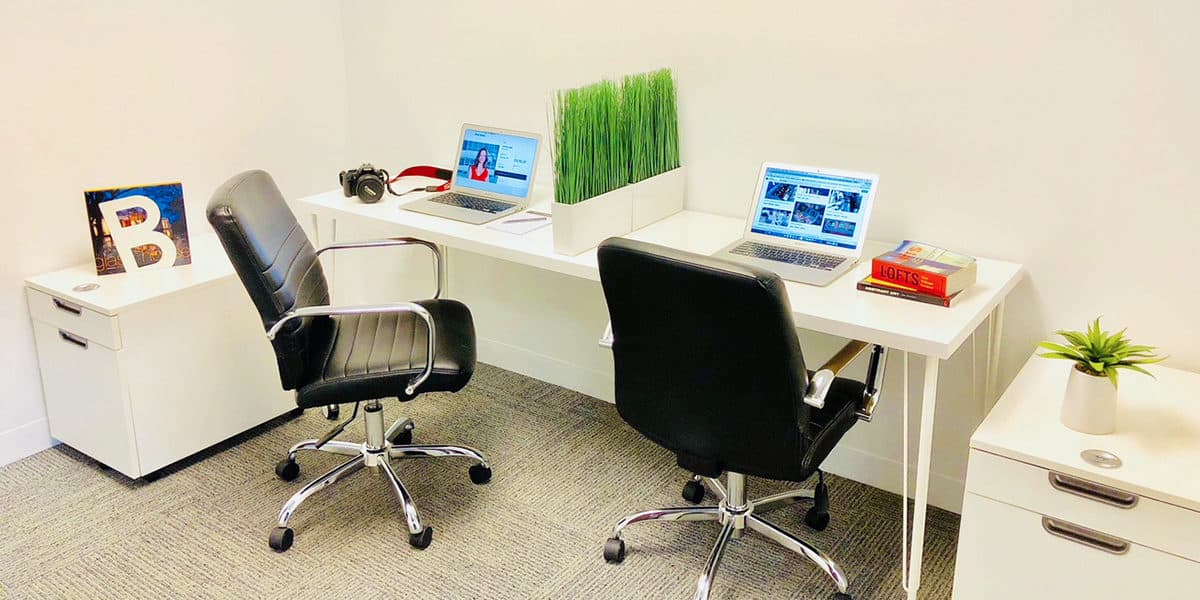 A few decades ago, the ability to rent a desk for a day might have seemed impossible. After all, the first official "coworking space" didn't open until 2005 in San Francisco. These days, your options for working remotely have expanded. But still, choosing the right desk space can be a challenge. From cafes that discourage laptop use to coworking spaces with lax Wi-Fi security, working in an unfamiliar space can be a bit of a gamble.
Luckily, nowadays, you can book a desk by the hour on Peerspace. We have thousands of desk-rental spaces in cities across North America and beyond. Peerspace offers you safety, convenience, and budget-friendly access to rental spaces with all the amenities you can expect in a modern office, but on your own schedule. Whether you're looking for a single desk for an individual or a workspace for your entire team, here's how and where to rent a desk for a day.
Why rent a desk for a day?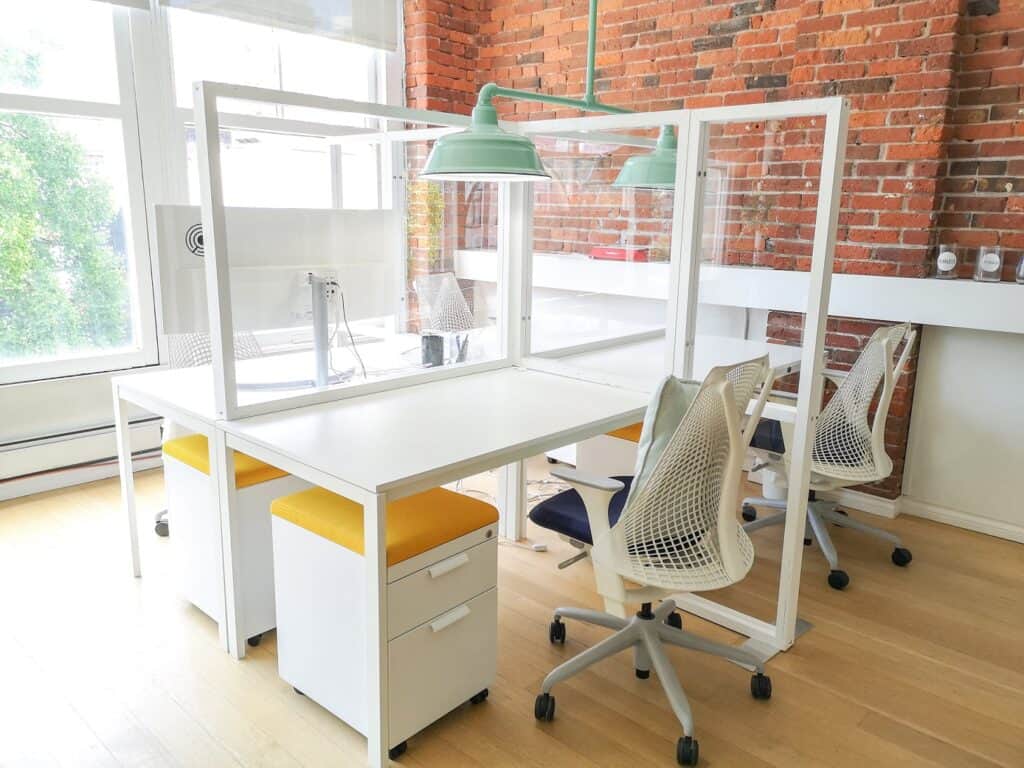 First of all, why do you need to rent a desk for a day in the first place? The main reason to rent a desk for a day is that you need a place to get work done. Maybe you usually work from home, but your Wi-Fi is down or you don't have a printer. Or perhaps you're on a business trip and need a temporary place to work in a new city.
Here are some crucial reasons renting a desk for a day may be desirable:
The setting
Renting a desk can help you get into the headspace for work, helping you feel more productive. Let's face it: it can be a challenge to work from home or a hotel room if you aren't used to it! An unfamiliar setting and distractions abounding make for a less than stellar work mindset.
The added features
You may also have access to certain amenities at a coworking space, such as a kitchen, reliable Wi-Fi, and even a monitor and headset. Whether you're making business calls, putting together a pitch deck, or preparing for an interview, you'll be able to work through your to-do list in no time.
Networking
Renting a desk may also give you the opportunity to network with other people in your industry. Many coworking spaces host meetups and other social events, and they're usually in a central area, making them a convenient starting point from which to explore a new city.
Other logistics
But renting a desk for a day isn't just for remote employees. Another reason to rent a desk for a day is for a production office for filming. If you're only in town for a day, your producer or director may need a quiet space to set up shop to organize the logistics of your shoot.
You can rent a private desk or office space close to your film set where your producer can work, or where your editor can offload footage at the end of the shoot.
How to rent a desk for a day
There are several ways to rent a desk for a day at a coworking space. A dedicated desk is the most expensive option, which means that the workspace you use is reserved for you. You'll have to pay a monthly membership fee, similar to paying rent.
The main benefit is that you won't have to worry about your desk being "taken" when you show up to work, and you can leave things on the desk overnight. An office may have access to a kitchen and other shared spaces, as well as the option to book a private conference room.
A hot desk is a less expensive membership option. You'll still have access to the resources that you'd get with a dedicated desk, but the desk itself may change from day-to-day. Some hot desk plans may offer part-time membership options, such as access for two or three days per week.
Finally, most coworking spaces offer a day pass, which is the most affordable option if you only need a desk occasionally or don't want to commit to a monthly membership.
How to find your desk on Peerspace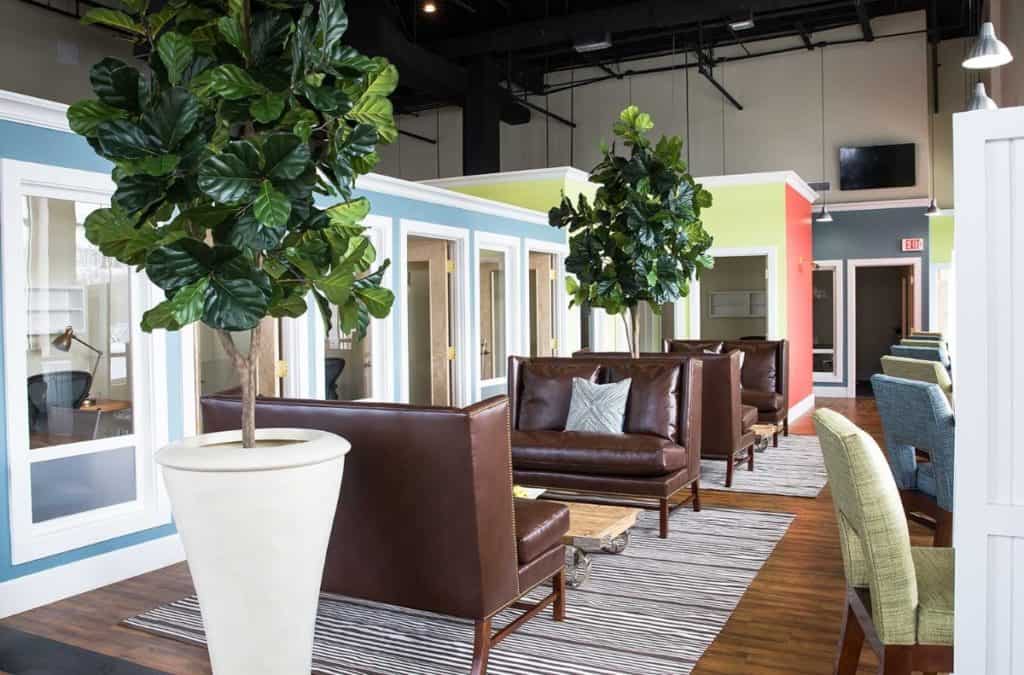 So, where should you look if you want to rent a desk for a day? We suggest using Peerspace because you can easily see what amenities are available at any space in question. Plus, spaces are available by the hour and there are no contracts or membership fees.
For added peace of mind, you can also read reviews left by previous renters, right on the listing page. You'll also find a wider variety of options than most coworking spaces can offer, including shared office spaces, home offices, private suites, and more.
Since Peerspace venues are made available by local hosts, you can reach out to them directly with any questions about the space or what kind of amenities are available on site. Plus, if you're a small group of coworkers looking to share a workspace together, you can call up the Concierge to line up additional services, such as catering or A/V equipment rentals.
Check out this guide if you're looking to rent a desk for a day in Los Angeles.
Types of desk spaces on Peerspace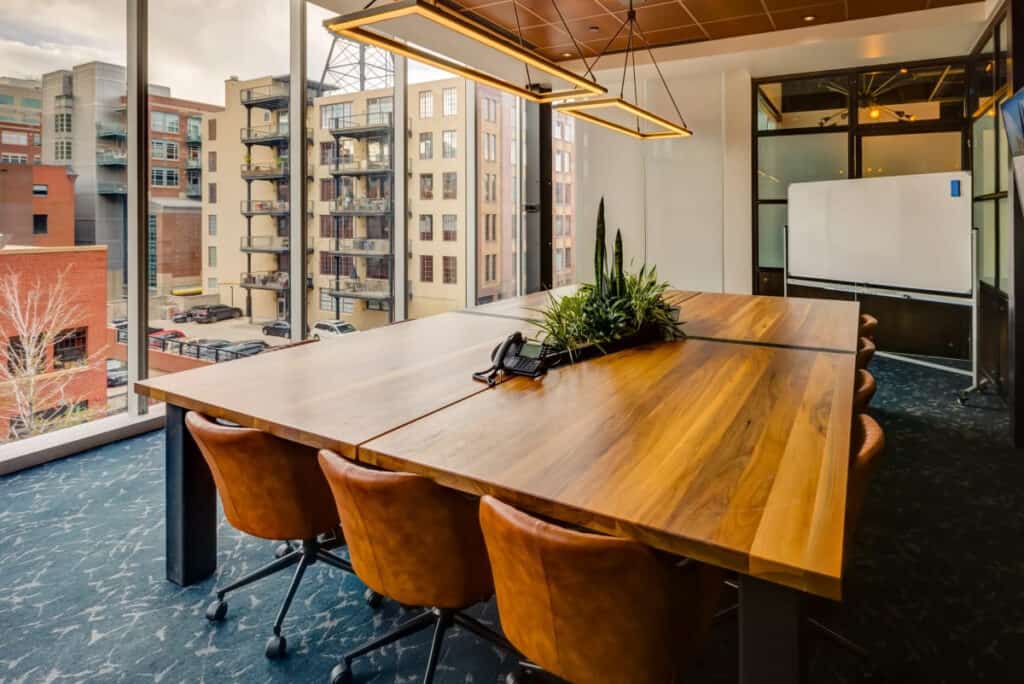 You'll find a variety of desk spaces on Peerspace, from entire coworking spaces you can rent for your team, to meeting rooms and conference rooms that fit dozens of people.
For this list, we've stuck to options suitable for an individual to rent for a day. They're either single desk spaces located in shared offices you can rent all or part of or private office rooms that accommodate a team of people:
As you can see by the listing above, tons of unique daily desk rentals are available to book on Peerspace. And more are being added daily, so keep an eye on your city to see what pops up! Browse your local listings, contact the host with any questions, and get to work!
How much does it cost?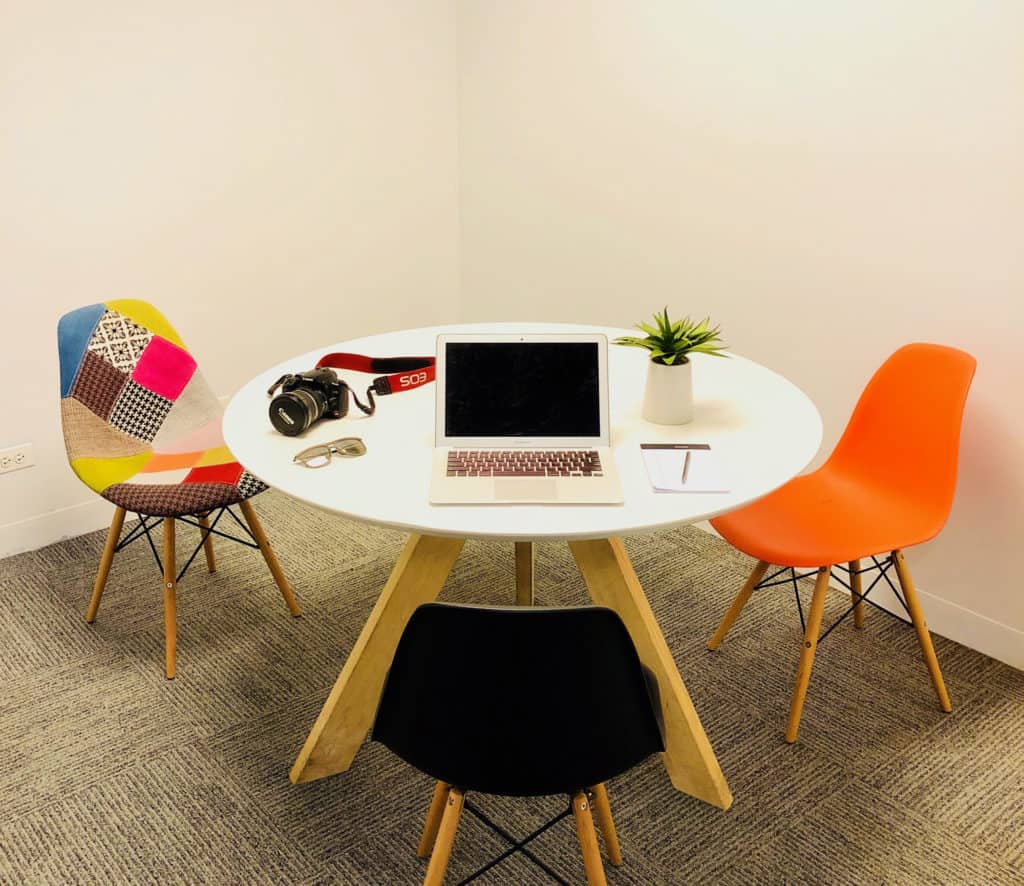 Renting a desk for a day is one of the most affordable ways to find a temporary workspace. You can easily drop in to get work done on an as-needed basis, with no long-term commitment.
Typically, the cost to rent a desk for a day comes down to the location and the features. A private office with lots of amenities in the heart of a metropolis will cost you more than a simple desk in a rural setting.
Budget-conscious yet bodacious
The private suite in Midtown, NY, is on the lower side of the scale at $15 per hour, and you'll have access to your own room with a receptionist to greet your guests, as well as 24/7 booking options. It's ideal for a quick client meeting in an expensive part of town where space is at a premium. Plus, it has monitors and microphones available for teleconferencing and audio recording.
A CEO who booked this private suite for herself shared the following review: "Terrific…everyone was helpful and friendly. Space was exactly what I needed."
The private day office in Chicago is slightly more expensive at $20 per hour. It offers additional add-on services, such as beverage service, assistants, and breakout space, which will add to the price.
A business owner who booked a class for two people at this Chicago office shared, "Fast & easy booking. Good location. Will continue to book!"
The production room in Lower Manhattan costs $35 per hour, and it's the perfect temporary office for a film or video production company. It includes a large desk with HDMI monitors and a 40" TV, as well as two smaller desks, with a maximum capacity of four. In addition, there is a kitchenette, bathroom, and free coffee and filtered water included in your booking.
A therapist who booked this production room for five guests shared the following Peerspace review. "Awesome host that was able to accommodate my shoot for my Web Series. Thank You!"
Looking for more day desks in the Big Apple? We have tons of options right here!
Pricier and glam
One the higher end of the spectrum are the Hollywood and San Francisco day offices, which charge $100 and $153 per hour, respectively. However, both offer tons of stylish space and even features like city views and Xboxes!
After enjoying the San Francisco office space, a Peerspace user left the following review: "Great space! Super convenient location and really versatile space. Excellent communication by the host! Highly recommend"
The Seattle office and Atlanta office spaces, although on opposite sides of the country, are similar in price, at $125 and $119 per hour. They both average about 1,500 square feet and boast whiteboards, monitors, kitchenettes, and plenty of seating.
An entrepreneur who booked the Atlanta space for a presentation shared this review, "This space was awesome! Looks even better in person and the hospitality was amazing! Truly grateful I was able to find this space. Would highly recommend and book again in the future :)"
Rent a desk for a day on Peerspace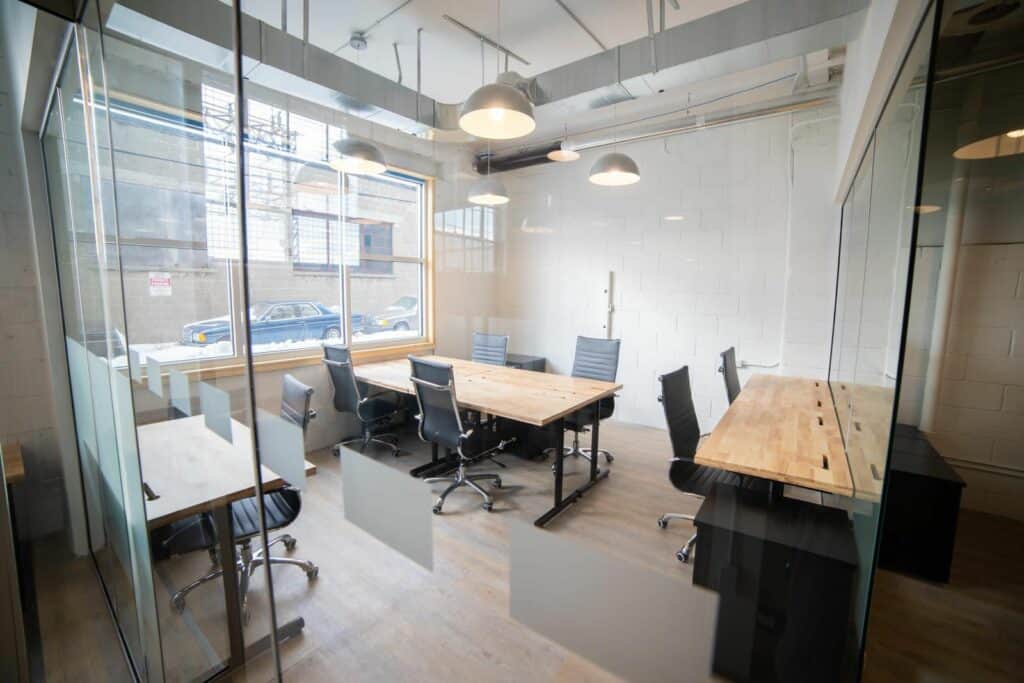 As you can see, renting a desk for a day opens up a variety of options, from working remotely in a new city to running a production office for a photo or video shoot. And with Peerspace, it's easy to rent a desk for a day in your price range, in your desired location, and with all the frills you need.
No matter what you may need space for, you can rest assured that Peerspace has a safe, clean, and productive match for you. And you can rely on the convenience of the Concierge service for help adding additional services to your booking. For even more ideas, head to Peerspace to search for desk spaces by location, capacity, price, features, and more!
Learn more by reading our Here's How and Where to Rent an Office for a Day guide.

Get together somewhere better
Book thousands of unique spaces directly from local hosts.
Explore Spaces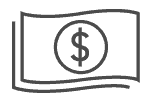 Share your space and start earning
Join thousands of hosts renting their space for meetings, events, and photo shoots.
List Your Space