Here's How and Where to Rent a Conference Room for a Day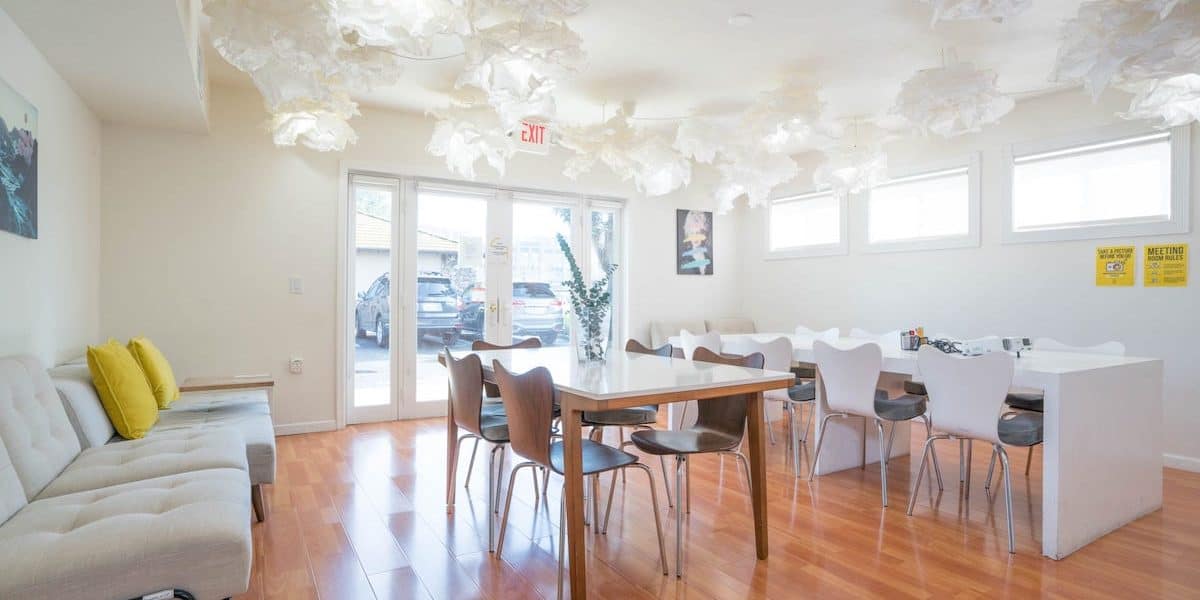 Answered
Conference rooms on Peerspace typically cost anywhere between $100 — $200 per hour.
Conference rooms aren't just for meetings. You can also use them for workshops, team-building events, focus groups, and other small-group activities. Some offices and coworking spaces may have conference rooms available on-site. However, if your office is cramped for space, you may need to look elsewhere. In this article, we'll show you how and where to rent a conference room for a day.
Luckily, there are hundreds of great conference rooms available to rent on Peerspace! As the largest online marketplace for hourly venue rentals in the US and beyond, you can be certain that your ability to nab an incredible conference room near you is only a few clicks away. Just enter your location after clicking the link above and see what pops up. Each listing includes high-def photos, a detailed description of the space by the local host, genuine reviews from past renters, and upfront pricing. And since these are hourly rentals, you can find a space that suits your budget minus any contracts or memberships.
Throughout this article, we'll include photos of actual Peerspace conference rooms so that you can see what type of spaces are out there.
Why rent a conference room for a day?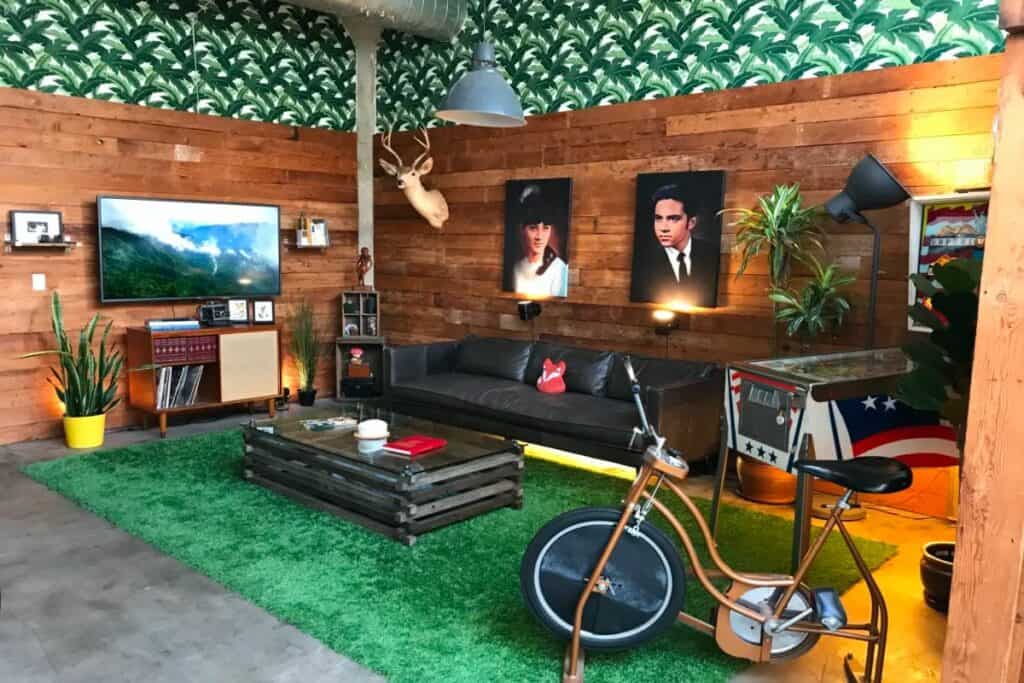 Why pay to rent a conference room for a day when you could just use your existing office space or even meet at a coffee shop or library? There are a few major reasons to consider one.
Privacy
The first and most important reason is privacy. If you're hosting an executive board meeting, consulting with a client, or interviewing a potential new employee, then you can't do it in an open office. In some cases, a meeting may be so confidential that you have to host it off-site.
Renting a conference room affords you the privacy to conduct your business in a way that makes you and your clients feel comfortable.
Space
Maybe your office is too small to have a separate conference room, or maybe you don't have an office at all because you work from home or in a coworking space.
In fact, if your company is just starting, you may need a place to meet with clients before you're able to invest in an office space of your own. Or, you may just need to meet clients at a more central location. Whatever the reason, renting a conference room gives you more options and flexibility in terms of space.
Aesthetics
Sometimes you just need a change of scenery. You can even rent a conference room for a day to shoot team photos in a more professional environment.
On Peerspace, you'll find conference rooms with classy "executive" decor and others with quirky colors and a casual vibe that will look great on your company's Instagram feed or marketing materials.
You can also choose from various seating arrangements, from traditional boardroom-style layouts to open or closed U-shaped layouts, classroom-style layouts, and more.
Equipment
Equipment is one of the best reasons to rent a conference room for a day. At a minimum, you can expect a conference room to have good lighting and comfortable furniture, but many conference rooms will also have additional amenities such as WiFi and A/V gear.
Need to present a pitch deck or give a report to shareholders? Rent a conference room with a projector. Need to record an important board meeting or chat with a remote client? Choose a conference room with videoconferencing capabilities.
No matter what kind of meeting you have in mind, a private conference room makes a great first impression. It can provide a professional atmosphere for your conference or presentation and ensure you have the gear you need.
These are just a few examples of the kinds of events that work well in conference rooms:
Interviews
Board meetings
Video conferences
Team building events
Focus groups
Workshops
And more!
How to rent a conference room for a day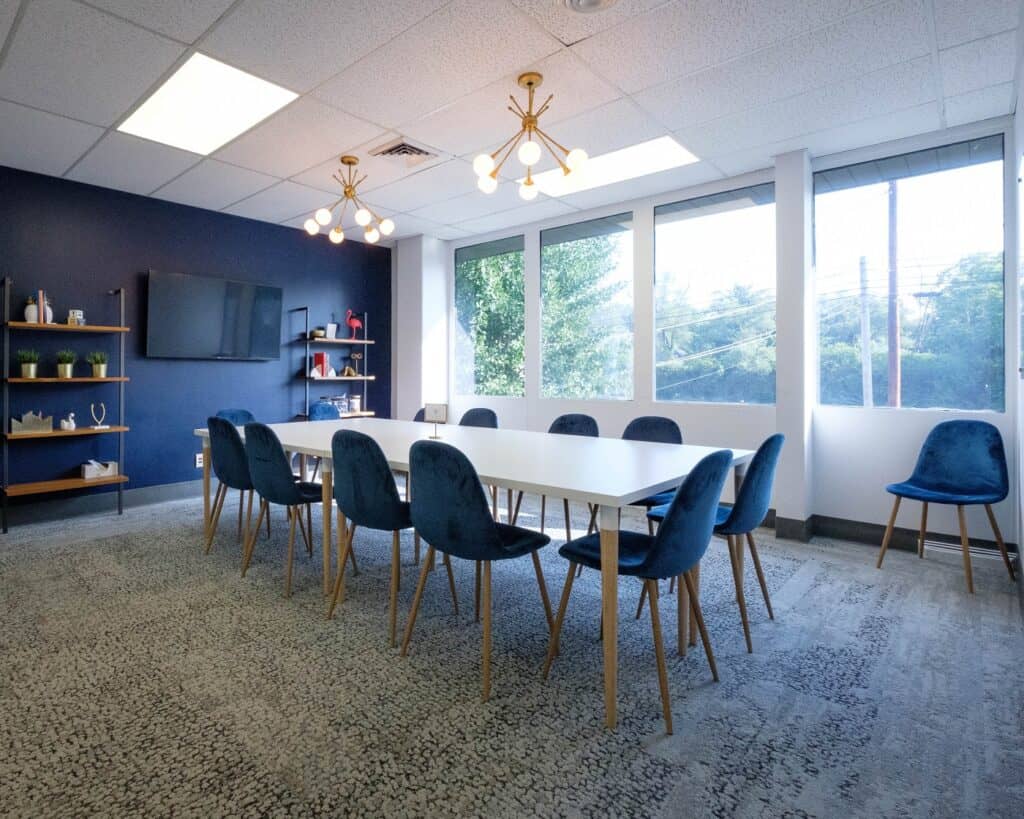 Once you've decided on a conference room, how do you go about renting one? The good news is that plenty of offices and coworking spaces have conference rooms that they rent out by the day or hour on Peerspace, without requiring a long-term rental fee or membership. And since many of them are in existing offices, they're already equipped with furniture and WiFi!
So, how do rentals on Peerspace work? Search by location, date, and type of the event you're planning to see a list of all of the spaces available near you. Then, you can refine your search by setting additional filters, such as the price, maximum number of occupants, and various available amenities.
From cozy conference rooms that seat just five or six people to high-tech board rooms that can fit dozens, you'll find spaces in a range of styles and levels of formality. When you find one that you like, book it instantly! Or, reach out to your host if you have any questions.
If you need additional services, such as a photographer to take corporate photos or a caterer to provide a business lunch, reach out to the Concierge service. They can connect you with trusted local vendors, including equipment rental companies with A/V and camera gear. In some locations, you may even have access to an on-site kitchen and other facilities included with your rental.
In short, renting a conference for a day can be as easy as booking a hotel room. So whether you're hosting a last-minute event or an important meeting that has been on the books for weeks, you can rest easy knowing that all your event logistics will be taken care of.
Types of conference rooms on Peerspace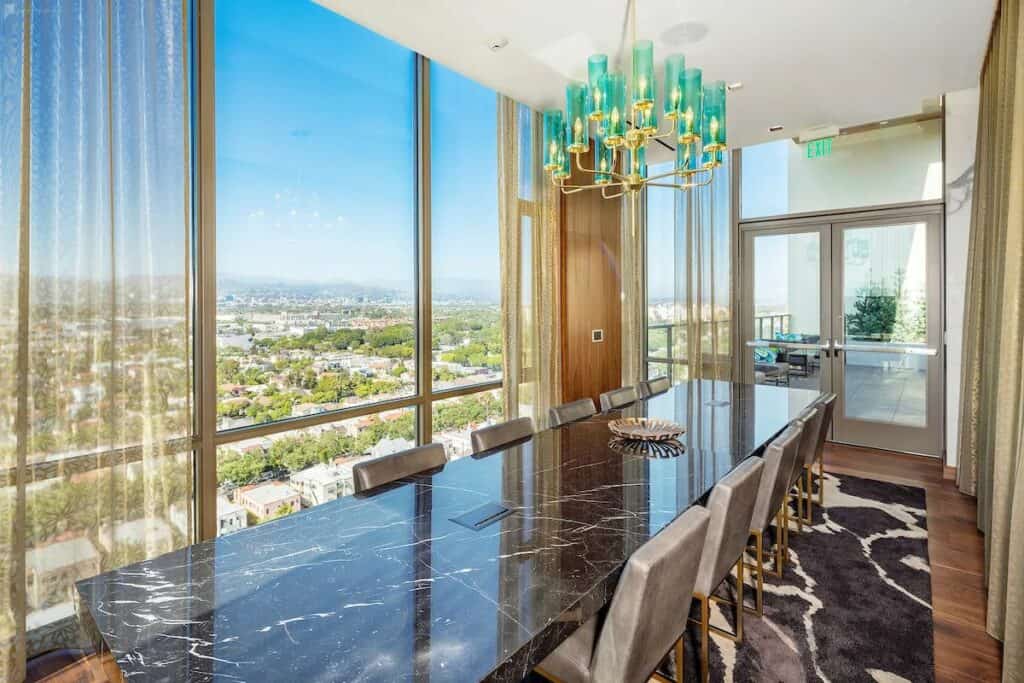 So, what types of conference rooms can you choose from on Peerspace? Essentially, if you can think of it, you'll find it. There's everything from a rustic meeting room in Texas that may look quaint but has high-speed Internet and a wireless presentation gateway to a modern meeting room in San Diego with a stylish hexagonal table.
Here are just a few of our favorite options:
How much does it cost?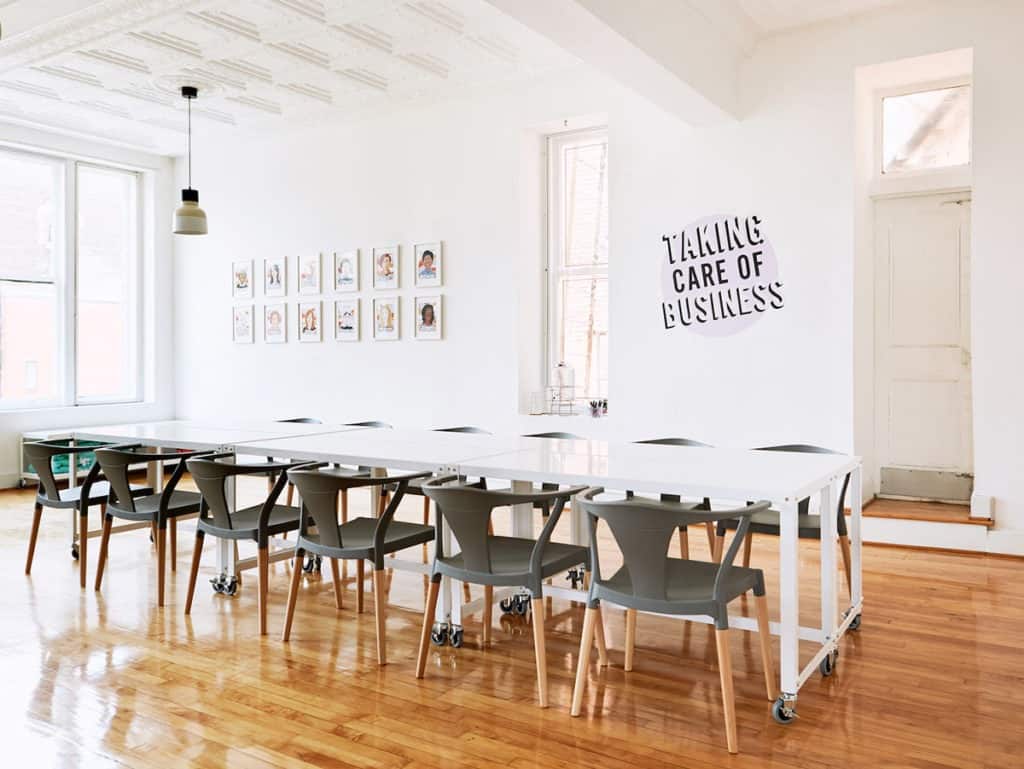 A conference room is one of the most affordable types of event spaces you can rent. Although the price per hour will vary based on the location, the size of the room, and the amenities included, you might be surprised at how much your money can buy — even in hotspots like New York and San Francisco.  And while some venues have a minimum rental period, most are happy to accommodate you for as little as one hour, with amenities such as kitchen access and an on-site receptionist included.
To explore this in more depth, let's take a look at some of the conference rooms we mentioned above.
Mountain View meeting space
The comfortable conference room in Mountain View, CA costs $50 and has a two-hour minimum. Though petite in stature, it is massive in amenities. While here, you can use the 4k monitor, Chromecast, glass whiteboards, and coffee and tea in the breakroom.
An executive director shared the following Peerspace review after booking this conference room: "This is a terrific space. It is well equipped, and thoughtfully laid out. We used the conference room for training. The area was quiet. There was a screen for projection, with all of the dongles. There was power in the middle of the table so you didn't have to hunt for outlets. We were able to adjust the heat to make it comfortable. The bathrooms are clean and there is a nice kitchen area."
Texas-style thoughtfulness
Similarly priced is the rustic high-tech space in Grapevine, TX. It costs just about $40 per hour, with no minimum rental period. This office provides space for 12, high-speed internet, Apple TV, flip charts, whiteboards, a kitchen, and breakout space.
Unsurprisingly, plenty of Peerspace users seem to really appreciate this conference room. Check out this review as an example: "This place has been our home away from home…Since living in Covid and working from home for 2 years it is refreshing to find a great workspace for my team to collaborate in Grapevine and get off of zoom calls. Thanks to Monica for always welcoming us to her great space"
Times Square convenience
The priciest conference room on our list is the large modern meeting room in Times Square. It costs about $200 per hour and has a two-hour minimum. That's not a huge price considering the location and its numerous amenities. Some of its most stand-out features include its 52 guest capacity, 75″ LED TV, USB charging stations, magnetic markerboards, and filtered water and Starbucks coffee access. The host also offers tasty catering add-on options.
In the words of a Peerspace user who booked this conference room: "The space was immaculate and the staff was fantastic. We cannot recommend enough. It was perfect for our team workshop."
Overall, what sets most conference room rentals apart price-wise is the amount of space they offer and the features. So while these factors can change, one thing sure doesn't: you can easily find a conference room on Peerspace that fits your budget!
Rent a conference room for a day on Peerspace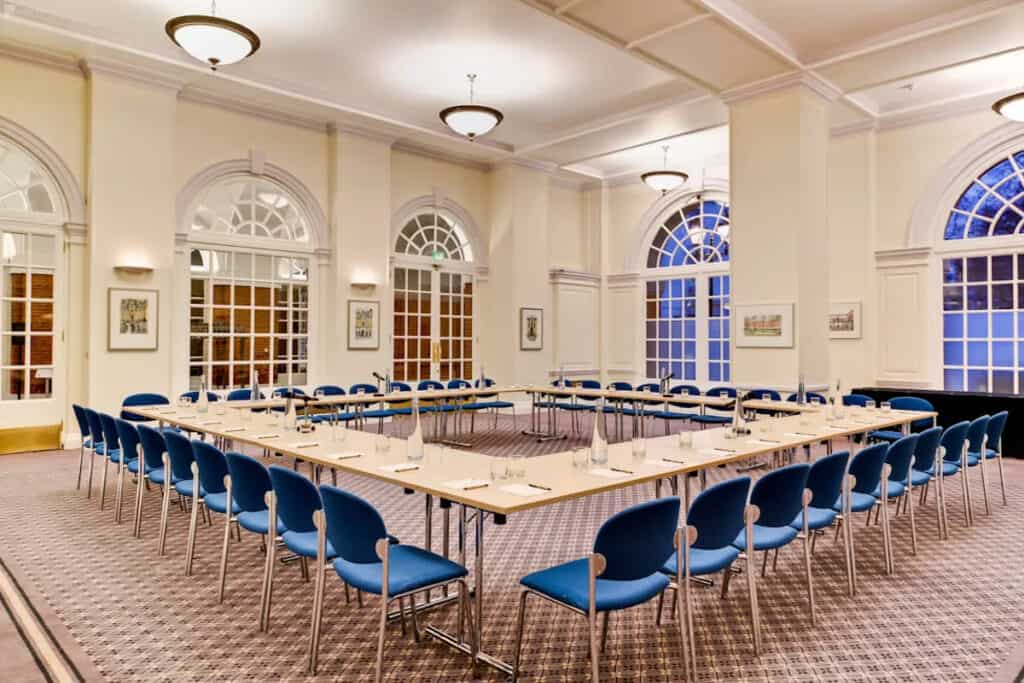 As you can see, the cost to rent a conference room for a day can vary widely. But when you rely on a platform like Peerspace, you can hundreds of conference rooms in cities across the US and beyond. With so many options, you're sure to find a space that fits your budget and offers the amenities you desire. And if a low price is the most important factor to you, remember to expand your search outside of downtown areas to find the most affordable options.
Remember, you can always call up the Concierge service to book a caterer, a photographer, or any other professional service that doesn't come with your booking!

Get together somewhere better
Book thousands of unique spaces directly from local hosts.
Explore Spaces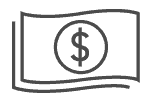 Share your space and start earning
Join thousands of hosts renting their space for meetings, events, and photo shoots.
List Your Space