Here's Where To Rent Office Space by the Hour in San Francisco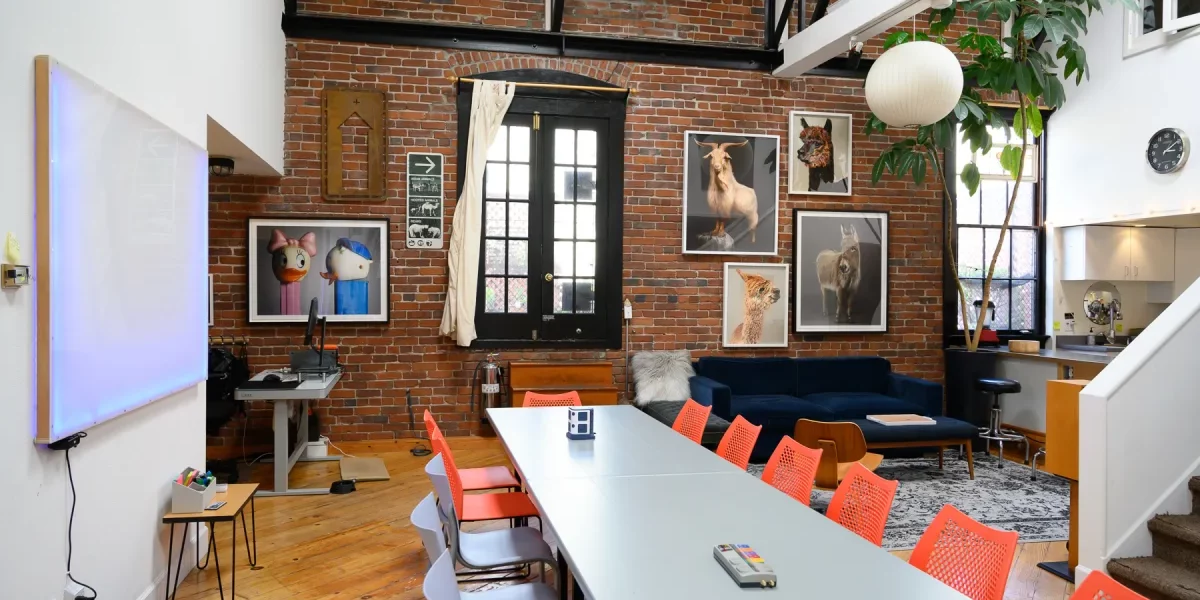 Looking to rent office space by the hour in San Francisco? The city is, after all, a cultural epicenter that signifies the American dream, diversity, and luxurious living. San Francisco is also one of the most beautiful cities in the Sunshine State and the entire U.S. As well as being known for its vibrant culture and eclectic architectural landmarks, San Francisco does have booming financial and manufacturing centers.
And with that, San Francisco is undoubtedly a great place to do business. With so many options to choose from for office space, it might get tiring and bewildering to comb through them all. Luckily, Peerspace just happens to be home to hundreds of event and production spaces in San Francisco, including incredible office spaces.
When you book a Peerspace, you rest easy knowing you have hourly access to a space that has all the amenities you need. Plus, you'll also have the assistance of the Concierge service if need be. These events and logistics pros can source anything you need, like catering, furnishings, and tech equipment, and deliver it to your venue. That's a convenience any of us can appreciate, whether you're a solopreneur or a massive corporation looking for break-out space.
Ahead, we share our favorite places to rent office space by the hour in San Francisco.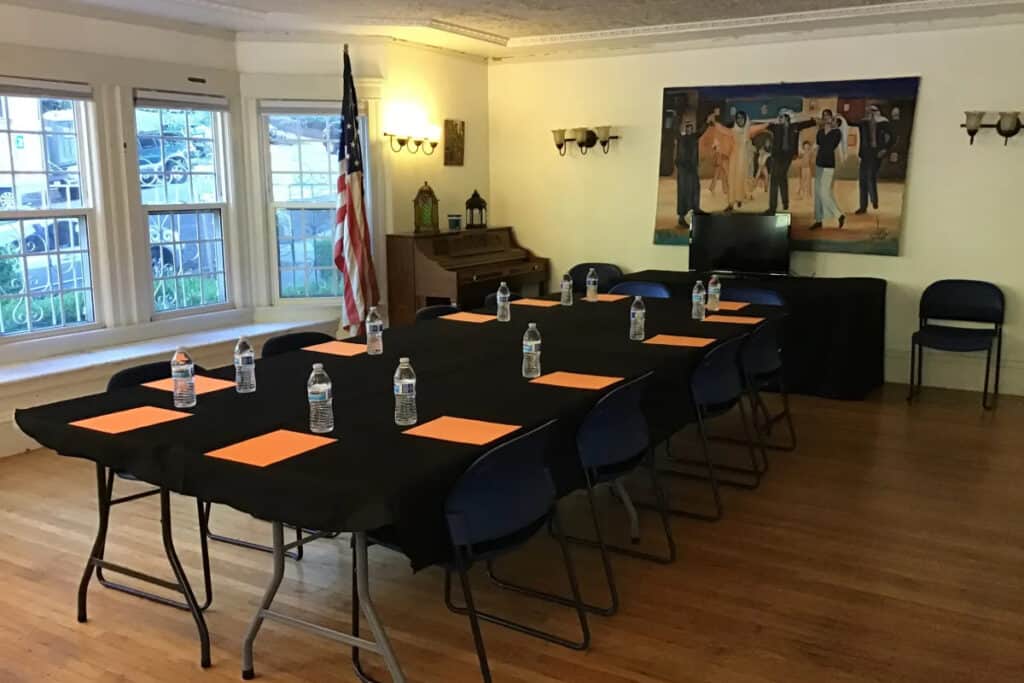 Located in Forest Hill, you can customize this spacious 1,100-sq-ft conference room to fit a wide array of demands. Whether it's a conference meeting, a business pitch to grab the attention of Wall Street brokers, presentations, or a team meeting, you can use this space to suit it all. The office space comes packed with all the amenities including Wi-Fi, kitchen space, an LED projector, and nearby public transportation. So if you are planning a conference meeting or need a thoughtful space for office work, give it a look.
The owner has some wonderful reviews from previous clients, including this review on its Peerspace listing: "The host was great with responding. The space was exactly as described. Very seamless process. Thank you!"
2. A perfect place for freelancers to meet clients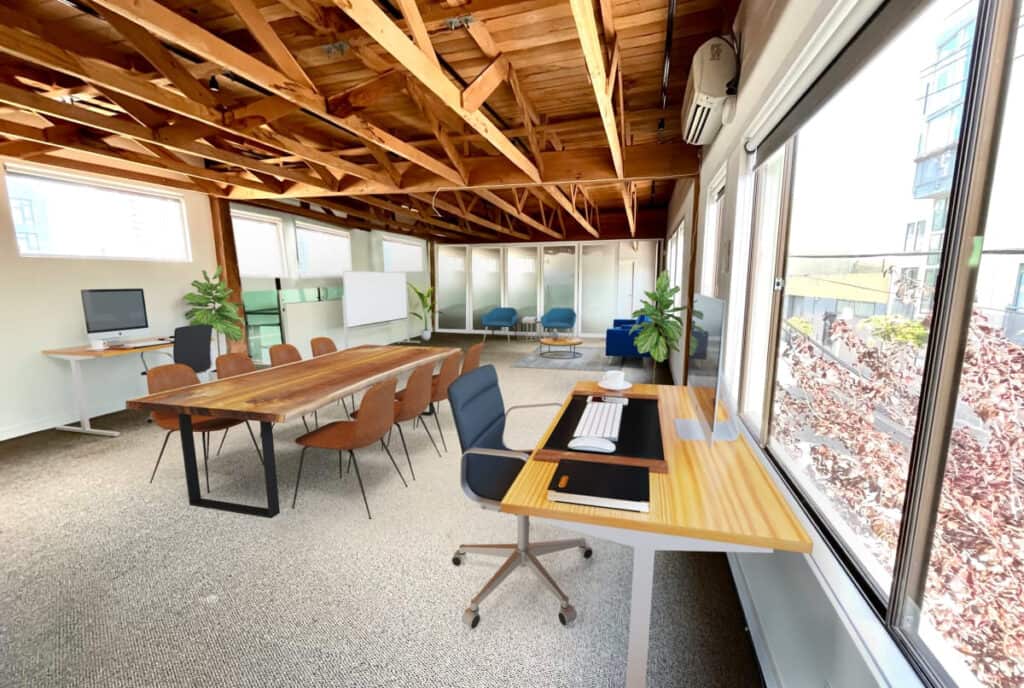 Freelancers often have to meet their clients to navigate through a certain communication gap that exists while communicating online. In that case, selecting the right spot for meeting the client becomes quite a hectic task. Well, thanks to Peerspace, you can now access multiple places in our catalog.
One such example is this private conference room located in SoMa. It includes all the necessary amenities, like high-speed WiFi, tables, chairs, coffee, monitors, whiteboards, and breakout space. It is an ideal spot for conducting client meetings on top of its incredible style.
Like this venue, our 13 creative corporate event ideas in San Francisco can reinvigorate your business event!
3. Bring out your A-game in this conference room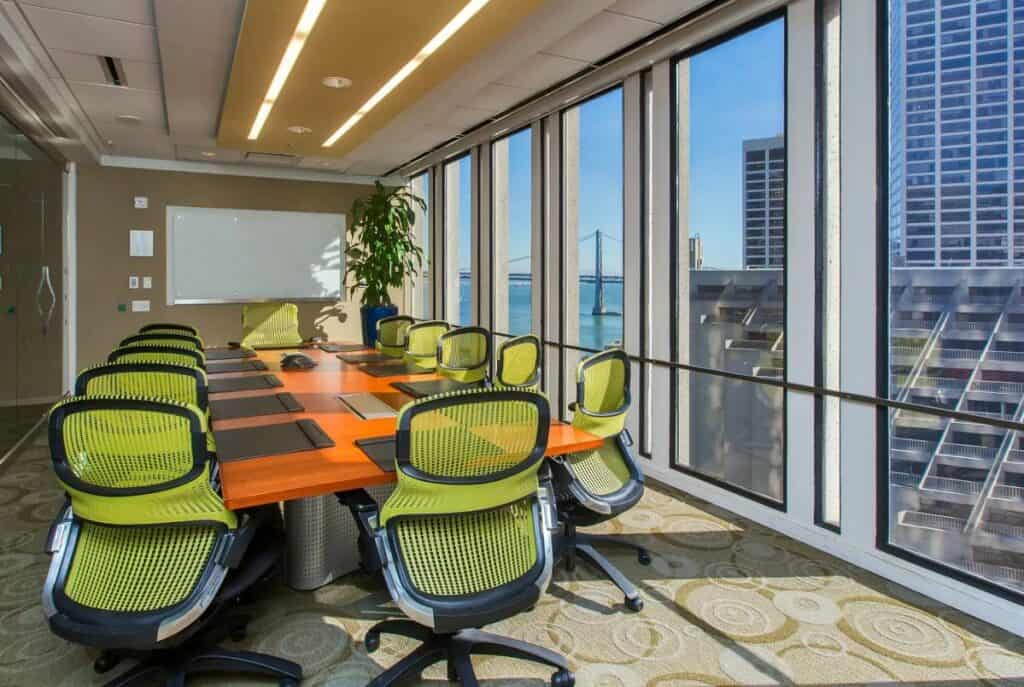 Here is another superb office for rent by the hour in San Francisco. This 183-sq-ft boardroom meeting place in Embarcadero Center can accommodate up to 12 people and is set in the heart of the city. You also have the option to hire catering services offered by the host. It is equipped with amenities required for conducting smooth conference meetings. The floor-to-ceiling curtain walls provide a rewarding view of San Francisco Bay.
This is another office space with friendly hosts and great reviews from previous customers! In fact, according to one past reviewer: "We absolutely loved this meeting space. It was quiet, plenty of space and the view of the Bay Bridge is amazing. The coffee/tea break room was a nice bonus as well. We will definitely be coming back again!"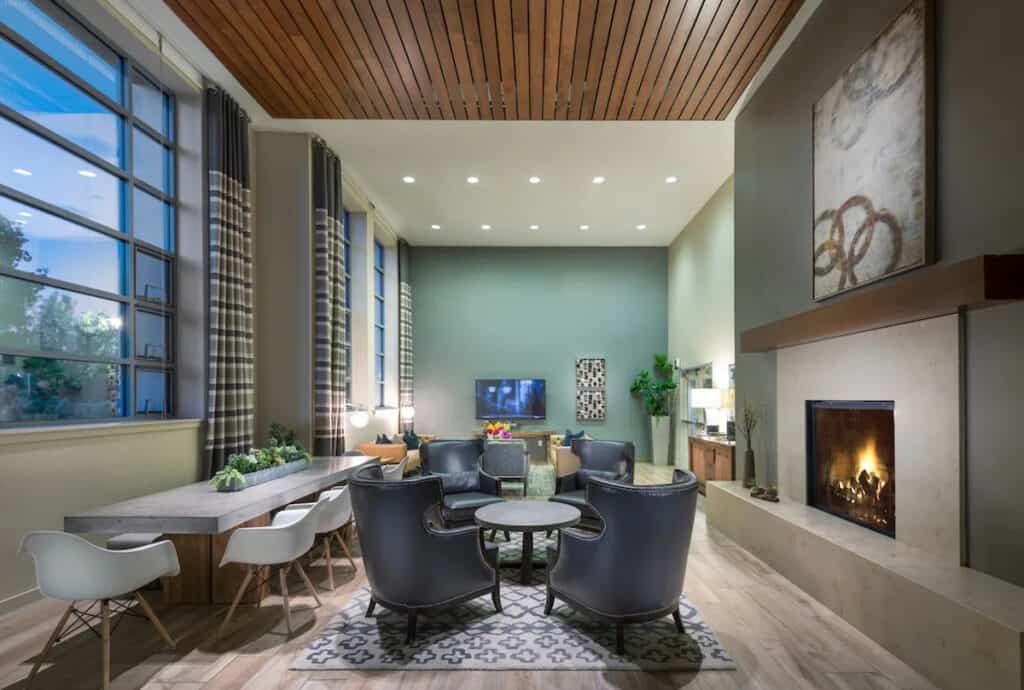 This 868-sq-ft office space is a relaxing change of space, offering a lounge-like setting while maintaining a professional ambiance. It boasts features like club seating, a fireplace, and an outdoor patio to enjoy the natural scenery. If your goal is to have a meeting or a small business brainstorming session in a beautiful, modern space, this place should be at the top of your list. The wooden floors, massive windows, relaxing color scheme, and customizable sets of furniture allow you to welcome your guests in style.
As one Peerspace reviewer puts it: "Lauren, Gunther and the whole team were absolutely wonderful to work with. We would absolutely return and also recommend this space for anyone looking for an elegant and classy location for a team offsite or meeting."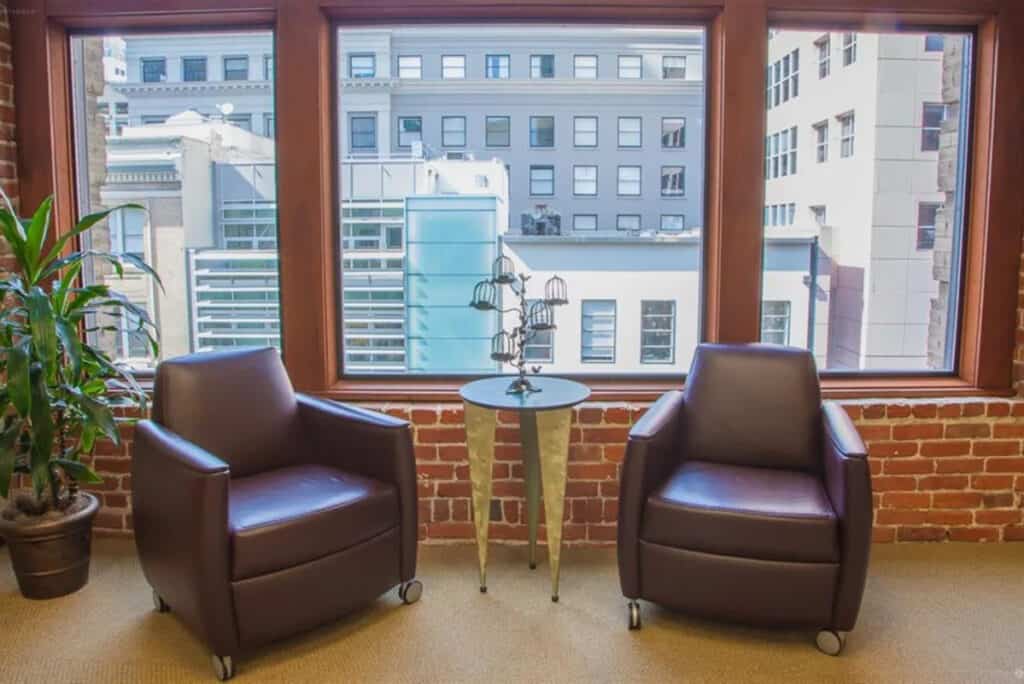 This 250-sq-ft collaborative working environment is in South Beach and includes a workspace, a separate sitting place, and a small open kitchen. Due to the nature of its design, it is a great place for engaging your team in brainstorming sessions, conducting presentations, and hackathons. It also comes with a very economical price tag, and you can reserve it for a minimum of one hour.
Best yet, its features are pretty hard to beat! This office space rental includes a convenient kitchen, a reception space with a welcoming host, and is pet friendly. So, if you are looking for a collaborative workspace, this is an excellent option for hourly rental office space in San Francisco.
6. The Hub for executive meetings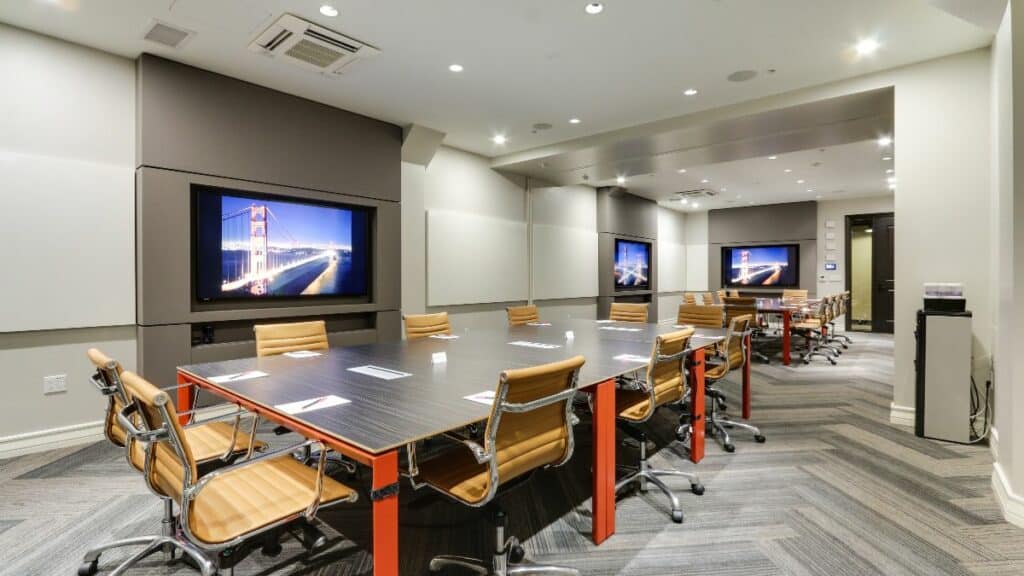 The Hub, as its hosts call it, is a 765-sq-ft conference meeting room ideal for giving presentations, formulating business plans, and conducting executive board meetings. Its Union Square / Financial District location is convenient for just about everyone. Plus, it offers a wide range of services from catering to valet parking. The place has a fiber-optic network connection and modern gadgets to make your presentations seamless.
Check out this review from a past Peerspace reviewer: "Fantastic space & great staff! Everything was pristine & ready to-go for our 8:30am meeting. The multiple Apple TVs connect wirelessly and worked great for our meeting purposes. Will definitely book again!"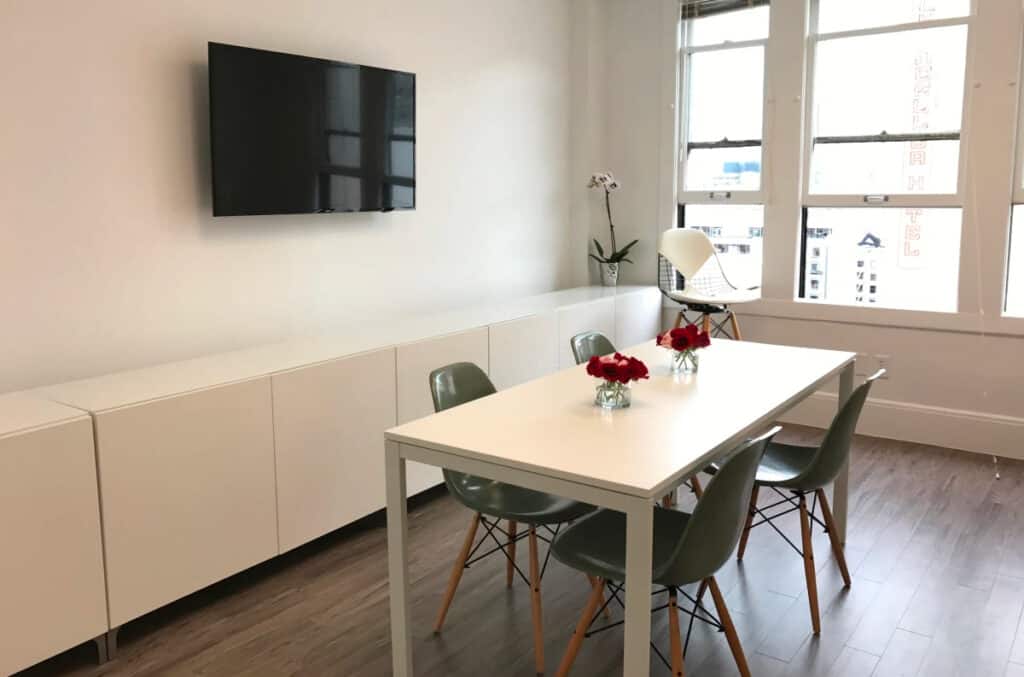 This cozy studio is a perfect place for arranging interview sessions for your potential employees. Located in Union Square, Lower Nob Hill, this 250-sq-ft office space is located on the ninth floor of a historic building with architecture that gives Victorian-era vibes. You can also customize it to accommodate six to eight people for meeting purposes. The room is well lit by natural sunlight, and you get almost every facility that an office space needs.
According to a Peerspace reviewer who booked this studio for an off-site: "Perfect for our needs. A clean, well-lit space which is perfect for up to 6 or 8 people. We used this for a series of short meetings with potential clients and as a workspace between meetings. Christina is quick to respond and flexible to our requests. We would definitely use this space again."
Discover our favorite creative loft venues in San Francisco for your next meeting here!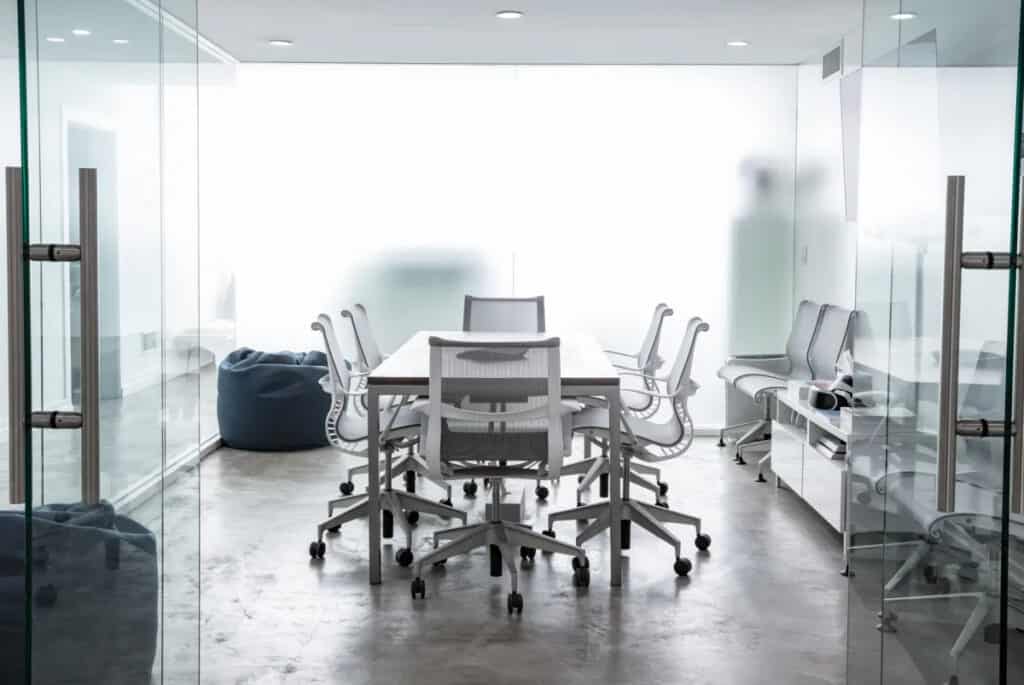 Located in the Sunset District of San Francisco, this contemporary conference room is ideal for tech industry entrepreneurs and businesses. The office space is well lit by massive windows and boasts amenities like high-speed internet, a wall-mounted display panel, an audio and video conference system, and private bathrooms. Public transport is near the office space so that anyone can reach it without difficulty.
In the words of one of this office's many happy reviewers: "Very nice space to meet with clients, easily accessible and very accommodating. It was the perfect place to meet in an area where professional meeting places are hard to come by. We would definitely use again, if needed in the future!"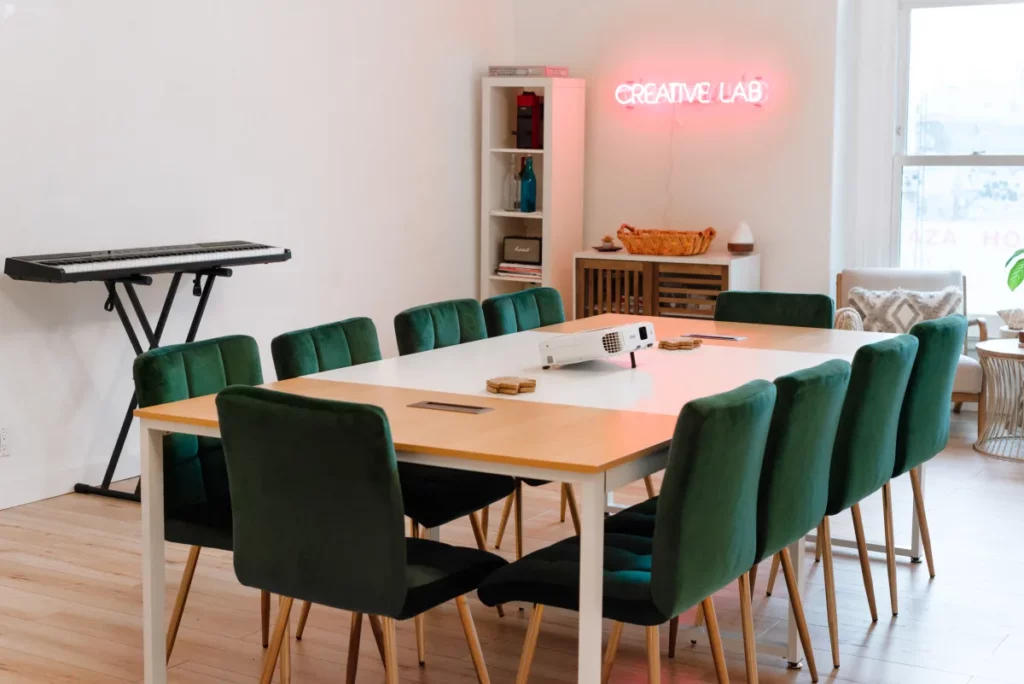 This place goes by the name "Studio 3" and is clearly one of the most stylish office spaces in the Bay Area. It is replete with tons of natural light and wooden floors that only add to its beauty and style. Like many other offices, it comes packed with amenities such as high-speed internet, a conference table designed for up to eight people, and a projector display for presentations. If you are looking for a creative meeting space for content production and brainstorming sessions, or you just want to escape the monotonous setting of your office, this workspace is for you. So, are you ready to book it as your next meeting spot?
It's little wonder that the hosts have great reviews from past clients, including this one: "The space was excellent for a whiteboarding and brainstorming offsite for a group of four. The bluetooth speaker was a great touch, and the space had everything we needed for a full day. Easy access to coffee shops and many options for lunch. Definitely recommend!"
Delight your team members by utilizing our 9 cool retreat activities in San Francisco!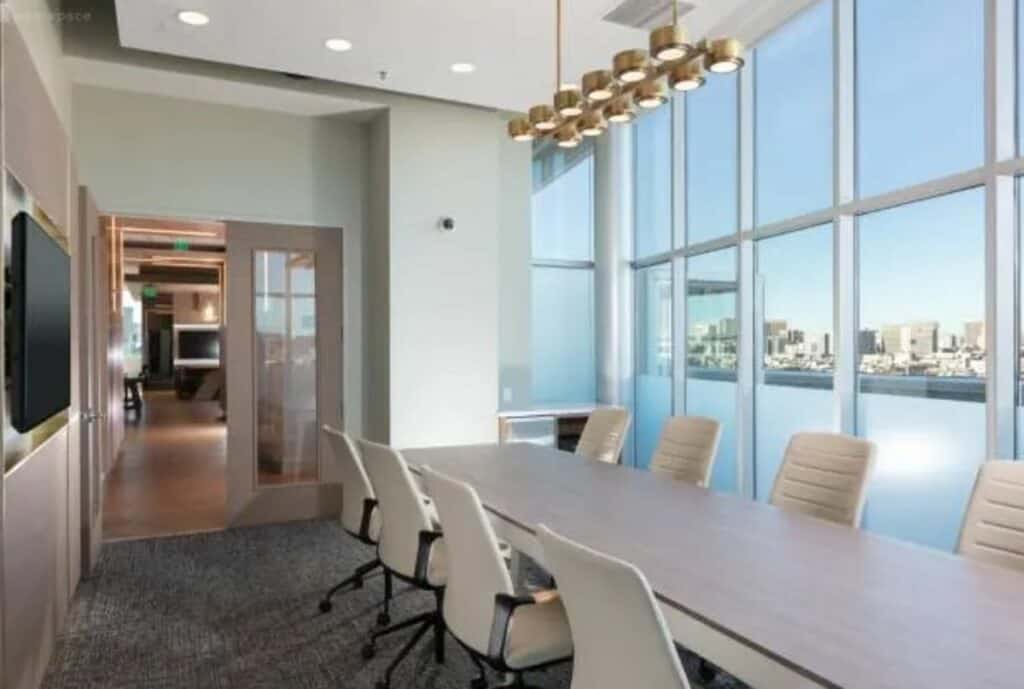 If you're looking to rent sleek office space by the hour in San Francisco, look no further than this Mission Bay-adjacent beaut. Located on a 19th-floor perch in the China Basin neighborhood, this place offers exquisite views of San Francisco Bay.
It also comes packed with office amenities like Wi-Fi, a conference room table designed to accommodate up to 10 people, and a small open kitchen. It's ideal for holding meetings with investors and shareholders, presenting business plans, or pitching a new idea.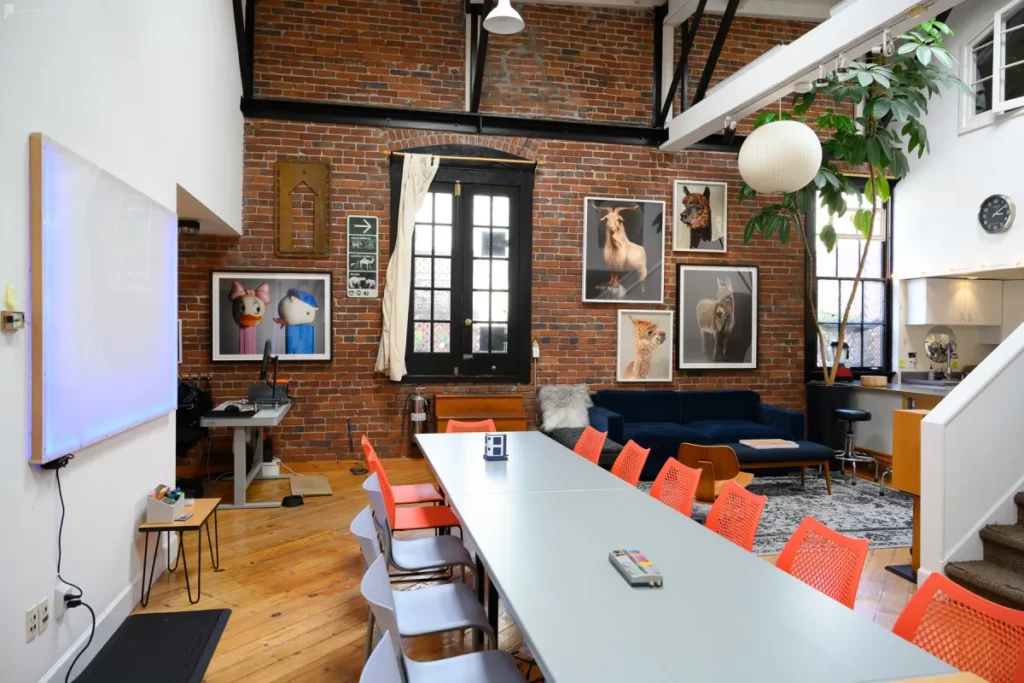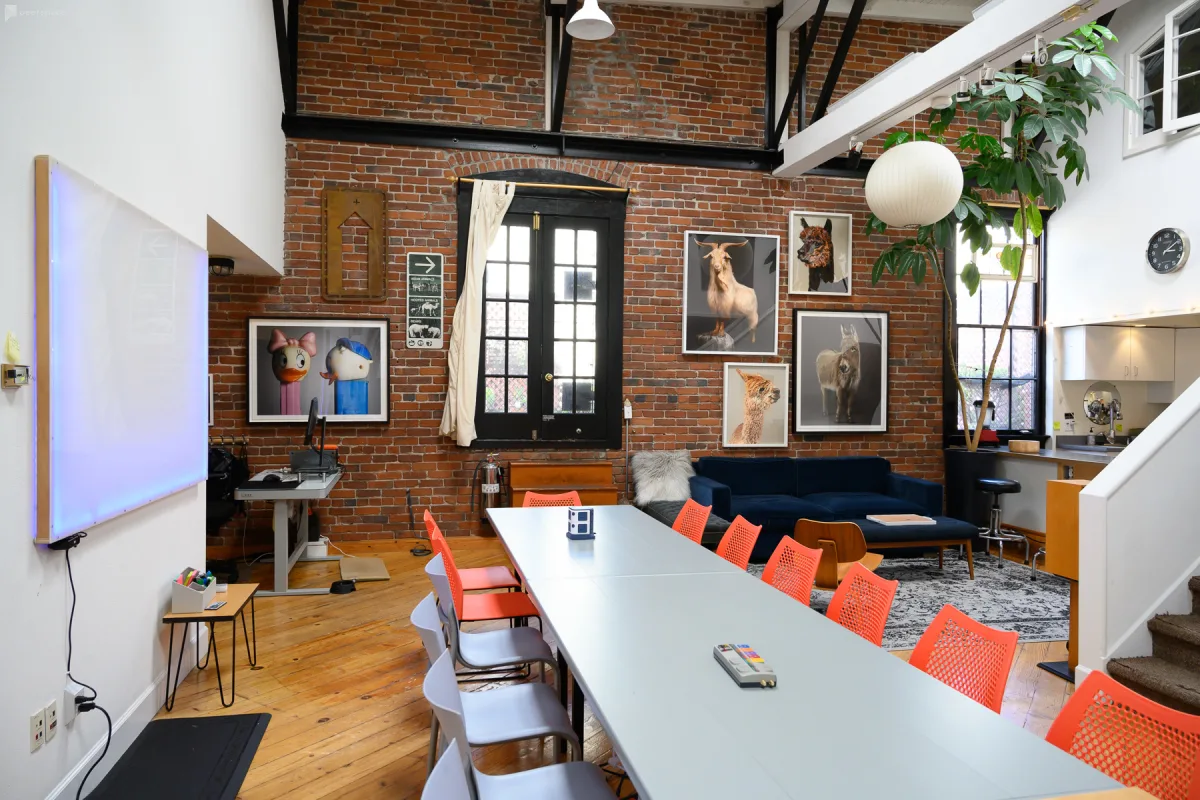 Take a break from the usual and enjoy a Mission loft flex space that delivers on the aesthetics and the tech! This brick and timber lift is decked out with whiteboards, flip charts, video conferencing, super-fast internet, and a 50″ Apple TV. Not only that, but the massive conference table has space for 14 and a full-sized kitchen is also on the premises. A fully furnished outdoor patio is also available to you and your team, so you have the option to work indoors, outdoors, or both.
A sales manager who booked this space for a company off-site shared the following review on Peerspace. "Absolutely beautiful! Perfect for our team offsite. Peter was a gracious host, everything from coffee systems to white boards to separate areas for breakouts/brainstorming. Space is lovely, inviting and sparked creativity! Would love to rent again. Thank you thank you!"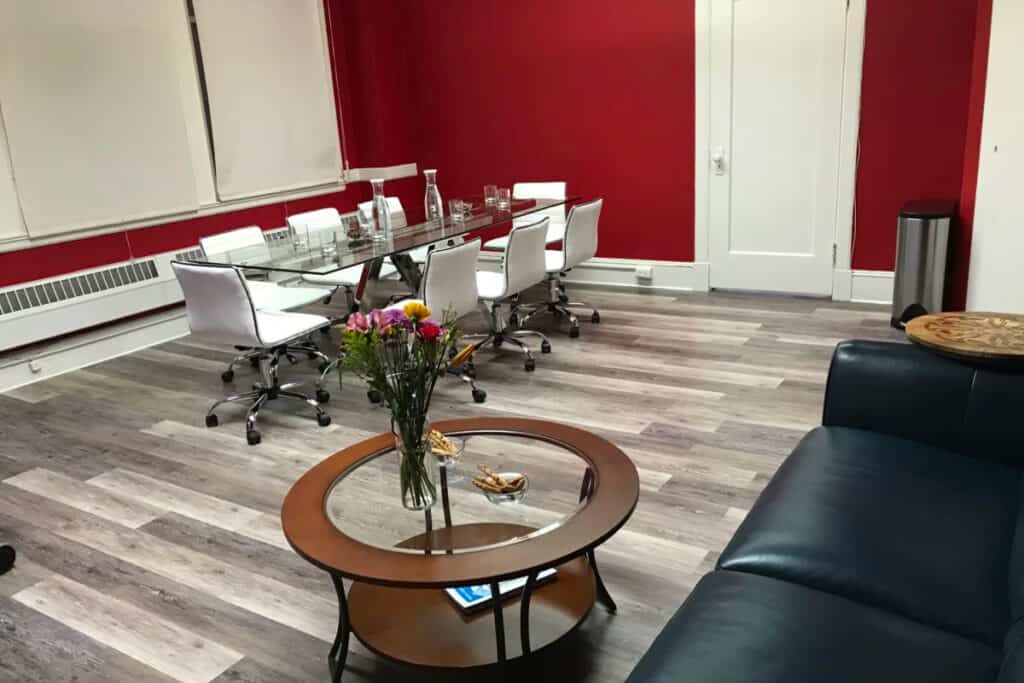 This is one of the most elegant ways to rent office space by the hour in San Francisco! This chic 420-square-foot office space is next to Westfield Mall and across from the Marriott Marquis, making it easy for everyone to get to. It boasts ultra-fast WiFi, a flat-screen TV monitor, comfy seating, a whiteboard, a kitchenette, and on-site tech support.
In the words of a Peerspace reviewer who booked this office for a team meeting: "David hosted us for our weekend strategy meeting and we really enjoyed the space! The location was great and we had all the amenities we could ask for!"
Need a few ways to engage your coworkers? Then our 12 fun team building ideas in the Bay Area should do the trick!
Rent office space by the hour in San Francisco with Peerspace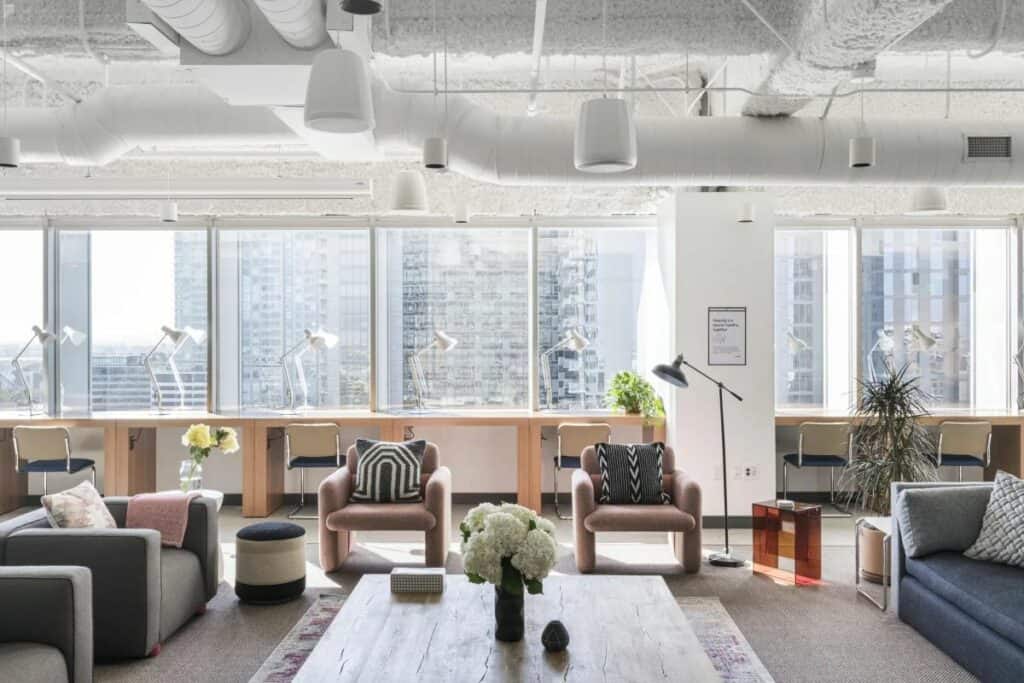 Now that you have an idea about how to rent office space by the hour in San Francisco, what are you waiting for?! Check out these spaces and more on Peerspace for exclusive access to some of the top office spaces in the Bay Area.
Don't forget to contact the Concierge service if your team is in need of other essentials, like catering or A/V equipment. These logistical pros can source the best deals and have whatever you need delivered to your venue.

Get together somewhere better
Book thousands of unique spaces directly from local hosts.
Explore Spaces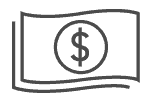 Share your space and start earning
Join thousands of hosts renting their space for meetings, events, and photo shoots.
List Your Space